Removal Van Hire
If you are looking to move house or office on a budget, your cheapest option is self-drive removal van hire.
There are several advantages to hiring a van to move house yourself:

You can pick the van up first thing in the morning and work to your schedule
If you have to do several trips you don't need to worry about the extra cost, a day's rental will cost the same no matter how many trips you do in that time
If you're moving quite far away, you can do a one-way van hire.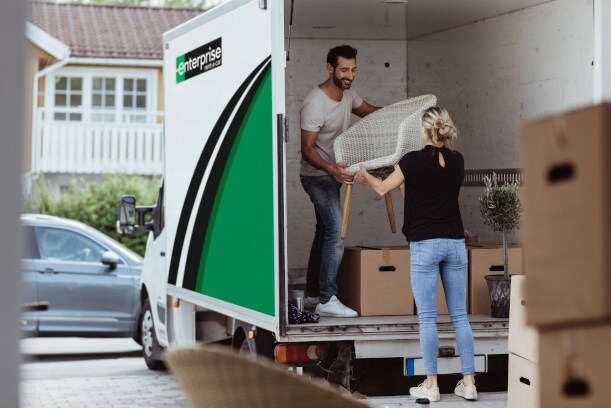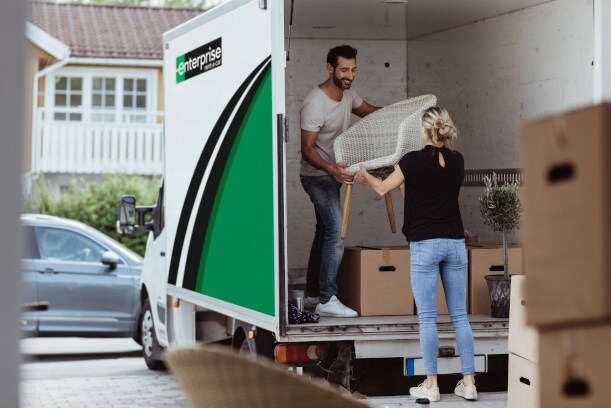 TIPS FOR MOVING HOUSE YOURSELF
Equipment
However many boxes you think you need, you will need more.

Ask in advance at your local supermarket or wine-merchant and they will put boxes aside for you to pick up.
Get plenty of box tape and thick marker pens in black and red. Use red to mark fragile items and black for contents.
Don't forget scissors.
Have enough plastic sheeting to cover sofas and mattresses in case it rains on the day.
Time Savers
Label every box with the room it is destined for, this will save you time at the other end.
Recruit as many friends and family as you can to help you on the day.
Don't leave packing to the last day, the more you have done in advance, the quicker you can get the van loaded and your things moved.
Transport clothes on their hangers in bin liners. Just tape multiple hanger hooks together and push them through a hole in the bottom of the bin liner, this will protect your clothes and make it easy to unpack them in your new home.
Van Hire
If you have a lot of heavy furniture, hire a Luton van with tail-lift, this will save your back and make moving smoother.
A rental day is 24h, so make sure to get your van back to the branch before your time runs into a second day.
Consider a one-way rental if you are moving far away, it will save you time as you won't need to drive back to drop it off.
A bigger van may cost more, but if it saves you several trips it can be worth it.
You don't need a special licence to drive a van, but you will need to be over 25 to hire a van and over 30 to hire a Luton van.
You don't need any special licence to drive a van but you must be 25+. If you are aged 22-24 you can hire a van through Car Club.

Van FAQs
What age do you need to be to hire a van in the UK
All drivers must be a minimum of 25 years old. Only drivers over 30 years old may rent Full-Size MPVs and Luton vans.
Younger drivers might be interested in Enterprise Car Club.
What do I need to hire a van?
A valid drivers licence
Valid ID showing you are 25+ to rent a van and 30+ to rent a Luton van 
Credit or debit card
How much is the deposit on a van rental?
A deposit is compulsory – at Enterprise it's fixed at £200 for vans. The deposit funds are taken from the driver's payment card and held throughout the duration of the hire. The deposit is refundable provided the vehicle is returned in the same condition
Can I hire a van with a debit card?
Yes. We accept payment by either a debit or credit card in the name of the renter. 
Does Enterprise offer one-way van hire in the UK?
Yes. All rentals where the vehicle is not returned to the same location from where it was collected will be subject to a fee which can vary by location, van category and pick up date.
The fee will be displayed upon entering  the desired route, van category and rental dates. If the vehicle is returned to a different location without prior agreement by the rental branch then a drop off fee will be added to the rental agreement upon return.
What size van do I need?
Our Van Size Guide helps you to choose from a range of van types and sizes, from small vans for DIY projects to Luton vans for house moves.
Are there any additional costs when hiring a van?
At Enterprise we prefer to be transparent about our costs so there aren't any nasty surprises when it come to paying for your van hire. You can see the breakdown of costs explained here.