Car & Van Hire in West London
Welcome to the Enterprise West London car rental page. Choose from a wide selection of cars ranging from smaller economy cars to larger SUVs and people carriers
Complete Clean Pledge
We pledge to go above and beyond our already rigorous cleaning protocols, including strict sanitising procedures to protect the health and safety of all.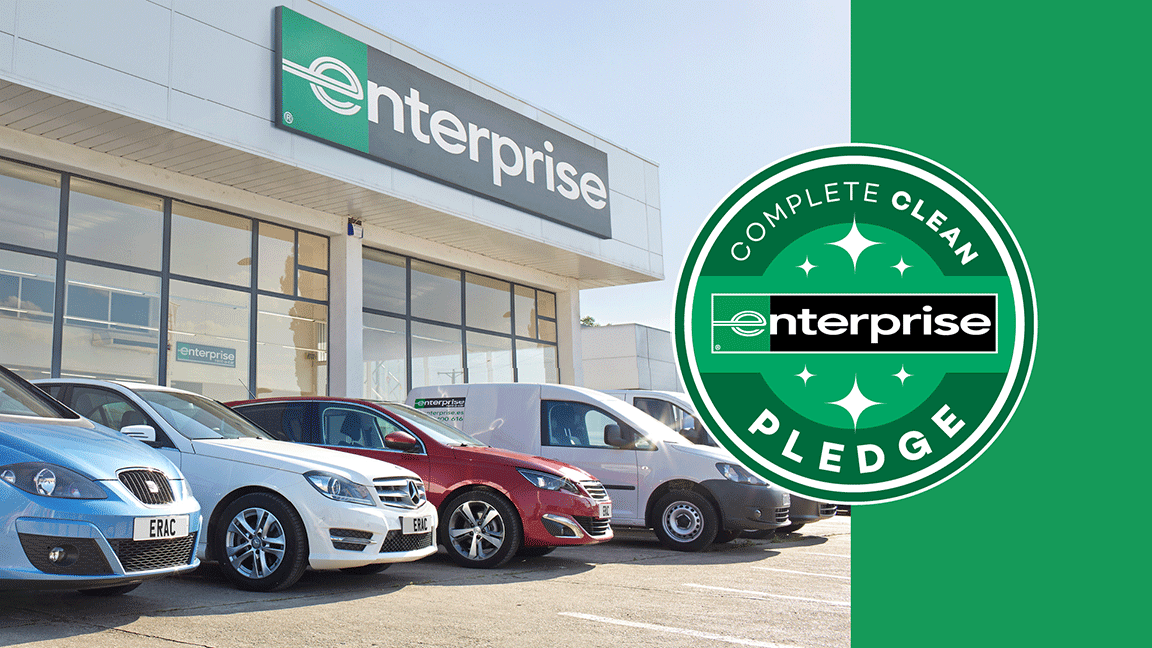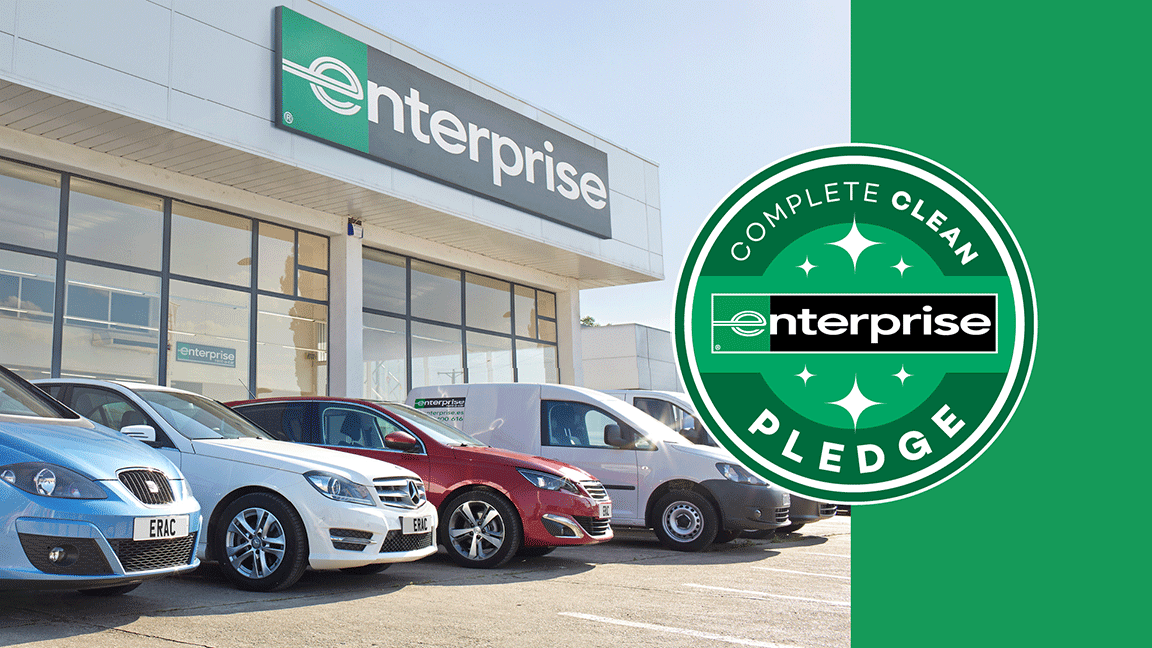 Car & Van Rental in West London?
Few cities in the world offer such an incredible variety of attractions as London. As the capital of England, London is considered to be the cultural and economic centre of the United Kingdom. While East London is very artsy, trendy and bohemian, the West End offers swanky restaurants and iconic attractions that will keep visitors of all ages entertained. Whether you want to have a picnic in Hyde Park or explore the National History Museum, this part of the 'Big Smoke' has hundreds of parks, landmarks and restaurants to choose from.
Public transportation is notoriously expensive in London, so travelling around this way can be an issue. However, you can dodge the crowds and sky-high prices by hiring your very own set of wheels. Hiring a car will allow you to visit some of the top hotspots on your London getaway. It's really easy to pick up your vehicle, too, as we have branches located in prestigious Park Lane, Hammersmith, Brentford, and near to Regent's Park. There are also two Enterprise branches located near to Heathrow Airport, so you can get your car rental sorted within an hour of landing in the country.
Our Vehicles for Hire in West London
No matter what your taste or budget, we have the right type of vehicle for you. London is a romantic city, so if you're on a trip for two, then why not choose one of our luxury or premium makes and models of car to get you around in style. If you're travelling as a family, then our SUV people carrier can transport the kids and give you enough space to comfortably fit all your luggage. For bigger trips with friends or family, we also have a nine-seater minibus available, which is ideal if you have a lot of luggage. If you're moving home or doing a little DIY, then our vans provide an economical way to move belongings and furniture.
Attractions in West London
West London has too many attractions to list here, but some of the best museums and galleries include the Serpentine Galleries, the Science Museum and the Royal Victoria and Albert Museum. West London is an area famous for its high-end restaurants, so be sure to make a reservation to sample some sushi, Italian or even Indian cuisines while in the area. It's also known for its many parks – while Hyde Park is top of the list for the largest and most impressive green outdoor spaces, Holland Park is not to be missed. This pretty outdoor haven has an eco-centre, several play areas, woodland and even a Japanese-themed garden.
Shopping in the area is also excellent; Chelsea and Kensington house luxurious boutiques or you can head to Portobello Road for some real vintage bargains. No trip to West London is complete without marvelling at the River Thames. When in West London, you can drive along the scenic banks and stop to take photos along the way.
Places to Visit Outside of West London
With so much to see and do in West London, you won't need to go elsewhere to have a memorable trip. However, should you want to explore more of the city or country, there is a range of destinations available to you when you hire a rental car in West London. Make the short drive to East London to check out chic cocktails bars, contemporary galleries and an eclectic nightlife scene. South London has some areas that are becoming more and more popular with tourists; for example, Croydon is an up and coming town, in part due to the National Trust taking particular interest in recent times to preserve its heritage.
A stay in West London will also make it easy to get to other cities and towns in southern England. Do you want to see where the queen lives? You can easily drive to the charming town of Windsor and take a tour round Windsor Castle itself. Tip: If the flag is up, it means that the queen is home. You can reach the historic city of Oxford in just under two hours, while Bath, Swindon, and Bristol are not too far away either. If you fancy a trip to the seaside, then you really can't beat Brighton. This incredible city is home to amazing alternative restaurants, a thriving nightlife scene and a pretty pebbled beach. London is linked to an extensive network of roads and motorways, so no matter where you want to travel to, it's very easy to get out of West London with a hire car.
Airport Car Hire
West London is served by several airports, including Heathrow. Heathrow is located west of London, near to Hounslow and Staines. This huge airport is one of the busiest in the world, and there are frequent flights to all major destinations. From Heathrow to West London, a hire car provides a convenient way of travelling, as well as the fact the M4 motorway ensures a smooth route directly from the airport. If you're travelling from Europe, you may also fly in to other airports, such as Luton, Stansted, London City or Gatwick. Again, all of these airports are connected to London by excellent road networks.
Parking and Traffic Information in West London
Unsurprisingly, parking in West London can be tough to come by, but don't let this put you off your trip. Make sure you research the road networks prior to travelling and you'll certainly be able to secure a suitable parking spot. There are plenty of NCP and private car parks located around major hotspots. Some hotels will also offer free parking to guests
Traffic can also become bad, particularly around rush hour. You can be savvy and dodge the queues by using a GPS.
Cheap Van and Car Hire
With rental branches across the county, Enterprise offers cheap car hire from convenient, accessible locations. Our large fleet of new vehicles includes great value economy and compact cars, sporty SUVs and spacious people carriers. Whether you need a vehicle for a single day or longer, Enterprise Rent-A-Car has the perfect car to suit your needs. Book online from our West London branch to guarantee your choice of vehicle at the best possible price.
Moving house or just moving furniture? Enterprise has you covered with a range of vans from our West London branch. From smaller passenger vans to larger commercial vans, book online from our West London van hire page to reserve your perfect vehicle at an unbeatable price.
Frequently Asked Questions
For more FAQs, please visit our FAQ page.