Car & Van Hire in Watford
Welcome to the Enterprise Watford car rental page. Choose from a wide selection of cars ranging from smaller economy cars to larger SUVs and people carriers
Complete Clean Pledge
We pledge to go above and beyond our already rigorous cleaning protocols, including strict sanitising procedures to protect the health and safety of all.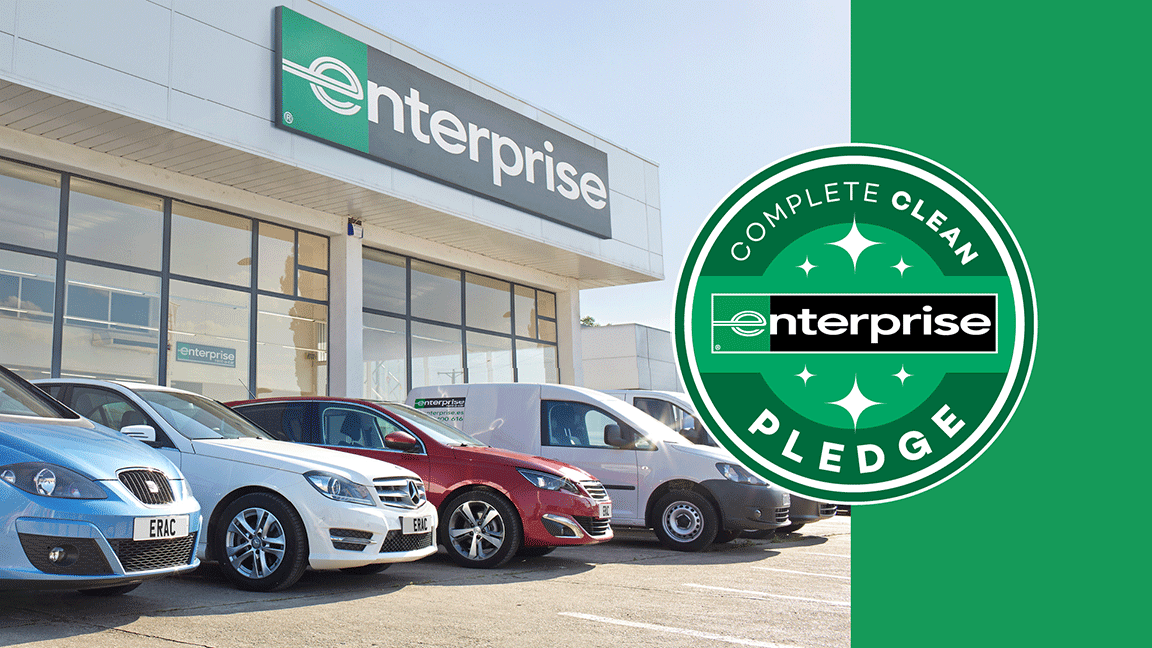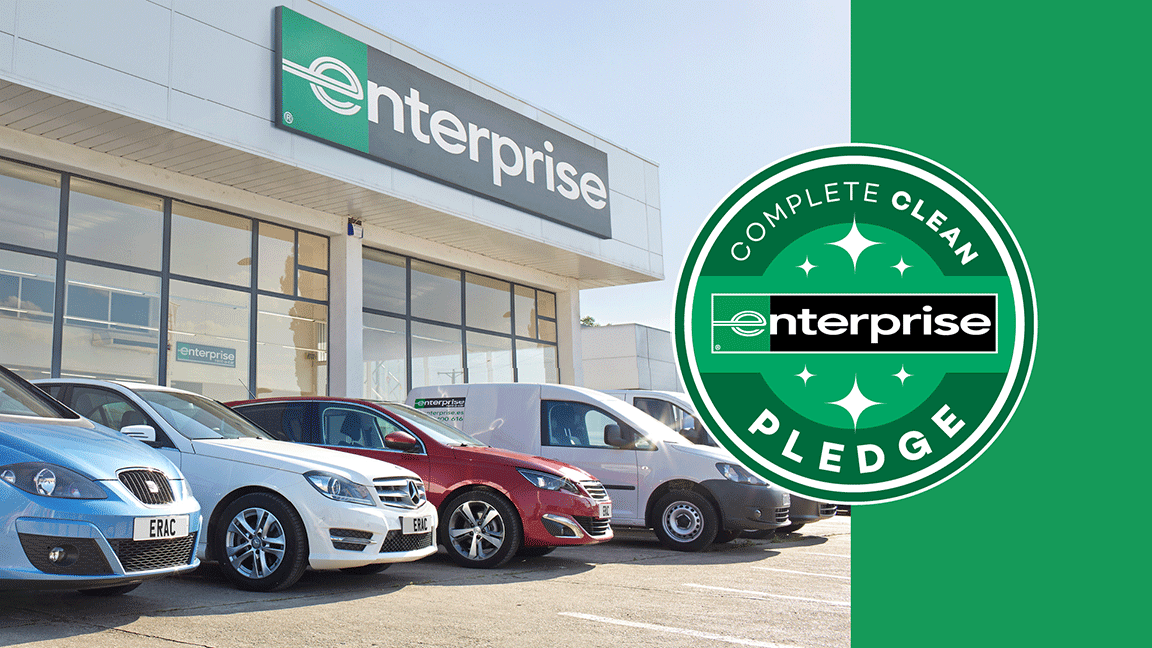 Car & Van Rental in Watford?
Whether you are visiting family or exploring Hertfordshire and central England, Watford provides an ideal base close to London. To really discover this exciting area, book a car and enjoy the flexibility that that provides. You can find our local Enterprise branches in the town centre, located on Casino Road just west of Watford's central shopping district along High Street, and only a 15-minute walk east of Watford Station. If you are looking for affordable car hire, Watford Business Park south-west of the town centre is home to our second branch.
Our Vehicles for Hire in Watford
We offer a selection of vehicles certain to meet your needs. Our modern fleet of safe and clean vehicles include spacious saloons and SUVs, as well as smaller mini and compact cars. We also have vans of various sizes, and people carriers if you are travelling in a large group. Whether you are travelling alone or with family and friends, Enterprise's branches have an affordable option that will let you travel in comfort and style. And when it comes to style, we really have options; our fleet offers plenty of choices even when it comes to premium vehicles, including Mercedes models
When you rent with Enterprise, you set your own schedule. You can explore and experience Greater London and the surrounding area at your own pace. You have the flexibility to set your own itinerary and make the most of your stay without worrying about train or bus schedules. You can make your holiday in Watford truly memorable with a luxurious vehicle from our Watford locations.
Attractions in Watford
With a hired car, Watford and the surrounding area's attractions are a short drive away. Watford Colosseum is one of the town's premier attractions. Built in 1938, it was originally used as the Watford Town Hall Assembly Rooms. Fine acoustics make it is a popular venue for concerts, including regular productions by the BBC Concert Orchestra and world-renowned artists. The Watford Palace Theatre is Hertfordshire's home of theatre. The Edwardian theatre's annual programme includes dance and family shows. Studio tours are available at Warner Bros. Studios, Leavesden. The film and media complex was used for several film productions, and visitors can see displays and sets from the Harry Potter film series.
Watford's green spaces are some of the town's best attractions. The Green Flag Award-winning Cassiobury Park is one of the best green spaces in the UK. The Grand Union Canal passes through the park, which is popular with families. Cheslyn House and Gardens is another Green Flag green space, with formal gardens and a stately home. Also in Watford is Woodside Park, the town's third Green Flag park. The park has a mix of playing fields and woodland, as well as sports facilities and a leisure centre.
Places to Visit Outside Watford
Watford sits in the south-west of Hertfordshire, a county in eastern England within East Anglia. Saint Albans is Hertfordshire's largest city and within a 20-minute drive northeast of Watford. The cathedral city is easily accessible via the A405, which connects with the M1 at Junction 6. The Cathedral and Abbey Church of St Alban is built from stones of a former Roman road and the Romanesque building dates to the 11th century. The cathedral also has Gothic additions, which were built in the 19th century. Other highlights in Saint Albans include its medieval clock tower. There are also many pubs, and The Fighting Cocks is one of the oldest in the UK.
In the West Midlands, Birmingham is less than a two-hour drive from Watford, via the M1. The vibrant city has world-class museums and galleries, and is a major shopping destination. It is also a major gateway for central England, including the beautiful Black Country and its industrial heritage. Birmingham is also on Shropshire's doorstep, a stunning rural county and the birthplace of the Industrial Revolution at Ironbridge Gorge. Warwickshire and the inspiring Warwick Castle are within a half hour's drive of Birmingham.
Airport Car Hire
With an airport van or car rental, Watford is quickly accessible at any time of the day. We are dedicated to getting you on the road as soon as possible after your flight arrives. You do not have to worry about waiting for a taxi to and from the airport, or missing your flight due to a late train or bus. We offer airport locations at Heathrow Airport and Luton, which are close to Watford. The UK's busiest airport and largest hub, Heathrow Airport is about a half hour's drive from Watford. Luton Airport is about a 20-minute drive north, via the M1 motorway. Our Heathrow Airport location is served by shuttle buses from all terminal buildings. A free shuttle bus also links our branch at Luton's car hire centre with the airport terminal. Both airport locations have a selection of cars, vans and people carriers at great rates.
Parking and Traffic Information in Watford
Most of Watford's popular attractions have convenient parking nearby. The Town Hall Car Park is the best option if you are visiting the Colosseum, while the Palace Car Park serves Palace Theatre. Most bars, clubs and The Parade in the town centre are a short walk from the Gade Car Park, while restaurants along Lower High Street are close to Church Car Park. Parking at Intu Shopping Centre is found at the Kings Car Park and Queens Car Park. Visitors to Vicarage Road Stadium for Watford Football Club matches can park at Church Car Park or Gade Car Park. Parking for Cassiobury Park is available at the Gade Avenue and Avenue car parks.
Driving into central London, which is within the Congestion Charge zone, requires paying a daily charge between 7 a.m. and 6 p.m. on weekdays. You should allow for delays if visiting the capital. Traffic on the M25 can also be heavy during peak periods, particularly with commuters during morning and evening rush hours. Give yourself plenty of time when travelling to the airport along the M25. Signs along the motorway provide advisories when congestion is an issue. Drivers should pay attention to these advisories, which may indicate a reduced speed. Speed cameras also control traffic speeds, and you are responsible for any traffic fines and penalties you may acquire when driving around Watford.
Cheap Van and Car Hire
From large people carriers to smaller economy cars, Enterprise Rent-a-Car guarantees cheap rates on car hire from our Watford branch. Our economy cars are renowned for being cheap to hire as well as low running costs with great fuel efficiency. Book online in advance for our cheapest prices, alternatively book in branch and get the car that suits your needs.
Moving house? Moving furniture? Enterprise has vans available at our Watford branches to ensure that you can get a vehicle to suit your needs. From smaller passenger vans to larger commercial vans – give our branches a call or book online to guarantee you a van hire that will suit your needs. Van hire is cheap and easy through Enterprise online or in branch, we promise to provide a vehicle to suit you for as long as you require it.
Frequently Asked Questions
For more FAQs, please visit our FAQ page.