Car & Van Hire in Stoke-on-Trent
Welcome to the Enterprise Stoke On Trent car rental page. Choose from a wide selection of cars ranging from smaller economy cars to larger SUVs and people carriers
Complete Clean Pledge
We pledge to go above and beyond our already rigorous cleaning protocols, including strict sanitising procedures to protect the health and safety of all.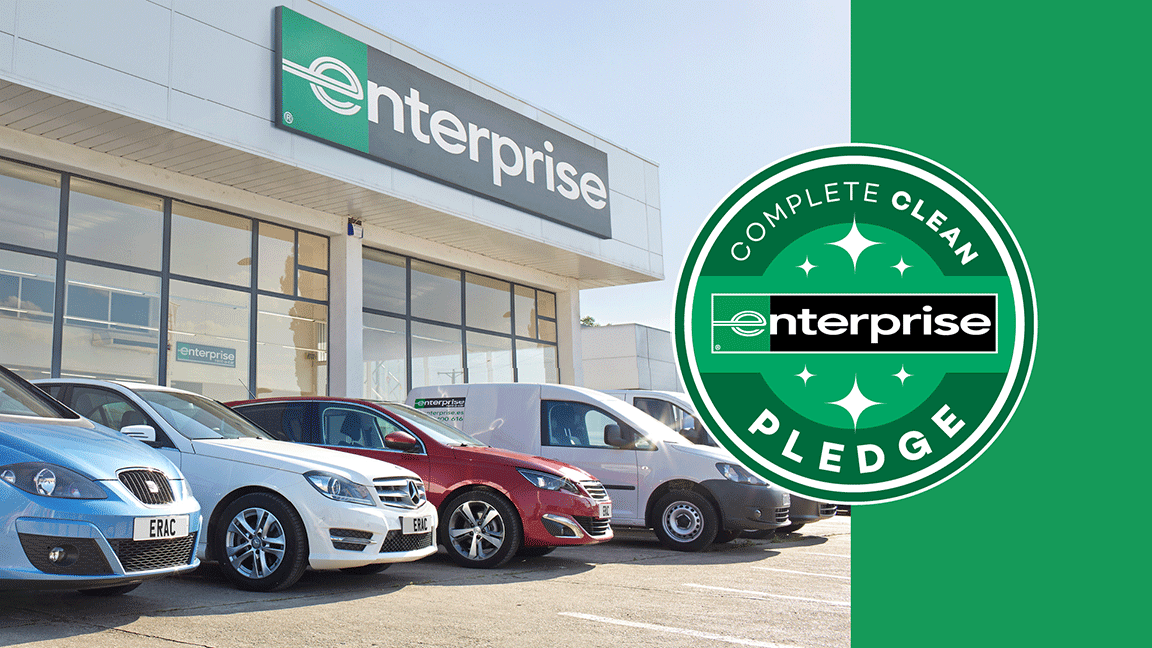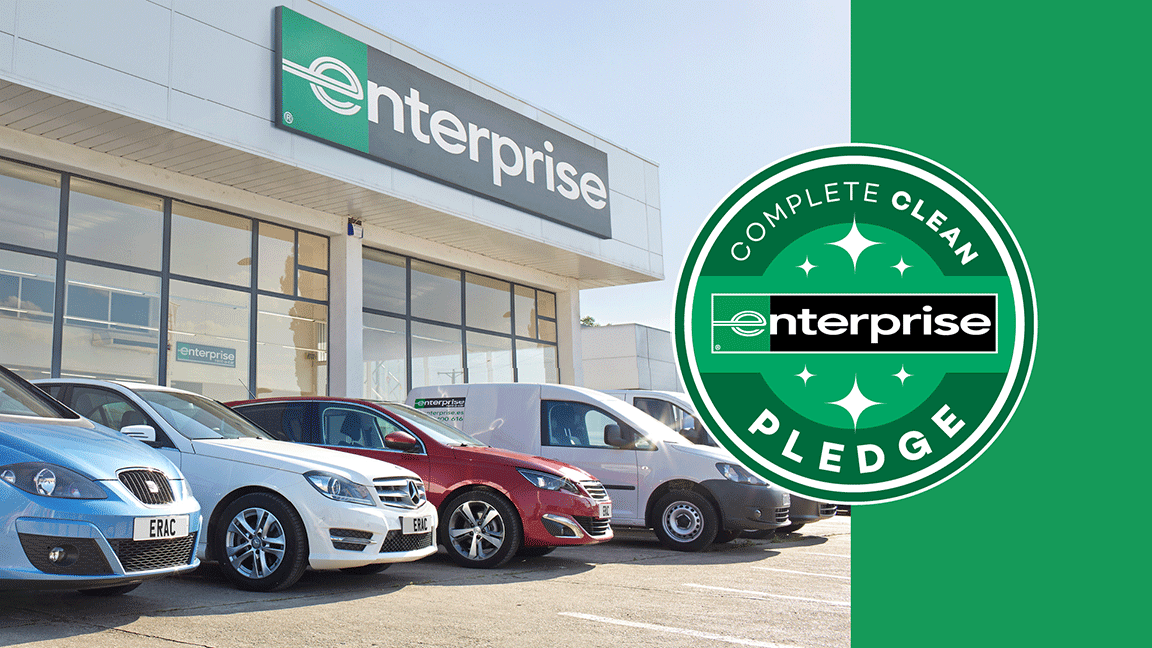 Car Hire & Van Rental in Stoke-on-Trent with Enterprise
Located at the foot of the Peak District and with plenty to see and do in the city itself, Stoke-on-Trent is a great place to discover in an Enterprise car rental. Famed for its pottery industry, the city is also home to the UK's only forest where monkeys roam freely.
We can provide you with your ideal rental vehicle at two locations near Stoke-on-Trent. Our Stoke Hanley branch is ideal for anyone closer to the centre of the city. Just a 40-minute drive further out, you can pick up one of our modern vehicles from our Manchester Airport branch. We also provide a free pick-up service for anyone who would like a helping hand getting to us, simply start your reservation to schedule a free pick-up.
Wide Range of Rental Cars
We offer a diverse range of vehicles at both of our branches near Stoke-on-Trent. Choose the vehicle that's right for you, whether that's a luxury car rental or a people carrier to hire. Our packages are fully customisable; we can provide vehicles in manual or automatic transmission, as well as petrol, diesel and even hybrid models.
Whichever model you choose you'll rent with confidence knowing that our modern vehicles are well-maintained to meet the highest safety and environmental standards. Not only are our vehicles reliable and clean but they are also customisable with a host of add-ons to choose form. These options include adding a second driver, built-in satellite navigation and borrowing child booster seats. You can make a reservation above or you can view our fleet page to browse our vehicles.
Do You Need a Van Rental in Stoke-on-Trent?
Stoke-on-Trent is famous for its pottery industry, so if you need some extra cargo space for large or fragile items then we have the right van rental for you. Our range of utility vehicles includes small to medium sized vans as well as large van hires; so you can transport large amounts of the finest pottery Stoke has to offer. Visit our fleet page to see the vans available at our Stoke Hanley branch. Whichever van you choose we guarantee that it will be modern, fuel-efficient and able to transport your cargo smoothly and cleanly.
We offer flexible contract lengths as well as transparent prices so you know you'll find the cheapest van hire with Enterprise. Join over 20 million satisfied customers each year by starting your reservation above.
Cheap Car Hire in Stoke-on-Trent
We can provide great deals and cheap car hire in Stoke-on-Trent. Whether you need a cheap car hire or a cheap van hire, check out our deals page or sign up to the Enterprise Plus loyalty programme for access to the biggest savings. We are also flexible with how you rent with us so you can hire for just a day or up to a period of months.
Our competitive and transparent pricing policies, coupled with our award-winning customer service, has seen Enterprise recognised as a Which? Recommended Provider. This means our friendly staff will do all they can to ensure you find the best rental car at the right price. Our best rates are always when you pre-book so why not start your reservation and get a quote now?
Airport Car Hire near Stoke-on-Trent
Although Stoke-on-Trent does not have a designated commercial airport, the city is located close to both Manchester Airport and Liverpool's John Lennon Airport.
For anyone landing via Manchester then our service desk is available from 5AM to midnight and accessible via the shuttle bus every 10-minutes. After picking up one of our modern rental vehicles, it's just a 40-mimute drive along the M6 and then the A500 to get to the heart of Stoke-on-Trent.
Picking up your rental at Liverpool's John Lennon Airport, just 20-minutes further out and to the north-west of Manchester Airport, is equally convenient. There is no need for a shuttle as our service desk is located just across the road from the terminal building. Driving out of the airport and heading towards the M56 will lead you to the M6 where you can follow the same route as from Manchester to reach Stoke-on-Trent.
Need to drop off in a different location?
One Way Car Hire
Looking to hire a car for a one-way trip? No problem! Enterprise Rent-A-Car offers easy and convenient one-way car rentals from most of its 10,000 locations in 90+ countries. Choose from a great selection of vehicles, including economy, saloons, SUVs, people carriers and vans.
Need help picking up and returning car?
Free Pick Up and Drop Off Service
Our free pick-up & drop-off service is available at non-airport branches and during normal business hours. To schedule your pick-up time or make additional arrangements, ask for this when your rental branch calls to confirm your reservation.
Need a car for an extended time?
Long Term Car Hire Service
Looking for a flexible alternative to a traditional rental or lease agreement? We've set up dedicated long-term branches throughout UK to provide our customers one-on-one attention. Just let us know when and where you need to rent a vehicle, and we'll take care of the rest.
Things to do in Stoke-on-Trent

Areas of natural beauty in Stoke:
Stoke-on-Trent is close to both the Peak District and the Derbyshire Dales meaning that it is an area spoiled with scenic roads and pleasant views over the green valleys. For anyone looking to make a day of it then two of the most enjoyable driving roads are Snake Pass, to the East of the Peak District, and Mam Tor that travels from the Derbyshire Dales along the A625 and through the Peak District.
A day out to Trentham:
Just to the south of the city, Trentham Estate was a traditional royal manor built back in 1086. The impressive architecture and the estate's immaculate Italian gardens make it a fantastic place to stop for afternoon tea.
The Trentham area is also ideal for visitors travelling as part of a family. The neighbouring Trentham Monkey Forest is the UK's only designated parkland where monkeys roam freely and is less than a 10-minute drive away. You can get up close and personal with these monkeys in a way that's truly unique and unrivalled throughout the UK.
To complete your day out you could pay a visit to the World of Wedgwood for some great pottery activities. Here you can get stuck in with some hands-on clay work, enjoy a tour of the modern museum or even get a tour of the working factory. Being just a 10-minute drive from the Monkey Forest makes this a convenient activity that the whole family will love.
---
Tips for Driving in Stoke-on-Trent

We want you to enjoy your driving experience with Enterprise but it's important to be aware of the following in order to drive safely at all times:
·         Speed limits in the Stoke area are as they are across the UK; the national limit is 70mph and this applies to motorways and some dual carriageways, 60mph is the limit on most single carriageways whilst 30mph is the limit for most built-up areas unless you see signposts for 20mph limits.
·         It is illegal to drive whilst under the influence of alcohol and you must always carry a valid driver's license.
·         Stoke-on-Trent is roughly halfway between Manchester and Birmingham with the M6 motorway running through the outskirts of the city.
·         Whilst Stoke and the neighbouring Peak District provides great country backroads, you need to know that animals use these areas too. Be aware when approaching tight bends and reduce your speed on approach.
Frequently Asked Questions
For more FAQs, please visit our FAQ page.