Car & Van Hire in St-Albans
Welcome to the Enterprise St Albans car rental page. Choose from a wide selection of cars ranging from smaller economy cars to larger SUVs and people carriers
Complete Clean Pledge
We pledge to go above and beyond our already rigorous cleaning protocols, including strict sanitising procedures to protect the health and safety of all.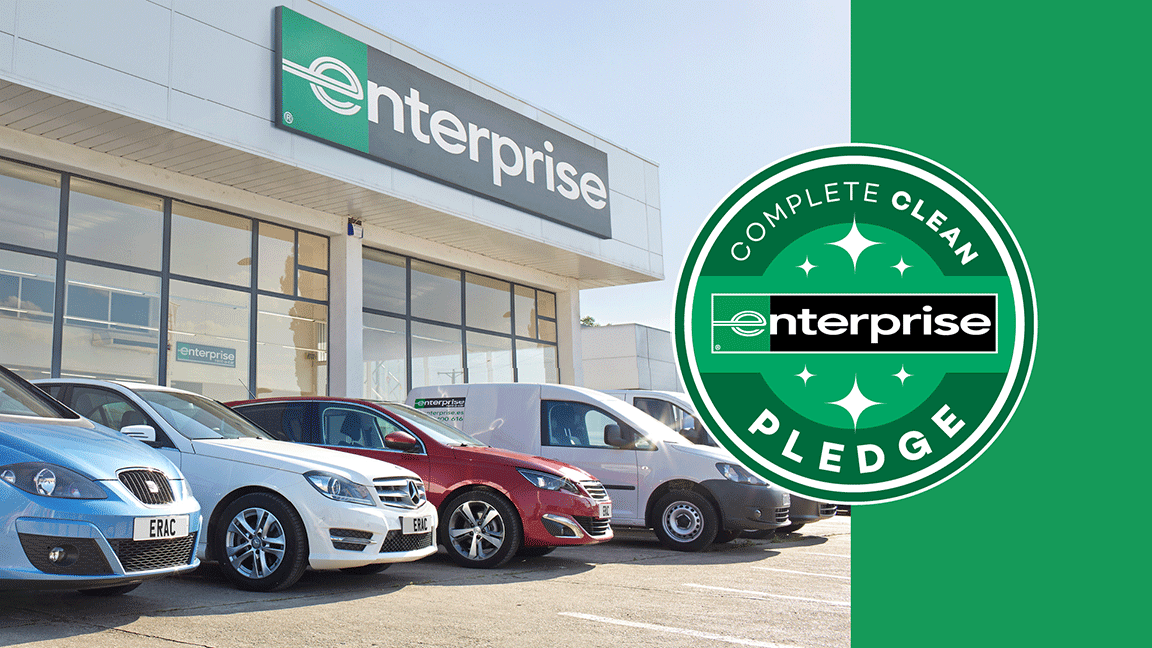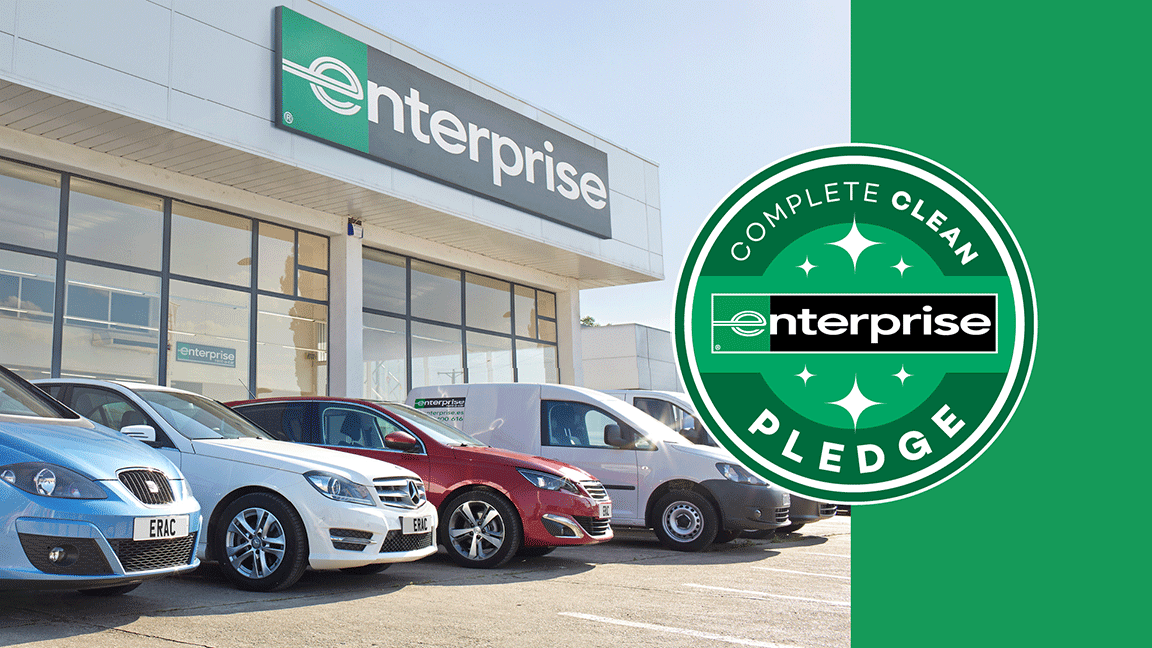 Car & Van Rental in St Albans?
St Albans is in Hertfordshire, only 19 miles from London. Today the city is a dormitory town for London and is regarded as an excellent place to live. There is a strong local economy and PriceWaterhouseCooper, Premier Foods and AECom have a presence there. With an extensive history and practical location, there are a number of reasons visitors head to this exciting location. To maximise your time whilst here, renting a car from Enterprise for your stay is an excellent option. We are conveniently situated at Ronsons Way in the city and, Enterprise are certain to have the car you need.
Our Vehicles for Hire in St Albans
For any visit to St Albans, car hire is a convenient option to consider for the duration of your stay. Whether you are looking for a luxury vehicle, such as our Mercedes E250 convertible or Porsche Cayman, or simply want something economical to get you around town or conduct the school run, we have a vehicle to suit. The Toyota Aygo is a popular choice of car for our clients who want something small, and the Vauxhall Corsa has its own following too. For something with a little more room and a larger engine, why not book a Toyota Insignia or Skoda Octavia? These cars manoeuvre well in built-up areas and can more than hold their own on the motorway. We have SUVs and people carriers that can comfortably carry five people with luggage, and there is even a seven-seater option for larger groups. If you usually drive a modern classic to showcase your business, or simply because you love driving, Enterprise has Mercedes-Benz C-Class and E-Class saloons at your disposal.
Attractions in St Albans
For visitors who want to explore this part of the country, a car rental gives you the flexibility and freedom to discover the area. There is lots to see, including a magnificent cathedral that is referred to locally as The Abbey. The de Havilland Aircraft Museum is the oldest aviation museum in Britain and visitors can see some of the iconic planes developed by the company, such as the Comet, Sea Hornet and Vampire FB6. However, note that the museum is closed during the winter months. Redbournbury Watermill, a water-driven flour mill on the River Ver, is still in operation producing a variety of breads and organic flours. If you want to keep young children amused, Willows Activity Farm is a great place to take them to pet and feed the animals. There is also an adventure playground and bouncing haystack on site too.
Places to Visit Outside St Albans
A car hire from St Albans means that you are only 19 miles from London. This makes it a great place to stay if you want to do some sightseeing; book a West End show, visit The Tower, check out St Paul's Cathedral or take the children to London Zoo. Or perhaps you fancy a concert at the O2, or an event at one of the world-class sporting venues the city is home to? St Albans also lies close to a number of theme parks including Legoland Windsor, Thorpe Park and Chessington World of Adventure. By hiring a car from St Albans, the surrounding area will be completely opened up to you, enabling you to get to wherever you want to go quickly without having to worry about public transport.
Airport Car Hire
Enterprise has offices at all the major airports surrounding London. At just over 12 miles, Luton is the closest airport to St Albans; Stanstead, at 40 miles, is the second. How convenient would it be to step straight off your flight and be in the hire car of your choice within minutes? Some customers hire a vehicle from Enterprise to enable a friend or relative to drive them to the airport before returning the car and collecting another one when it is time for them to return. Such arrangements carry the benefit of not having to leave their own vehicle parked at the airport, plus they avoid expensive parking tariffs. Having your own car on hand means you don't have to rely on a taxi service. If you do need to park your rented vehicle at the airport, each location will offer plenty of choices. Each airport website will also have more details about their individual options.
Parking and Traffic.
Like most places today, parking in St Albans is operated by both the local council and private parking companies. The council has also contracted NCP to run some of the car parks on their behalf. A high percentage of car parks in the city have public toilets available, and the majority allow 24-hour parking. Council parking charges are fairly typical starting at 60p for the first 30 minutes, but private firms may apply variable charges. For example, the NCP at Adelaide Street it is £10.60 to leave a car between 6 and 24 hours. Parking expenses should, therefore, be factored into the overall cost of your trip. There are four motorways within a three-mile radius of the city centre: the M25 orbital road, the Mi, A1(M) and the M10. Routes into north London get particularly busy, especially during rush hour when high levels of congestion can build up very quickly in the city centre.
Cheap Van and Car Hire
With rental branches across the county, Enterprise offers cheap car hire from convenient, accessible locations. Our large fleet of new vehicles includes great value economy and compact cars, sporty SUVs and spacious people carriers. Whether you need a vehicle for a single day or longer, Enterprise Rent-A-Car has the perfect car to suit your needs. Book online from our St Davids branch to guarantee your choice of vehicle at the best possible price.
Moving house or just moving furniture? Enterprise has you covered with a range of vans from our St Davids branch. From smaller passenger vans to larger commercial vans, book online from our St Davids van hire page to reserve your perfect vehicle at an unbeatable price.
Frequently Asked Questions
For more FAQs, please visit our FAQ page.