Car & Van Hire in Romford
Welcome to the Enterprise Romford car rental page. Choose from a wide selection of cars ranging from smaller economy cars to larger SUVs and people carriers
Complete Clean Pledge
We pledge to go above and beyond our already rigorous cleaning protocols, including strict sanitising procedures to protect the health and safety of all.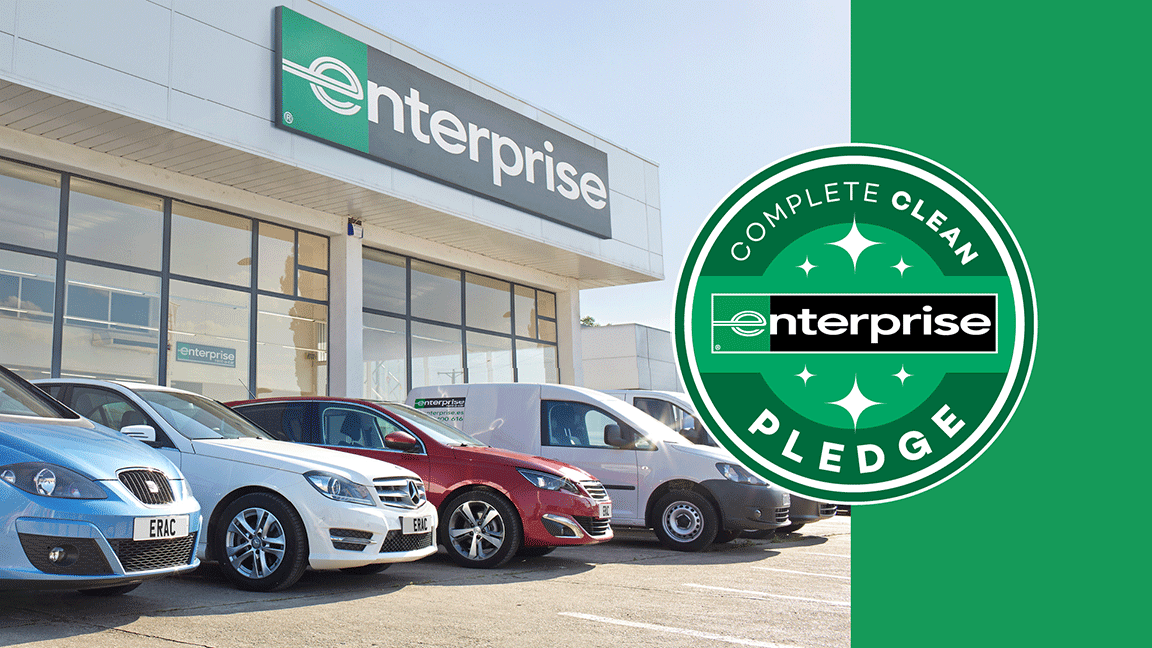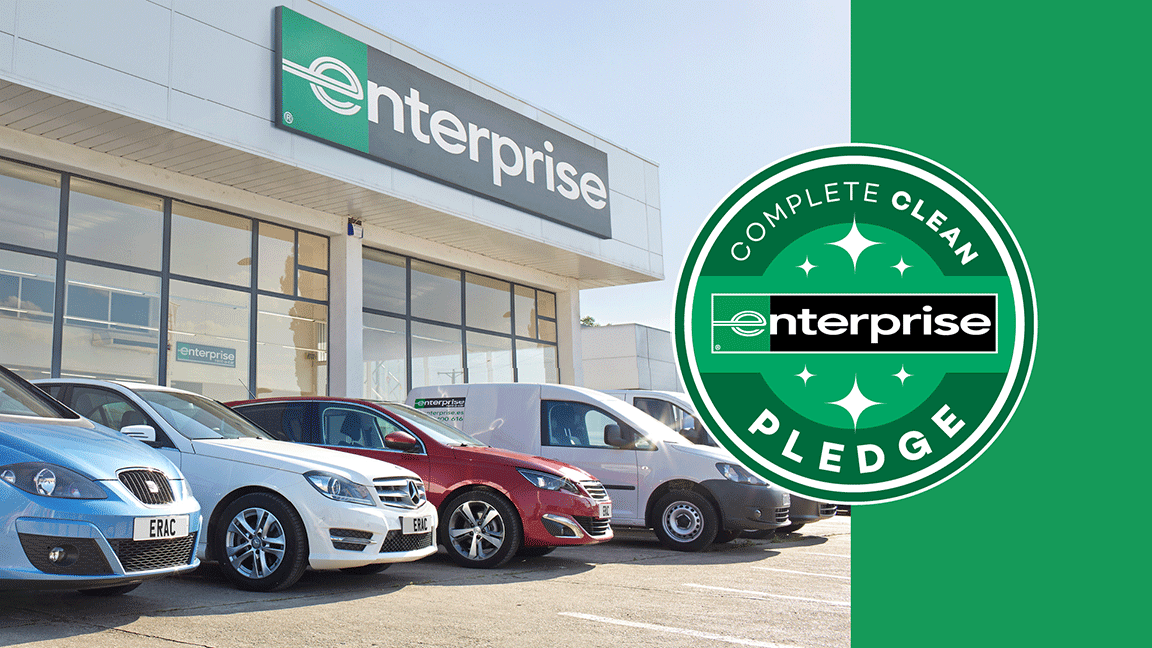 Car & Van Rental in Romford?
Romford is located in the London Borough of Havering, of which it is the principal town and administrative centre. Romford is full of life and action, with a modern, busy high street where everything happens. Food, beer, clubs and a major shopping centre are just a few of the delights that Romford has to offer, coupled with a safe pedestrianised main road, serviced by a huge multi-storey car park. We have Enterprise Rent-A-Car branches in the Romford area. One is located on 161 Mawney Road, just outside Romford town centre, and one at 213 Southend Arterial Road.
Our Vehicles for Hire in Romford
Car hire in Romford is made easier by the two Enterprise branches servicing the area, as you are never too far away from a car, MPV or minibus to nip around town or cruise through the green leafy suburbs of Romford and its environs. Our range of vehicles starts with the Mini and Economy ranges, with cars such as the Toyota Aygo and Vauxhall Corsa, respectively. The Intermediate and Standard classes of cars are ideally suited to travelling around Romford, since they offer affordability with enough space for four or five passengers, and are comfortable enough for all of the dual carriageways and motorways surrounding the well-connected town. For families of more than five, we have the MPV class, where seven to nine passengers can be carried comfortably, with up to six bags as luggage fitting into the Mini Bus model. For those who like to be higher up, we have SUV vehicles, such as the Toyota Rav 4, and for that extra luxury on your Romford shopping trips, try the Volvo XC60 or Range Rover Sports models. All cars at Enterprise are maintained at a high standard to ensure the best performance and driving experience.
Attractions in Romford
Romford is a busy place with many attractions, including The Brewery shopping centre, where all manner of designer shops and family restaurants are on offer. Visiting The Brewery is best done by car, since public transport links don't actually stop that close to the location, and it has its own multi-storey car park.
Wednesday, Friday and Saturdays are market days in Romford and there is plenty of parking available for drivers. There is a lot to experience at Romford Market, from delicious food stalls and fine bakeries to the variety of general merchandise, pub grub and restaurants.
>
Going to Romford Greyhound Stadium is an exciting night out for the entire family, and since it is located on the outskirts of central Romford, having a car is perfect. Get down there on Friday or Saturday, as they are both Fish and Chips nights, giving visitors an ideal opportunity to sample a great traditional British dish along with a dearly loved British sport.
If you love golf, then the 18-hole course at Romford Gold Club will impress. Just a five-minute drive from Romford centre along Main Road, Romford Golf Club has been used as a qualifying venue for The Open Championship and was designed by the legendary James Braid. James Braid's 1906 win of The Open was the last successful European defence until more than 100 years later.
Places to Visit Outside Romford
Our customers will also find many attractions outside of Romford within a drivable distance, without too much fuss or stress.
Mayhem Paintball
By car, the trip to Mayhem Paintball can be as short as 25 minutes, and public transport is not really an option if you want to arrive in less than an hour. Mayhem Paintball is an amazing simulation of real life battle scenes and a fantastic event for all of the family. They also have really advanced goggles that never fog up, no matter what the weather.
The Kelvedon Hatch Secret Nuclear Bunker
A short drive takes you to a secret bunker where military commanders and important government personnel planned to shelter if ever there was a nuclear attack. Learn about the history of RGHQ 5.1 as you are taken through its many functions over the years. Kelvedon Hatch welcomes the entire family, with action for kids and obstacle courses designed to put dad through his paces.
Hopefield Animal Sanctuary
After a short drive to the Hopefield Animal Sanctuary in Brentwood, your heart will melt when you see the care and attention the animals are given to nurse them back to health. This is a great place for children, and Max the bull is a must-see. Apparently, Max loves been tickled between the horns.
Airport Car Hire
A car is particularly useful when travelling to and from all of the major airports in London, with vehicle drop off and collection points at Heathrow, Gatwick, Luton and Stanstead Airports. You can pick up your hire car in Romford and drop it off at the airport when you are leaving.
Parking and Traffic Information in Romford
Traffic in the Romford area flows fast enough not to make driving a bind, and with the many A-roads linking to surrounding areas, most destinations can be reached in a reasonable time frame. The M25 is just minutes away and presents excellent travel to most parts of South East England. Parking in Romford is ample, with on-street parking meters and a number of large car parks, such as The Liberty and Angel Way car parks. Car rental makes sense given the number of miles in and around the area that you will need to drive to enjoy your stay as much as possible.
Cheap Van and Car Hire
Enterprise Rent-A-Car offers hassle-free, affordable car hire, with a large choice of vehicles on fleet and in stock. Enterprise guarantees cheap rates on car hire from all our Romford branch. Our range of modern economy cars are comfortable and reliable, but also fuel efficient, which keeps running costs low. Book online today and explore Romford and its surrounding areas at a price which suits any budget.
Whether you're moving to a different city or just simply picking up some flat pack furniture, Enterprise Rent-A-Car's extensive range of new, reliable vans at our Romford branch will get you and your goods on the road and to your destination in safety and comfort. Choose from our large fleet of commercial and passenger vans online today.
Frequently Asked Questions
For more FAQs, please visit our FAQ page.