Complete Clean Pledge
We pledge to go above and beyond our already rigorous cleaning protocols, including strict sanitising procedures to protect the health and safety of all.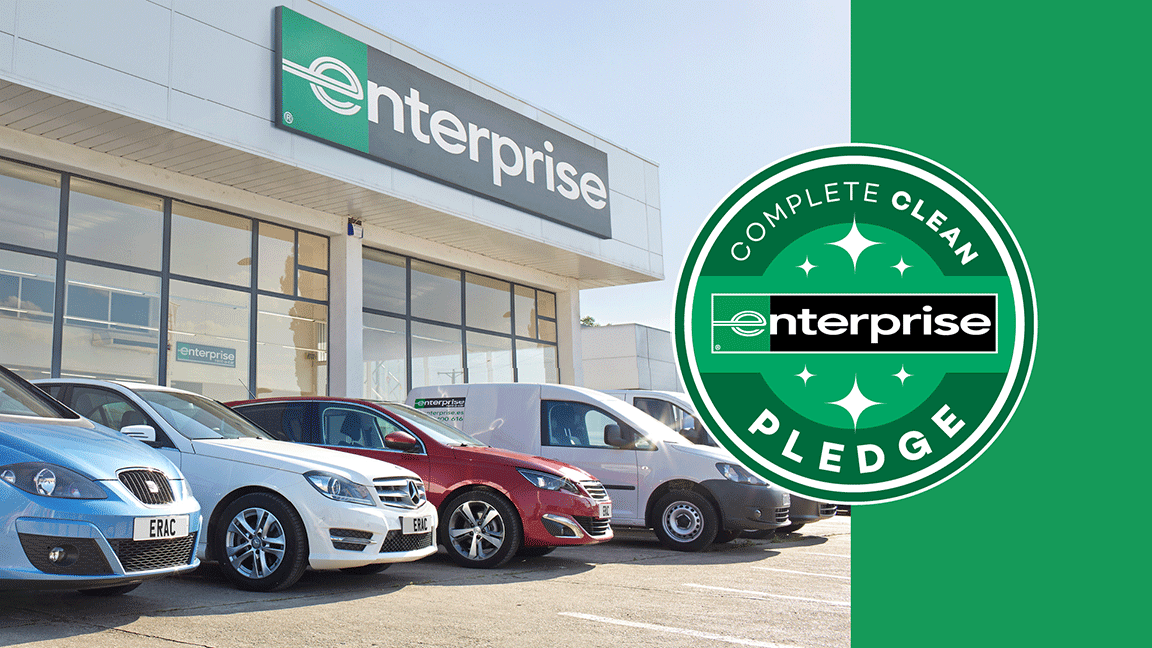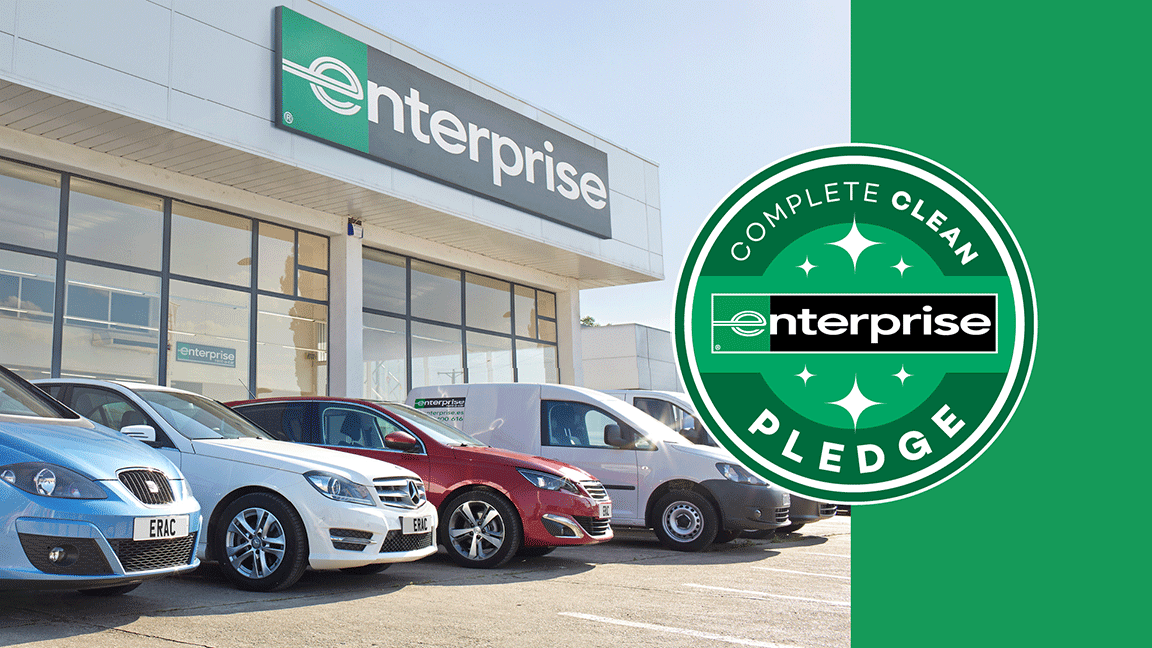 Car Hire in London with Enterprise
Full of history, iconic places and nightlife, London is on most people's bucket lists. Whilst the capital's centre is one of the most visited places in the world, there is even more to see outside the city. Why not experience it in the comfort of an Enterprise car rental? With our ULEZ (Ultra Low Emission Zone) compliant cars and vans, you can navigate London and its scenic surroundings with ease. Rent a car when you land at Heathrow or Gatwick airport, or we can arrange a pick-up from one of London's many top hotels by our local team. They can also provide you tips on some hidden gems worth visiting during your trip. Receive award-winning customer service and a car tailored to your needs – no matter what they are and what you want to do.
Wide Range of Rental Cars
With the world's largest and most diverse fleet of vehicles, there is definitely a car to suit your needs in one of our 20 London car hire branches. Whether you want to rent a seven seater, a nimble hatchback or a luxury car rental, you can count on us to find the perfect vehicle for your time in the city. We know everyone's driving preferences are different, so we provide manual and automatic cars, as well as the choice of petrol, diesel engines and even hybrids. This means enjoying your driving experience no matter what, along with the benefits of a fuel efficient and reliable car.
With our award-winning customer service, we will make sure your car is perfect for your situation. We even offer add-ons like GPS, child seats and boosters, as well as allowing for additional drivers on the rental cars. You can start your reservation above and see what is available during your stay, or visit our fleet page and explore our offers.
Do You Need a Van Rental in London?
Enterprise offers van hire for any scenario that requires that extra cargo space. Whether you're moving house, office, or simply transporting large items like furniture we will find you a van for hire in London. We offer vans in all sizes: short wheel base, medium sized, long wheelbase and even Luton vans. Our fleet features the latest models with London's Ultra Low Emission (ULEZ) and Low Emission Zones (LEZ), providing you with peace of mind, and a reliable vehicle that will get you and your cargo to your destination safely and comfortably. With our transparent charges and fees and flexible hire lengths, Enterprise Rent-A-Car offers cheap van hire and award-winning customer service. Just start your van hire reservation above or go to our van fleet to see what vans are available to you.
Cheap Car Hire in London
If you are after cheap car rental in London, or low cost van hire, we are a Which? Recommended Provider. It's not only our fantastic customer service, but also thanks to the clarity of our pricing, transparent working practices and the overall cost of rental. Over 20 million happy customers return to Enterprise every year for exceptional service, great value for money and our rewarding loyalty programme Enterprise Plus.
We are flexible with how you rent from us. Whether you prefer a prepaid service to get the cheapest rates possible in advance, or whether you require a car at short notice, we are here to help and get the right rental car for you. Get a car or van hire reservation quote above and see for yourself.
Airport Car Hire in London
We serve four of London's airports. The main hub airports, Heathrow and Stansted, as well as the South and the North airports of Gatwick and Luton. Heathrow lies within the city's boundaries, but the other three airports are within an hour's drive from the centre of London. We offer flexible opening hours at the airports for those who pre-book. However, even if you need to hire a car at short notice you can be sure of a warm welcome and agents who will help you find the best option for you. Our cars are located within easy reach of the airport terminals and will never be more than a short walk or free shuttle bus ride away.
Need to drop off in a different location?
One Way Car Hire
Looking to hire a car for a one-way trip? No problem! Enterprise Rent-A-Car offers easy and convenient one-way car rentals from most of its 10,000 locations in 90+ countries. Choose from a great selection of vehicles, including economy, saloons, SUVs, people carriers and vans.
Need help picking up and returning car?
Free Pick Up and Drop Off Service
Our free pick-up & drop-off service is available at non-airport branches and during normal business hours. To schedule your pick-up time or make additional arrangements, ask for this when your rental branch calls to confirm your reservation.
Need a car for an extended time?
Long Term Car Hire Service
Looking for a flexible alternative to a traditional rental or lease agreement? We've set up dedicated long-term branches throughout UK to provide our customers one-on-one attention. Just let us know when and where you need to rent a vehicle, and we'll take care of the rest.
Things to do in London
See the UK's most recognisable landmarks
The centre of London is full of historical landmarks such as Buckingham Palace, the Houses of Parliament alongside world-famous Big Ben, or even Tower Bridge and the medieval Tower of London. An Enterprise rental car can help you explore the many things to do in the surrounding area. Whether you are visiting Richmond Park and Kew Gardens in the South West, a botanical garden with Victorian palm houses and treetop walkways, or the Lee Valley White Water Centre opened for the 2012 London Olympics in North London – both are often easier to reach by car than public transport.
Venture out into London's surroundings
By hiring a car when in London, you can also venture a bit further outside of the city to keep things interesting. Visit Southend-on-Sea and its pier for a coastal break from the busy city– only an hour's drive from London. If you enjoy hiking and picturesque British villages, go and explore the Chiltern Hills Area of Outstanding Natural Beauty, also about an hour away from London by car. For more destination ideas during your stay in London, see your hotel's brochure or ask for assistance from a Golden Keys concierge.
---
Driving Information in London
When driving around the capital, there are a few key things to remember:
London has a lot of on-street parking but it's often short-stay or resident permit holders only.  If you want a more guaranteed spot, look for multi-storey car parks or borough-provided "pay and display" car parks that are usually priced similarly.
London has a series of dual carriageways, such as the North and South Circular roads (A406, A205), as well as the famed orbital motorway surrounding the city - the M25. This allows for navigating around areas of London faster than you would on inner-city roads. Check in advance for roadworks and lane closures.
When driving into the centre of London between 07:00 and 18:00 during the week, be prepared to pay a 'Congestion Charge'.
Another toll you may encounter applies to the Dartford Crossing, over the river Thames on the Eastern part of the M25 motorway. Between 06:00 and 22:00, you will be charged a small fee when travelling through.
Be wary of 20mph zones in a large portion of the city and make sure you don't drive in bus lanes during specified times, as the fines are quite expensive.
Be aware of the fact that like any other large city, London has peak hours (08:00 to 10:00, and 17:00 to 19:00) where any kind of travel takes longer than usual.
By renting a car, you have the freedom to explore London and its surrounding areas in comfort, whilst enjoying all the conveniences of a modern car hire fleet, such as entertainment systems and air conditioning. Our fleet is well-maintained and features the latest models, meaning traffic-easing driving aids like start-stop and hill assists are here to make your journey easier in most of our vehicles. The fact our cars are ULEZ compliant, means you do not have to worry about any additional charges that target more polluting vehicles. 
---
Frequently Asked Questions
For more FAQs, please visit our FAQ page.