Car & Van Hire in Hounslow
Welcome to the Enterprise Hounslow car rental page. Choose from a wide selection of cars ranging from smaller economy cars to larger SUVs and people carriers
Complete Clean Pledge
We pledge to go above and beyond our already rigorous cleaning protocols, including strict sanitising procedures to protect the health and safety of all.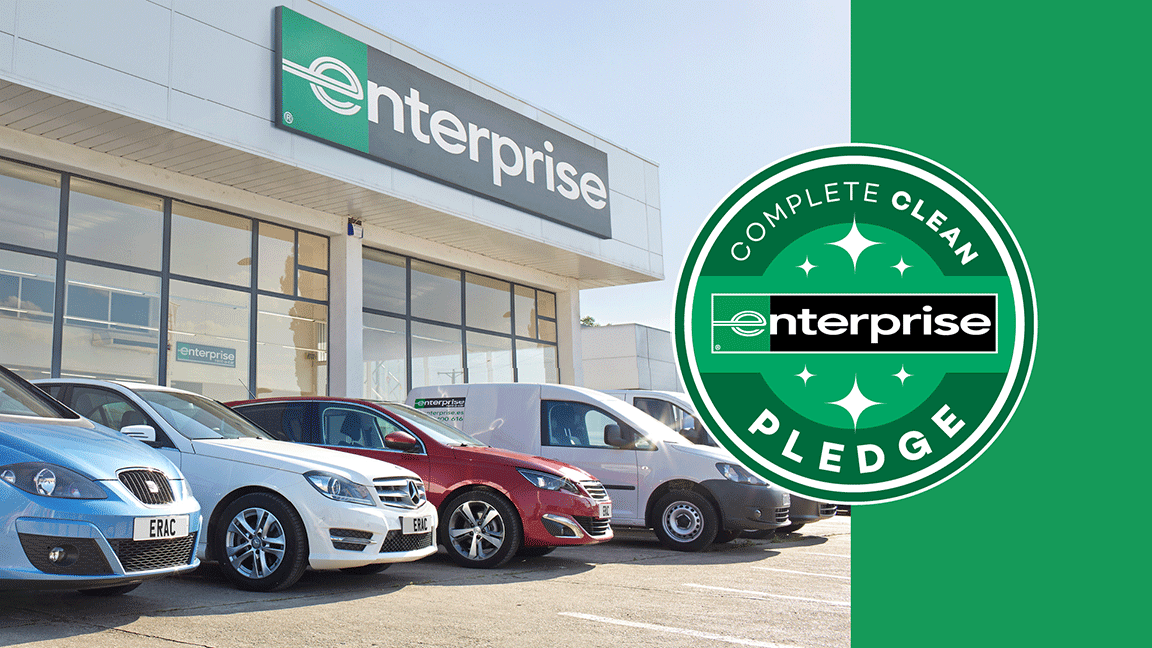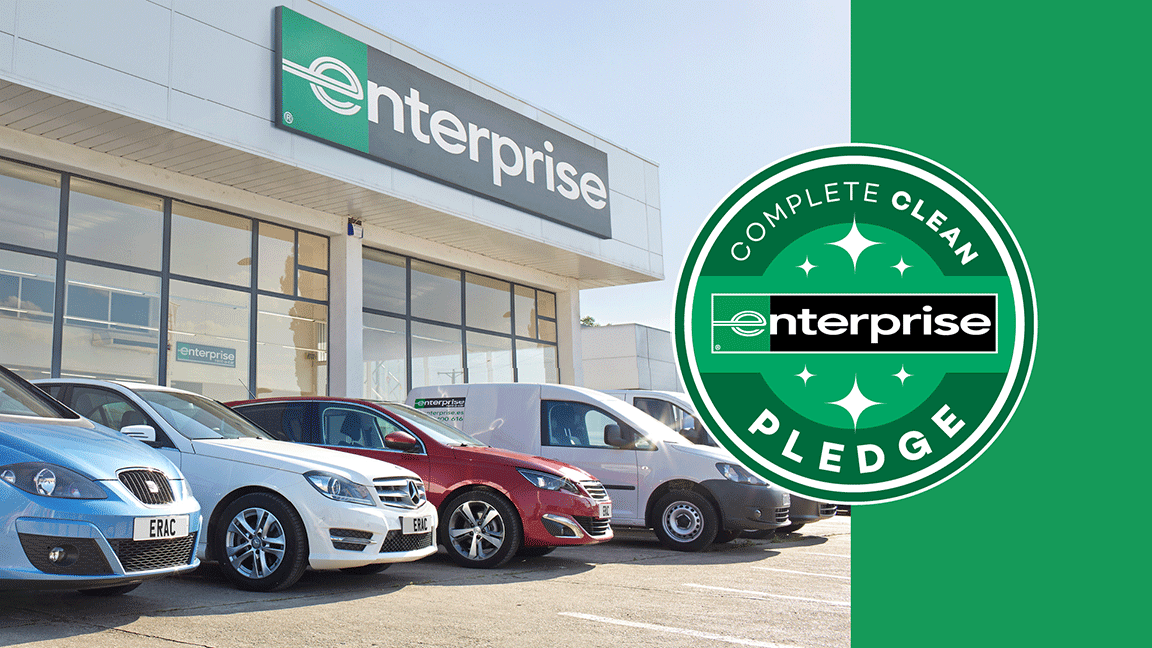 Car & Van Rental in Hounslow?
One of the most populous boroughs in West London, Hounslow is a thriving district of the British capital that makes the perfect base for tourists and business visitors alike. Home to Chiswick, Brentford and Isleworth, there's plenty to discover and explore here. Whether you're visiting London or just need a great deal on a day-long car rental, turn to Enterprise for convenient car hire solutions at prices you'll love.
Our Vehicles for Hire in Hounslow
Whether you're travelling for business or pleasure, Enterprise has got the vehicle for you. Moving house? Save yourself the added expense of professional movers – get a great deal on a van rental and do it yourself instead. Jetting into London on business? Get to every appointment on time and in style with a choice of eye-catching, executive cars from some of the finest motor manufacturers around. If you're travelling with a large number of colleagues or fellow delegates, why not look into a minibus or people carrier? Make sure everyone gets exactly where they need to be on time, and make a huge saving on countless taxi fares. Need a set of wheels to get you and your brood around on holiday? Make your family vacation as flexible as possible with a reliable city car or estate from our impressive selection, allowing you to get all those must-see sights and attractions ticked off your list.
Attractions in Hounslow
Although it's set away from the hustle and bustle of the inner city, there's still plenty to see and do in the London Borough of Hounslow. If you're staying in this part of the city during a holiday, make sure you clear some time in your schedule to explore popular places of interest, including the London Museum of Water and Steam, the breathtaking Syon House and Syon Park, the landscaped gardens of Osterley Park or the historic Chiswick House. This part of London is renowned for its neoclassical architecture and botanical gardens, with the world-renowned Kew Gardens just a short trip south towards the banks of the Thames. This particular part of London is also host to the head offices of various international companies, with fashion labels, financial institutions and broadcasters just a few of the sectors at home here. Although this part of West London is still well served by the Greater London transport network, there's a less frequent bus service and fewer London Underground stations than elsewhere in the city. If you're planning on visiting Hounslow to reconnect with friends or are heading somewhere specific on business, opt for Enterprise. Save yourself the hassle of scrambling for directions and bus timetables, and save yourself a small fortune on last-minute cabs by choosing Enterprise for affordable and convenient van and car hire.
Places to Visit Outside of Hounslow
Hounslow is just a short drive away from Twickenham, home to Twickenham Stadium, most famous for hosting international Rugby matches. Heading east towards London City on the A4, you can stop at the Natural History Museum, which is not far from the Royal Albert Hall and Hyde Park, all of which are worth a visit. Just south of Hounslow lies the Kempton Park Racecourse; over 100 jump and flat-racing events are held here each year. Being close to the M25, Hounslow gives you access to the whole region and beyond, so you can make the most of your hired car.
Airport Car Hire
London is home to several international airports, but the biggest of these is undoubtedly London Heathrow. This critical hub of international travel is just a few miles away from Hounslow and you'll find an Enterprise branch on site to handle all your car hire needs. If you're jetting into London on a long-overdue holiday, why not get settled in at your hotel before heading to your local Hounslow branch to pick up the perfect set of wheels for your trip. If you're landing in London on business, our car rental packages will ensure you make it to those all-important meetings without a hitch. Never miss an appointment when you choose a convenient van or car rental from Enterprise, ensuring crowded buses, tubes and overdue trains never get in between you and a winning business deal. What's more, we're all about making vehicle hire as convenient as possible – pick up your vehicle from our Hounslow branch, then drop it off at our London Heathrow Airport location once you're ready to check in for your flight.
Parking and Traffic Information in Hounslow
Although Hounslow enjoys a reliable public transport network courtesy of Greater London, it doesn't have the high number of bus and London Underground services found elsewhere in the city. That being said, Hounslow and West London are generally more convenient for motorists. The A4 Great West Road joins the A3006 here, providing convenient connections to London Heathrow Airport. The M4 motorway is also within close proximity, providing easy connections to destinations beyond London and further afield. The M4, A4, A30 and M25 all provide convenient routes for destinations in the north, while destinations to the south are served by the A316. Once you've made a saving on your car rental, make sure you don't end up parting with a small fortune in parking fines and congestion charges. Hounslow offers plenty of parking compared to the inner city, although you'll want to keep an eye on parking restrictions. If you're looking to park in a residential area, check which hours of the day fall under parking restrictions. Car parks are plentiful in Hounslow, but most places charge by the hour and strictly monitor vehicles parked there. If you don't want to get stumped with a large penalty, keep an eye on the meter and don't chance to overstay your welcome. Your Hounslow car rental vehicle will also be subject to congestion charges. If you're venturing into the city between 7 a.m. and 6 p.m., you can expect to pay the full daily congestion charge. If you're new to driving in Hounslow and London, you'll want to take some time to get acquainted with the local speed limits. Many regions of inner London are 20 mph zones, while most residential areas are 40 mph zones. If you're tight for time, it's also worth planning your journey around peak travel times. If you're looking to avoid traffic jams, you'll want to steer clear of main roads between 7 a.m. and 10 a. m. The peak evening rush is also prone to gridlocks, so have a backup route planned and plenty of patience if travelling during these hours.
Cheap Van and Car Hire
Enterprise in Hounslow offers great prices across its large fleet of vehicles, whether you need a 3-door economy car, roomy SUV or 9-passenger people carrier. Book online in advance for the best deals on cheap car rental, or visit our knowledgeable staff in branch for friendly, personal service.
Enterprise offers a wide range of new vans from our city and neighbourhood branches. Explore the full fleet of passenger vans and larger commercial vehicles online or visit us in branch where our staff can help you find your perfect vehicle. Visit our Hounslow van hire page to find out more.
Frequently Asked Questions
For more FAQs, please visit our FAQ page.