Car & Van Hire in Cambridge
Complete Clean Pledge
We pledge to go above and beyond our already rigorous cleaning protocols, including strict sanitising procedures to protect the health and safety of all.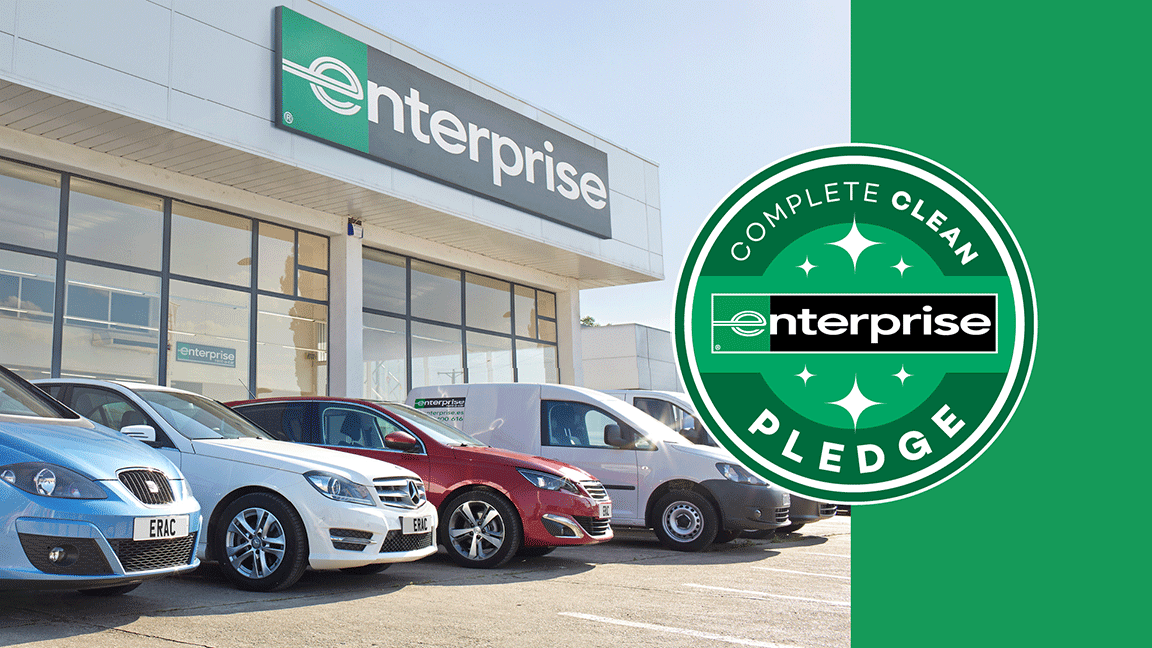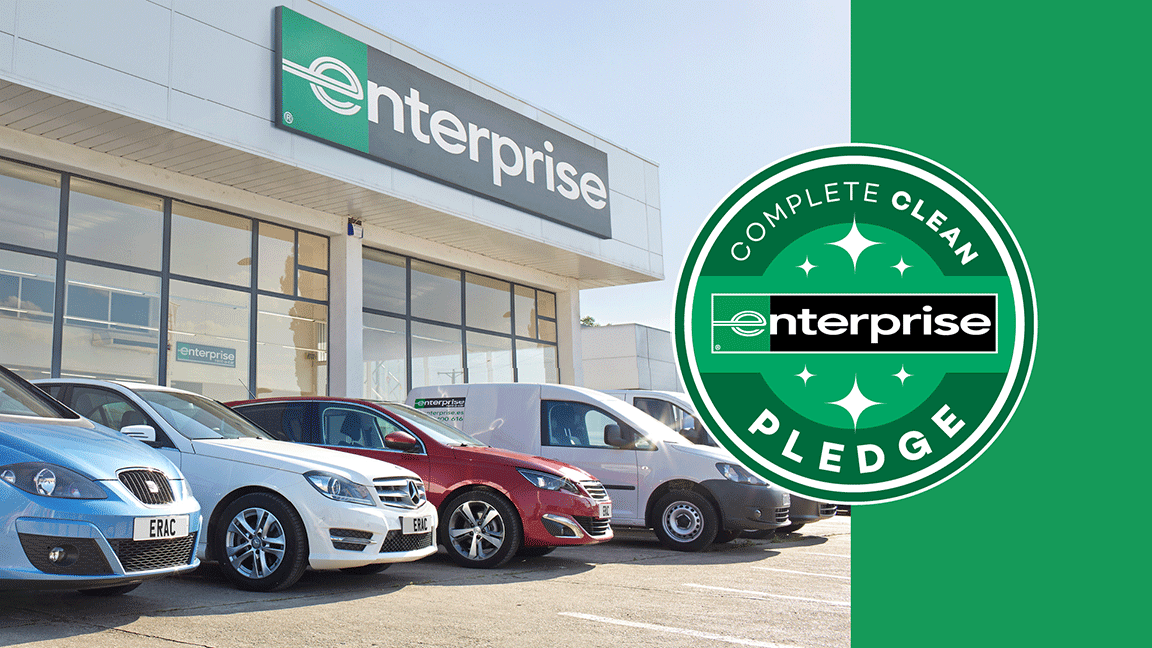 Car Hire & Van Rental in Cambridge with Enterprise
Home to the prestigious university, numerous exhibits in museums and a unique mode of transport on the River Cam, Cambridge is a wonderful city for absorbing culture and relaxation. The famed University of Cambridge dominates the city centre with its historical colleges like King's, Trinity and St John's. A stroll down the River Cam, or a ride on a punting boat, and a picnic on the Backs to take in the views is a must-do when in Cambridge.
If you want to explore Cambridge but also want to venture out to see what the surrounding region has to offer, you can rent a car with Enterprise and travel in comfort. You can find our branch in the Cambridge city centre as well as just outside of the city in our Cambridge Histon branch. Whilst Cambridge does not have its own airport, London Stansted Airport is under an hour away and you can find our rental terminal there to get you on your way.
Wide Range of Rental Cars
With the world's largest and most diverse fleet of vehicles, there is definitely a car to suit your needs in one of our 20 London car hire branches. Whether you want to rent a seven seater, a nimble hatchback or a luxury car rental, you can count on us to find the perfect vehicle for your time in the city. We know everyone's driving preferences are different, so we provide manual and automatic cars, as well as the choice of petrol, diesel engines and even hybrids. This means enjoying your driving experience no matter what, along with the benefits of a fuel efficient and reliable car.
With our award-winning customer service, we will make sure your car is perfect for your situation. We even offer add-ons like GPS, child seats and boosters, as well as allowing for additional drivers on the rental cars. You can start your reservation above and see what is available during your stay, or visit our fleet page and explore our offers.
Van Hire in Cambridge
If you're in Cambridge and find yourself needing extra boot space, or enough cargo area to fit a house-full of furniture, we offer competitive van rentals too. We offer vans of all kinds of lengths and sizes, ranging from small vans for those short hauls all the way to Luton van rentals for transporting large and heavy goods. Our vans offer great fuel efficiency, ULEZ compliance and superior comfort thanks to always being four years old or younger. Take a look at our van fleet and find the right vehicle for your haulage, and then get a quote above to make use of our Pre-Par service to save money on your van rental in Cambridge.
Cheap Car Hire in Cambridge
We offer competitive pricing on our entire rental car fleet, so if you need cheap car hire in Cambridge you're in the right place. We're a Which? Recommended Provider and that means our customer service, pricing clarity and ease of rental is top-class. We provide 20 million happy customers with great rental experiences every year, so you should join them by getting a quote above and making use of our Pre-Pay service to get the best price. Discover what we have on offer during your trip in Cambridge by visiting our car fleet page.
We also have a great scheme to join, especially for those who make use of rental cars often. By joining our Enterprise Plus membership, you gain redeemable points every time you book with us. Once you build enough points, you can book free rentals with us anywhere you go.
Cheap Airport Car Hire
Although Cambridge does not have an airport, you can get to the historical university city easily from London Stansted Airport. It lies just 40 minutes away by car south. Simply follow the M11 northbound, and you will be walking through the beautiful colleges of Cambridge University in no time.
Need to drop off in a different location?
One Way Car Hire
Looking to hire a car for a one-way trip? No problem! Enterprise Rent-A-Car offers easy and convenient one-way car rentals from most of its 10,000 locations in 90+ countries. Choose from a great selection of vehicles, including economy, saloons, SUVs, people carriers and vans.
Need help picking up and returning car?
Free Pick Up and Drop Off Service
Our free pick-up & drop-off service is available at non-airport branches and during normal business hours. To schedule your pick-up time or make additional arrangements, ask for this when your rental branch calls to confirm your reservation.
Need a car for an extended time?
Long Term Car Hire Service
Looking for a flexible alternative to a traditional rental or lease agreement? We've set up dedicated long-term branches throughout UK to provide our customers one-on-one attention. Just let us know when and where you need to rent a vehicle, and we'll take care of the rest.
Things to do in Cambridge


Stroll through the historical Cambridge University colleges
Cambridge is a world-renowned picturesque university city, home to one of the most prestigious universities in the world and its beautiful colleges. They are a must-see if you're in Cambridge. Going for a long stroll down the Backs, or going on a punting boat tour down the River Cam between the colleges, is simply an unforgettable experience. Visit St John's College to see the 16th century Great Gate and walk through the court to see the unique covered Bridge of Sighs. The King's College is also worth seeing and especially when the famous choir performs in the medieval glass window King's College Chapel. If you're thirsty after walking around the courts, you should pop in to the Cambridge Gin Laboratory for a tasting experience filled with knowledge. Just make sure you have a designated driver beforehand. You can also visit the Fitzwilliam Museum to see the collections of art and artefacts, or visit The Centre for Computing History to see how our devices have evolved over time.
Discover hidden gems a short drive away
Cambridge is also a great place to set out on daytrips from, thanks to its proximity to well-connected roads. Half an hour away, if you head north-east on the A10, is the quaint city of Ely. Its abbey traces back to 673 and despite invasions over the course of history, it still towers over Ely today. The family home of Oliver Cromwell is also located in the town and gives you an insight into life in the 17th century. Further down the A10, you can reach the medieval seaport town of King's Lynn. The museum there houses 'Seahenge' – a four-century-old Bronze Age monument made of oak. The wooden trunks form a circle with an upturned tree-root bottom in the middle, reminiscent of the famous Stonehenge monolith. Plan your time in Cambridge with an Enterprise car rental in mind and fill your trip with even more great memories. Get a quote above and wherever you're going – we'll get you there.
Tips for Driving in Cambridge

When driving around Cambridge and the surrounding area, there a few key things to remember:
·         Cambridge uses standard UK speed limits on its roads. In the city, the limits are 30mph and 20mph in certain areas, 40 to 60mph on dual carriageways and 70mph on the surrounding motorways.
·         Cambridge has the highest level of cycle usage in the UK, so be wary of people on bikes when driving around the city. Give space when overtaking and do not stop in cycle boxes on traffic lights.
·         The centre of Cambridge is quite difficult to drive around due to its medieval planning and the high amount of cyclists. Make use of park and ride or use on-street and multi-storey parking and take a stroll through the beautiful city.
·         The M11 motorway runs from London to Cambridge, where it turns into the A14 that can be taken towards Bury St Edmunds and Suffolk. If you travel to Ely and further north, you will use the A10. Most of these roads become busy during peak hours so plan your journeys ahead.
·         In an emergency, dial 999 or 112 on mobiles.
Frequently Asked Questions
For more FAQs, please visit our FAQ page.