Car & Van Hire in Yorkshire
Welcome to the Enterprise Yorkshire car rental page. Choose from a wide selection of cars ranging from smaller economy cars to larger SUVs and people carriers
Complete Clean Pledge
We pledge to go above and beyond our already rigorous cleaning protocols, including strict sanitising procedures to protect the health and safety of all.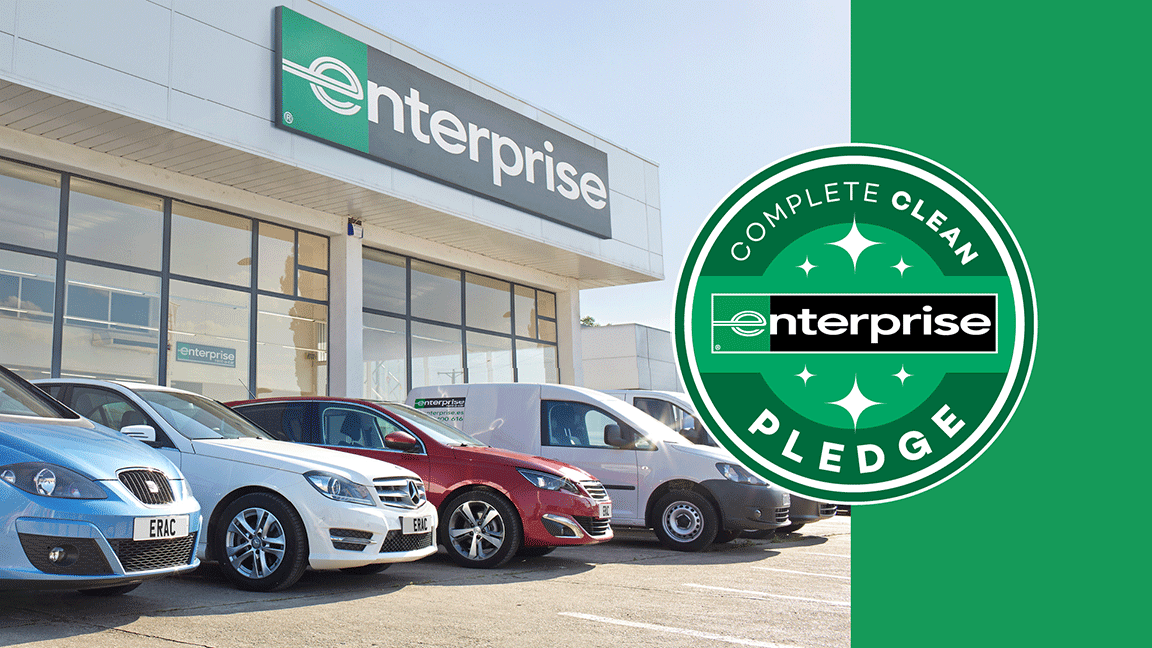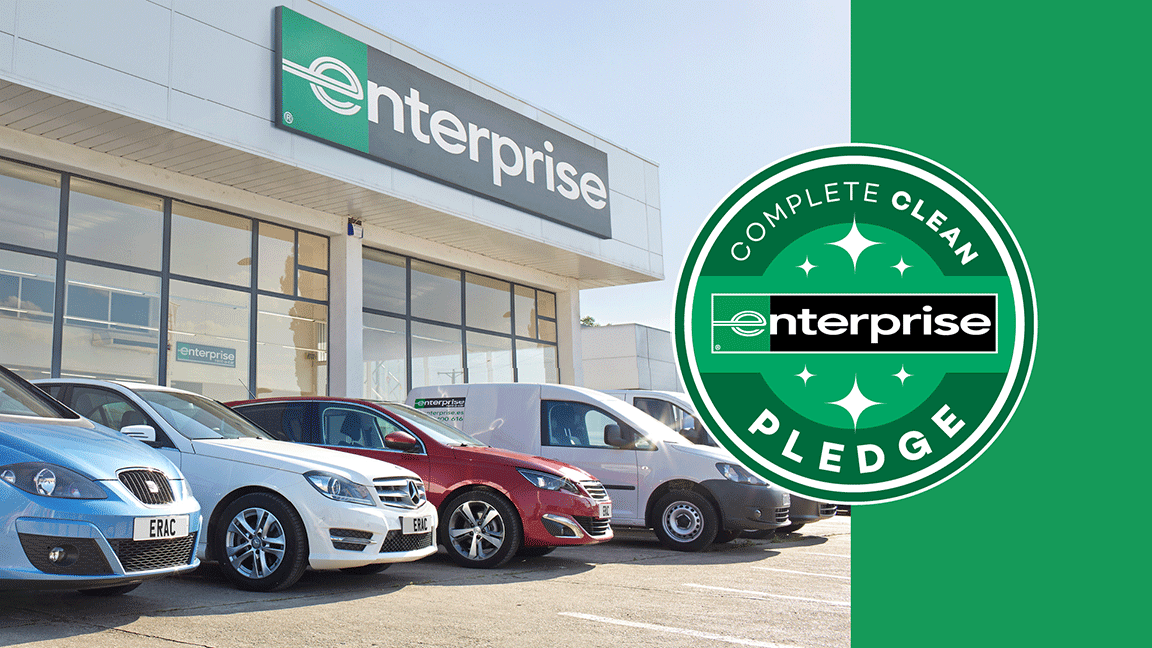 Car & Van Rental in Yorkshire?
From the natural beauty of the Yorkshire Dales and the haunting landscapes of the North York Moors to the rugged Yorkshire Coast and the cobbled streets of York, there is so much to explore and experience. A rental car from Enterprise allows you to get off the beaten track and see hidden gems that make up the very character of Yorkshire. You can rent your vehicle from any of our airport branches in Leeds and Manchester, as well as city locations in York, Shelby, Knaresborough and Halifax. Enterprise branches in Greater Manchester, Rochdale, Bolton and Burnley also serve Yorkshire and other parts of the North West of England.
Our Vehicles for Hire in Yorkshire
We offer affordable rental rates in Yorkshire on a selection of vehicles, including compact and mini cars and larger estate cars. We also supply SUVs, with added power and space. Whatever your needs, you will find a safe and comfortable option. For larger groups, we supply a range of people carriers; these vehicles provide additional space when a car with five seats is not enough. Our fleet also includes vans of various sizes. We have everything from small vans to extra-large options. You can also book a premium car – our selection of luxurious cars includes Mercedes, Porsche, Range Rover and others. With a premium car hire, you will travel in style as well as comfort throughout this exciting region.
Attractions in Yorkshire
A rental car is ideal for exploring the North York Moors, a quiet and picturesque mix of pine forests and moorland. The Moors provide an enchanting destination for scenic drives as well as breathtaking days out walking. The Yorkshire Dales are also a driver's paradise, with winding roads through striking, rolling landscapes and peaceful villages. Other destinations in North Yorkshire include beautiful York, renowned as the home of cobbled streets and the York Minster. Nearby are Selby Abbey and Tadcaster's 12th-century Church of St Mary. The Yorkshire Coast boasts lovely fishing villages set next to soaring cliffs and the ruins of Whitby Abbey, which inspired Bram Stoker's Dracula.
From medieval towns and stately manor homes to ruins that date to the Bronze Age, West Yorkshire has something for everyone. Highlights include the Gothic town of Beverley, home to an imposing 13th-century minster. The Wolds are dotted with charming villages and scenic hills. The cultural area of the Wolds is Driffield, home to All Saint's Church and Burton Agnes Hall. Hull is an emerging destination, too, with a mix of museums and tourist spots, as well as a thriving nightlife.
With elegant Victorian monuments and Gothic architecture, South Yorkshire's industrial past is evident across the region. South Yorkshire sits within the Peak District, home to Great Britain's first national park and the Alton Towers theme park. The region is also known for its emerging cultural and music scenes. Rotherham, Sheffield, Doncaster and Barnsley are just some of the major destinations in South Yorkshire.
West Yorkshire's cosmopolitan cities include Leeds, a bustling city and premier shopping destination. The city is home to acclaimed art galleries and famous theatres, including the Grand Theatre and Opera House. Historic Wakefield includes Wakefield Cathedral and Nostell Priory. You can also visit Anglers Country park, Haw Park Wood and Yorkshire Sculpture Park from Wakefield. The spa town of Ilkley is a gateway to the Yorkshire Dales and rock climbing destinations at the Cow and Calf Rocks. It is also home to some fine tearooms. Huddersfield and Calderdale are also within West Yorkshire.
Places to Visit Outside Yorkshire
The Lake District lies to the northwest of Yorkshire. This mountainous area in Cumbria is famous for its villages and lakes, including Windermere and the town of Kendal. Much of the Lake District is within the Lake District National Park, the most visited national park in the UK. Northwest of Yorkshire are Newcastle upon Tyne and Durham. Newcastle is known for its nightlife as well as its music and art scenes. Highlights in Durham include Durham Castle, which dates from the 11th century. Rising above the town centre is Durham Cathedral, a magnificent landmark with artefacts linked to Saint Cuthbert.
To the southwest are Manchester and Liverpool. Both cities are known around the world for their football clubs. Once a major hub for industry, Manchester is the unofficial capital of the north of England. Significant regeneration in the city centre has helped transform Manchester into a leading cultural, art and retail destination. Similarly, Liverpool and its former docks are being reinvented into modern spaces in which to live, work and play. The city is the birthplace of several popular musicians and bands, including The Beatles. With a hire car, Yorkshire becomes a great base to explore these and other destinations in England's north.
Airport Car Hire
We have two branches at airport locations serving the region; at Manchester Airport and Leeds Bradford Airport. Leeds Bradford Airport serves the cities of Leeds and Bradford, as well as the Yorkshire region. Flights to airports across the UK and beyond arrive at the airport. York, Wakefield, Harrogate and other destinations are within a short drive of Yorkshire's largest airport. You can start exploring Yorkshire as soon as you arrive, with our convenient in-terminal counter. Our vehicles are located within walking distance of the terminal.
Manchester Airport is an important gateway to the North of England, including Yorkshire. More than 200 destinations are served by the airport, which is one of the busiest in the UK. Our branch is based at the airport's dedicated car rental village, which is a short shuttle ride from Manchester Airport's terminals.
Parking and Traffic Information in Yorkshire
If you are used to driving on wide and straight roads, Yorkshire may take some time to get used to when visiting for the first time. Many roads, including those in the Yorkshire Dales, are narrow, and in many places, they are only wide enough for a single car. Winding roads and steep hills may require vehicles with more power, especially when travelling in more remote areas. At the same time, smaller cars are perfect for the narrow roads in the countryside. Drivers also need to pay attention to wildlife, especially sheep that wander across roads in rural areas.
Cheap Van and Car Hire
Enterprise Rent-A-Car offers hassle-free, affordable car hire, with a large choice of vehicles on fleet and in stock. Enterprise guarantees cheap rates on car hire from all our Yorkshire branch. Our range of modern economy cars are comfortable and reliable, but also fuel efficient, which keeps running costs low. Book online today and explore Yorkshire and its surrounding areas at a price which suits any budget.
Whether you're moving to a different city or just simply picking up some flat pack furniture, Enterprise Rent-A-Car's extensive range of new, reliable vans at our Yorkshire branch will get you and your goods on the road and to your destination in safety and comfort. Choose from our large fleet of commercial and passenger vans online today.
Frequently Asked Questions
For more FAQs, please visit our FAQ page.