Car & Van Hire in Wakefield
Welcome to the Enterprise Wakefield car rental page. Choose from a wide selection of cars ranging from smaller economy cars to larger SUVs and people carriers
Complete Clean Pledge
We pledge to go above and beyond our already rigorous cleaning protocols, including strict sanitising procedures to protect the health and safety of all.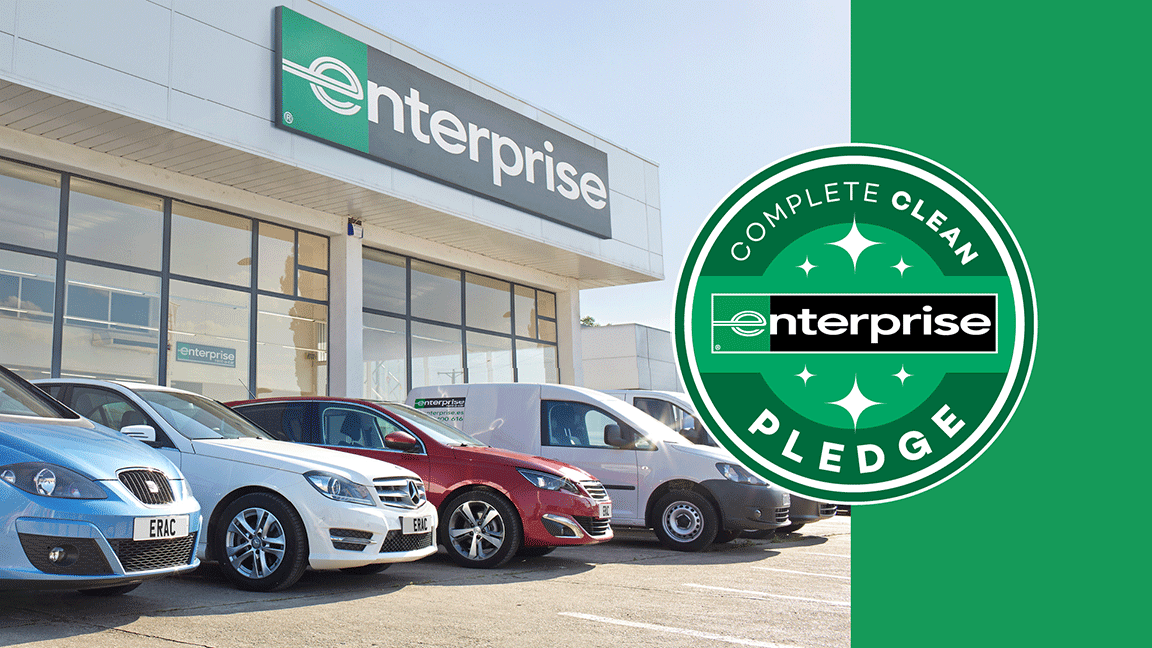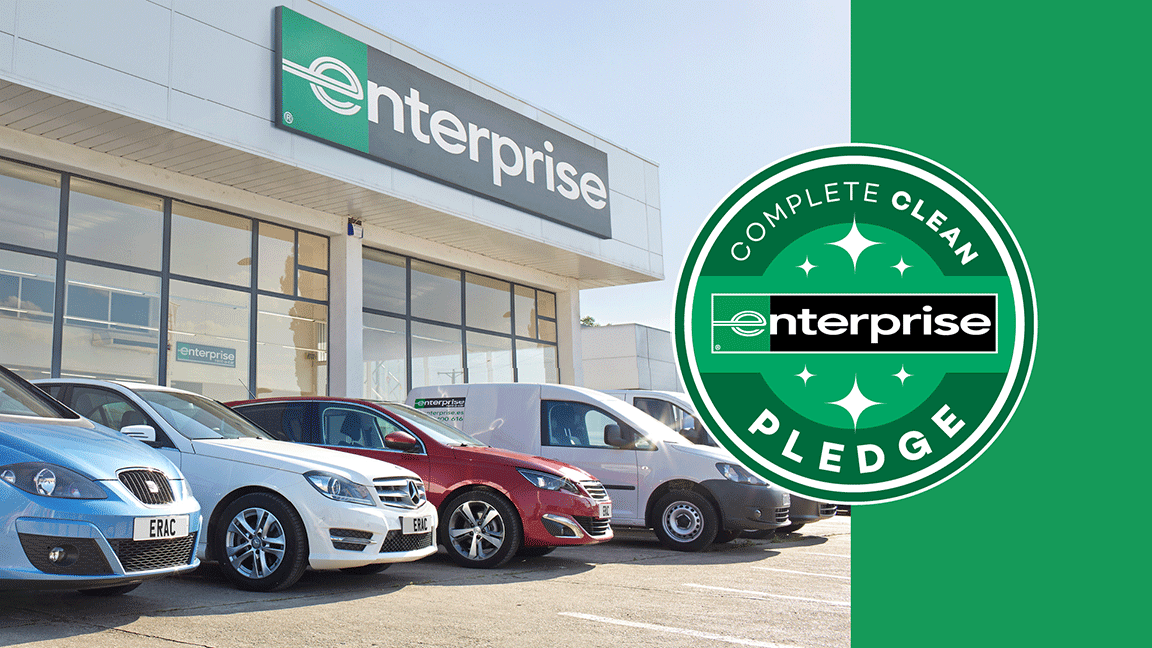 Car & Van Rental in Wakefield?
Wakefield, central to West Yorkshire, is a city whose history predates medieval times. Indeed, by the Georgian period, it had become prosperous and its Georgian heritage can still be seen in the architecture today. Wakefield's traditional industries of corn, cotton production, textiles and mining have been in decline for many years and employment now centres around retail, light engineering, production and packaging. Coca-Cola has a large plant just outside the city. As cities go, Wakefield is small and only acquired city status in the middle of the 19th century, when the parish church became a cathedral. Enterprise has an office at 105-169 Dewsbury Road, Wakefield, about a mile outside the town centre. Wakefield is a great destination because the city is relatively close to anywhere in Yorkshire you might like to go.
Our vehicles for hire in Wakefield
For travellers looking to tour the county in real style, Enterprise can put an executive Mercedes-Benz at your disposal. For those who really want to cut a swathe, why not hire our Porsche Cayman? Your needs may be a little more mundane – perhaps you want a car because your own vehicle is temporarily off the road, or maybe you want to take the children to the seaside or to a theme park and don't want to waste time and money on public transport. Enterprise has the vehicle for you – perhaps a Ford Focus or Vauxhall Integra. Whatever you need for your trip to Wakefield, car hire needs will be met by Enterprise, even if you need a larger vehicle such as an SUV or people carriers
Attractions in Wakefield.
The Hepworth Gallery, which opened in May 2011, attracts art lovers from all over the county to view exhibitions of major contemporary artists. It takes its name from the sculptor, Dame Barbra Hepworth, who was born and grew up in a house on Batley Road, which today bears a blue commemoration plaque. Trinity Walk shopping centre is built on the site of the old bus station, opened in 2011 to complement the Ridings, one of the first indoor shopping malls in the country. The city also has a number of retail parks situated just outside the centre. The cathedral church of All Saints dates back to the 12th century and has just undergone extensive restoration at a cost of £2.5 million, including the creation of open spaces for worship and other public events. During the summer, its towers become home to a pair of Red Kites, for those lucky enough to see them. Wakefield may be a small city, but there is lots to see and do and hiring a vehicle for your Wakefield trip enables you to both experience the city and travel further afield.
Places to go outside Wakefield.
By renting a car in Wakefield, you can easily access the rest of what Yorkshire has to offer. A short trip will take you to the internationally renowned Yorkshire Sculpture Park, and outdoor installations from major artists, such as Sir Henry Moore, set in the beautiful grounds of Bretton Hall. Visit the village of Emley, situated between Wakefield and Huddersfield and gaze up at the breathtaking Arqiva Emley Moor transmitting and broadcasting mast. This Grade II listed building stands at 1,084 feet and is the tallest freestanding structure in Britain and the 23rd tallest tower in the world. Wakefield is equidistant to York in the north and Sheffield in the south. York, with its river cruises, evening ghost walks, historical buildings and eclectic cafes, bars and restaurants has something for everyone, while Sheffield has come on tremendously in the last two decades. The Meadowhall Shopping Centre lies on the Wakefield side of the city, and is only a 30-minute drive down the M1. Visitors to Sheffield City centre can visit the regenerated civic centre with its fountains and plazas, and even visit the arboretum, which houses an array of tropical plants.
Airport Car Hire
Wakefield is 22 miles away from Leeds Bradford Airport; the other closest option is the airport at Doncaster/Sheffield, formerly known as Robin Hood. Leeds Bradford has, over the last 50 years, grown from its humble origins as a small aerodrome based at Yeadon to a facility of international standing, with flights arriving and leaving on a regular basis to and from places all over the world. If you are flying off for the day or even for a weekend break and want to keep your hired car, the airport offers a range of secure parking options close to the terminal building. Travellers are advised to check online for the best rates.
Parking and Traffic Information.
To coincide with the opening of the new £12 million Westgate Station almost three years ago, a new multi-storey car park was constructed, with 331 short stay spaces available and 900 spaces for railways users, which are charged on a daily basis. There is another multi-story off Northgate, and car parks behind the bus station and on George Street. Although Wakefield Council is responsible for running many of the car parks, private companies also operate. The two shopping centres in the town also have car parks that require a fee. Wakefield lies close to junctions 39 and 41 of the M1 and is traversed by the A642, A638 and A61. The A636 Denby Dale road and A650 route to Keighley begin in the city. You can explore all these routes and many beyond to the Yorkshire Dales and Pennines with your hired car.
Cheap Van and Car Hire
Enterprise Rent-A-Car offers hassle-free, affordable car hire, with a large choice of vehicles on fleet and in stock. Enterprise guarantees cheap rates on car hire from all our Wakefield branch. Our range of modern economy cars are comfortable and reliable, but also fuel efficient, which keeps running costs low. Book online today and explore Wakefield and its surrounding areas at a price which suits any budget.
Whether you're moving to a different city or just simply picking up some flat pack furniture, Enterprise Rent-A-Car's extensive range of new, reliable vans at our Wakefield branch will get you and your goods on the road and to your destination in safety and comfort. Choose from our large fleet of commercial and passenger vans online today.
Frequently Asked Questions
For more FAQs, please visit our FAQ page.