Car & Van Hire in Southampton
Welcome to the Enterprise Southampton car rental page. Choose from a wide selection of cars ranging from smaller economy cars to larger SUVs and people carriers
Complete Clean Pledge
We pledge to go above and beyond our already rigorous cleaning protocols, including strict sanitising procedures to protect the health and safety of all.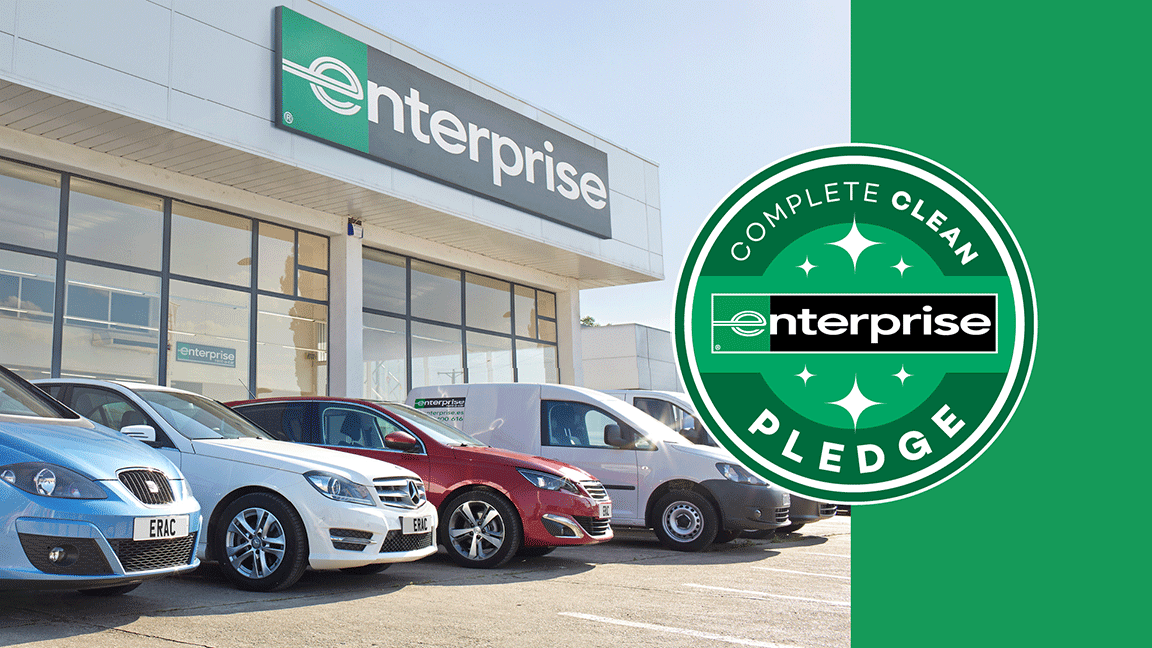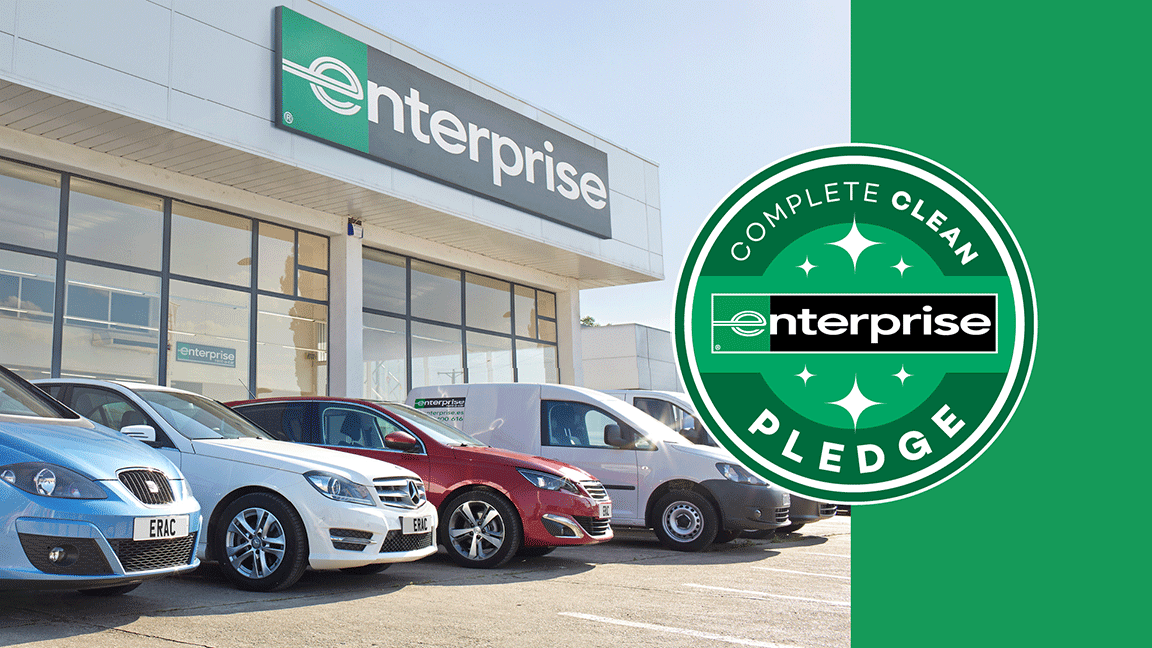 Car Hire & Van Rental in Southampton with Enterprise
Being the port that HMS Titanic started its maiden journey from, Southampton's marine past and present is definitely worth diving into. Visit the SeaCity Museum to learn about the famous ocean-liner's history through interactive displays, or spend the day lounging and watching sailboats in the sun, on the modern banks of Southampton's Ocean Village. The city is also a great place to set out on day trips into the south coast's vast offerings of nature and leisure. Hire one of our great car rentals and explore the beautiful heathland of New Forest, take a ferry into the Isle of Wight or man the walls at Hurst Castle.
If you're flying into Southampton Airport, you can find our car hire branch office opposite the terminal. Just follow the signs guiding towards car rentals. The airport is a short 15 minute drive on the A335, that takes you right into the city centre. If you're in the city already, you can find rentals in our Southampton Central Docks branch, the East Southampton branch in Bitterne, our Totton West Southampton branch and a short drive north from the airport in the Eastleigh branch by the fire station.
Wide Range of Rental Cars
However you want to spend your time in Southampton, you can get around faster, in comfort and to more hidden gems in one of our rental cars. We offer economy car rental for those after a reasonably priced get-around, or for those after thrilling rides we also provide sports car hire. With one of the world's largest fleets, we are able to provide you with a driving experience tailored to your preferences. Pick what suits you best from our car fleet, with cars powered by petrol, diesel, hybrid and electric motors and manual or automatic gearboxes. Our cars are always modern and clean, making sure your journeys are fuel-efficient and enjoyable.
We also offer add-ons for those who need extra help or special terms when getting around. Keep any young passengers safe with infant seats or child boosters, rent a satnav to make journeys more efficient or add more drivers to the rental. Simply add these during your reservation process above and enjoy your time in Southampton with our cars.
Van Hire in Southampton
If you're looking for something with extra room for hauling big items, our vans will definitely come in handy. Whether you need to transport a new outboard engine for your boat, or you've just moved to Southampton and need space for new flat-pack furniture, our expansive van fleet is here to help. Our modern vehicles have the newest fuel-efficient engines that allow you to haul more cargo whilst being less harmful to the environment thanks to ULEZ compliant emissions. Whether you need a small van, or you think only a Luton van rental can get you from A to B, our Southampton branches will have something in stock for you.
To get the cheapest quote on van hire in Southampton, start your reservation above and make use of our Pre-Pay service. Pick the van best suited to the size of your cargo and pay for it now to save, or visit one of our branches where our helpful agents can get you on the road in no time.
Cheap Car Hire in Southampton
The 20 million happy customers who rent with us annually, return to us again because of great value and the great customer service we are known for. Clear pricing and great rental car rates, combined with the attention we give each one of our customers, allowed us to be recognised as a Which? Recommended Provider. Experience it yourself by picking a vehicle that suits you from our fleet, and start your reservation above to enjoy Southampton and its surroundings in our comfortable cars.
Do you use car rentals often? By joining our Enterprise Plus membership, you could be getting free Enterprise car rentals all over the world. Join today and start earning points on qualifying rentals, then redeem them for free rides with us.
Cheap Car Hire in Southampton Airport
Southampton Airport is around four miles north from the city centre. You can get to the city centre in 15 minutes if you take the A335, but if you want to go west or east Southampton, the M27 wraps around the outskirts of the city and allows for easy access to those areas. You can also take the nearby M3 to travel north towards London. Our Southampton Airport branch is right opposite the terminal and you can find it easily by following the car rental signs.
If your flight is outside of our business hours, don't worry about returning your car. We offer After Hours Service at Southampton Airport for those who need that extra flexibility in their rental reservation. Leave your car in an Enterprise marked parking bay and place the keys in our drop box, found inside the terminal building. You can speak with our helpful branch agents too, morning until night, and they can help get you set-up for your drive into Southampton.
Need to drop off in a different location?
One Way Car Hire
Looking to hire a car for a one-way trip? No problem! Enterprise Rent-A-Car offers easy and convenient one-way car rentals from most of its 10,000 locations in 90+ countries. Choose from a great selection of vehicles, including economy, saloons, SUVs, people carriers and vans.
Need help picking up and returning car?
Free Pick Up and Drop Off Service
Our free pick-up & drop-off service is available at non-airport branches and during normal business hours. To schedule your pick-up time or make additional arrangements, ask for this when your rental branch calls to confirm your reservation.
Need a car for an extended time?
Long Term Car Hire Service
Looking for a flexible alternative to a traditional rental or lease agreement? We've set up dedicated long-term branches throughout UK to provide our customers one-on-one attention. Just let us know when and where you need to rent a vehicle, and we'll take care of the rest.
Things to do in Southampton

Dive into the city's marine history
The tragic maiden voyage of world-famed HMS Titanic started in Southampton's port. The SeaCity Museum near Watts Park is a must-see for anyone interested in the ship's story and maritime history of England. It's filled with interactive displays and even features replicas of the Titanic's interiors for you to enjoy. If you fancy seeing how inhabitants of the city lived during the Tudor times, take a short walk towards the waterfront and you'll find yourself in Southampton's historical district right behind the still-standing Old Wall. There, you can visit Tudor House – a restored Tudor mansion with remains of a 12th century Norman home. Not far from this gem, you will find the Medieval Merchant's House and its restored innards that show what life looked like in 14th century Southampton. To catch some fresh air after, head town to the Ocean Village and relax by the marina with some food in one of the nearby waterfront eateries.
Venture out into coastal nature and more
Southampton's coastal location and the fantastic road network surrounding the city, make it a great hub for setting out on day trips from. Enjoy a walk through the 440 acres of parkland and down the course of River Itchen in Itchen Valley Country Park, or see over 170 exotic and endangered animals in Marwell Zoo. If you love unscathed nature, you simply must visit New Forest National Park, created in 1079 by William I the Conqueror as royal hunting grounds. Its pink-flowered heathland stretches over rolling hills for miles and the ancient forest makes you feel like you're in a fairy tale. It's famous for its free-roaming wild horses that you will surely come across during a drive or hike on the seemingly endless trails. For car lovers, the south-eastern part of New Forest is home to the Beaulieu National Motor Museum – a display of over 250 vehicles and the World of Top Gear, where fans of the show can see iconic vehicles from the TV show.

---
Tips for Driving in Southampton

When driving around Southampton and the surrounding area, there a few key things to remember:
·         Like in the rest of the UK, drive on the left and remember to give priority to those coming from the right on junctions and on roundabouts.
·         Southampton uses standard UK national speed limits. Most built-up area roads will have a 30mph limit with some 20mph limit zones. Single and dual carriageways are also aligned with standard national speed limits, unless specified otherwise on road signs.
·         Southampton's coastal M27, the M3 and a number of fantastic A-roads surrounding the city make getting around quick and easy.
·         The City Centre gets busy during peak hours, so plan your journey ahead if you're on a schedule.
·         On-street parking can be found around Southampton but you can make use of the various NCP and council car parks. The charges are usually listed on the machines and the entrance boards.
·         When driving in New Forest, be wary of wild horses, donkeys and sheep roaming free. Reduce speed and use the car's full beams at night, but make sure to turn them off if you see an animal to prevent them from getting dazzled.
·         In an emergency, dial 999 or 112 on mobiles.
Frequently Asked Questions
For more FAQs, please visit our FAQ page.