Car & Van Hire in Shropshire
Welcome to the Enterprise Shropshire car rental page. Choose from a wide selection of cars ranging from smaller economy cars to larger SUVs and people carriers
Complete Clean Pledge
We pledge to go above and beyond our already rigorous cleaning protocols, including strict sanitising procedures to protect the health and safety of all.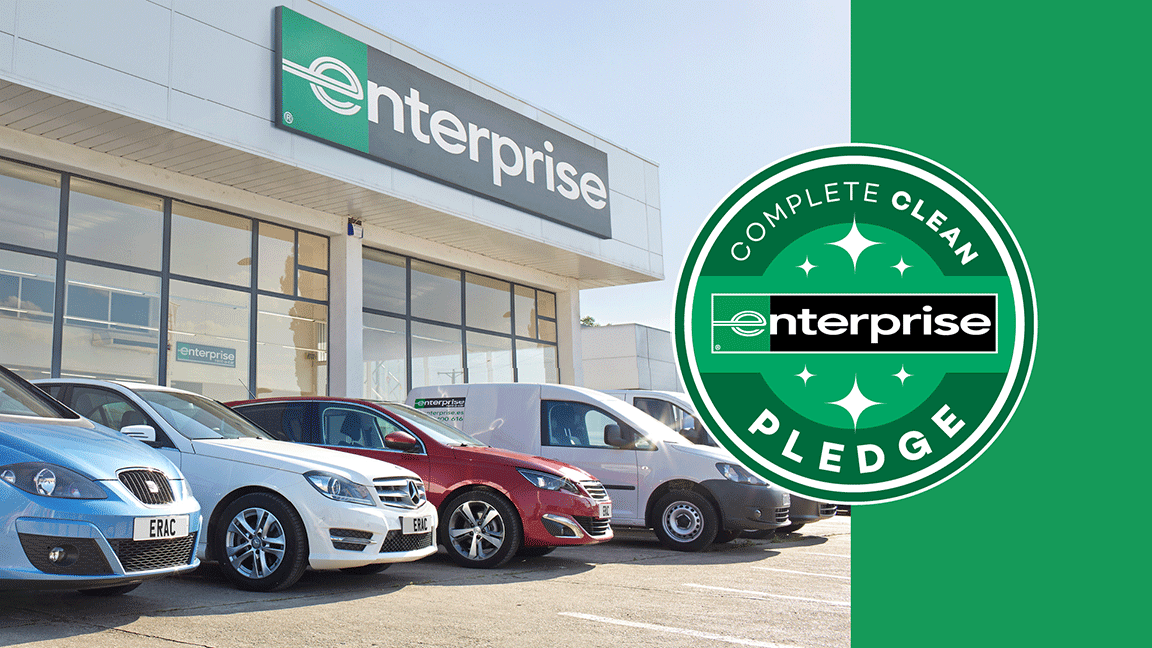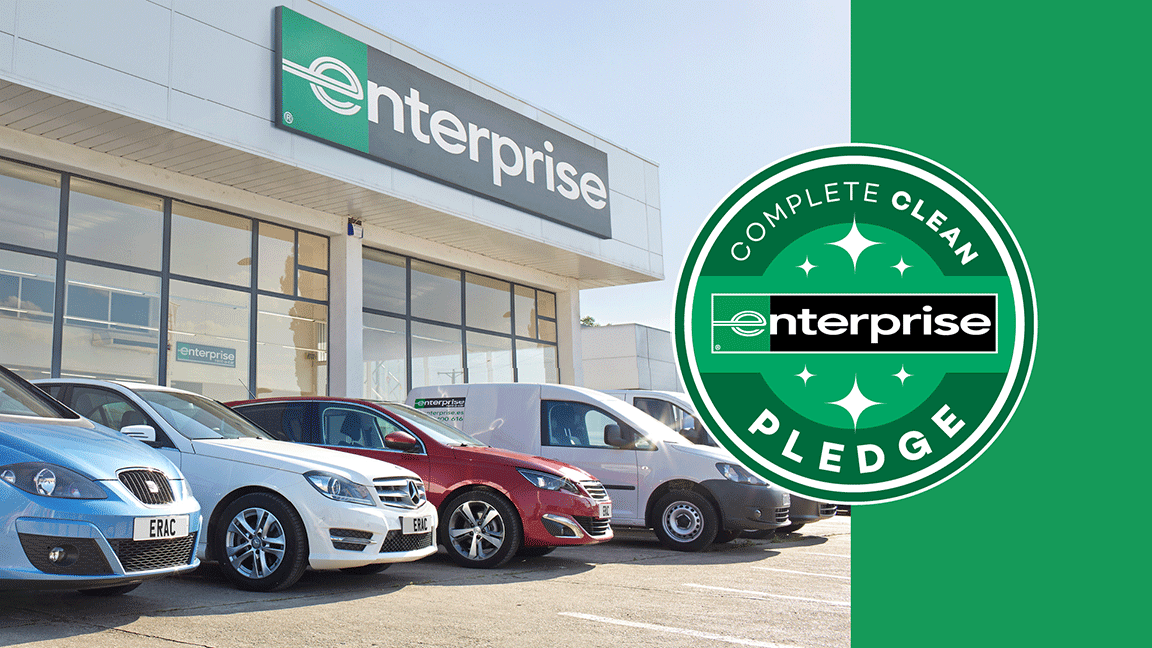 Car & Van Rental in Shropshire?
Peaceful, uncrowded and one of the few remaining rural idylls in England's countryside, Shropshire is a large county with a long history. Castles and hill forts perch on dramatic landscapes, suggesting border skirmishes between ancient civilisations. In contrast, cultivated and delightfully ornate gardens are dotted across the county. The main county towns of Shrewsbury and Ludlow offer modern-day visitors a fascinating and entertaining mix of open-air markets, live music and gourmet food. For your trip to Shropshire, car hire offers the best way of getting around and seeing more of this relaxing county with tea rooms, country pubs, bustling market towns and remote hills – yet with quick access to the centre of Wales and the West Midlands. Visitors to Shropshire are well served by Enterprise Rent-A-Car branches in Telford (Stafford Park) and in Shrewsbury on the Whitchurch Road.
Our Vehicles for Hire in Shropshire
Hiring a car is simple and straightforward to organise with Enterprise. For short trips around Shrewsbury or Telford with easy parking, a class A mini, such as a Toyota Aygo, could well be the best way to get around town. Alternatively, if you plan to venture around the county, you may want to opt for an economy three or five-door Vauxhall Corsa - or perhaps a larger compact vehicle, such as the Ford Focus, Skoda Octavia or Vauxhall Insignia. For hill walking excursions to Stiperstones, Devil's Kitchen and other breathtakingly scenic destinations, a mini MPV (multi-purpose vehicle) is ideal - or even a 4x4, such as the Toyota Rav 4 or SEAT Alhambra, for those winding country roads. Whatever your choice, you are assured of well-maintained vehicles in top condition, from Enterprise in Shropshire.
Attractions in Shropshire
Numerous attractions await you on your visit to Shropshire, including the town of Bridgnorth. Here, an old but fully maintained funicular railway transports visitors up the castle hillside. Alternatively, the aptly Ironbridge Gorge features the world's first arched iron bridge – opened over two centuries ago in 1781 and now a well-appointed tourist spot. Buildwas Abbey is situated just two miles to the west of here, on the banks of the River Severn. Those who appreciate the timeless atmosphere of old monuments will also want to visit Stokesay Castle, an impressive manor house and moat from the 1200s.
To the south, Ludlow Castle is a restored Norman building that holds fairs, craft markets and folk music events. The town is also host to regular food markets selling fresh and organic local produce. The nearby Assembly Rooms and tourist authority run a programme of regular cultural events, while Ludlow Museum keeps visitors informed of local history. The town's prosperity dates back to the year 943 A.D., thanks to the river and watermill.
The Royal Air Force Museum at Cosford offers free admission to visitors, with displays of decommissioned military aircraft in wartime hangars. A few miles to the west is the Wrekin; a hill that attracts walkers from all over the area. Similarly, Stiperstones is a quartzite ridge dating back over 480 million years, while other popular sites include the Long Mynd.
Back in the Tudor town of Shrewsbury, visitors to the area can choose from modern shopping, leafy riverside walks, an impressive park and nearby restaurants, as well as a museum, an art gallery and a red sandstone castle.
Places to Visit Outside Shropshire
The Shropshire Hills are classified as an area of outstanding natural beauty, and border on Wales. It is possible to park at one of the local railway stations, take the train one stop into Wales (to Knucklas, for example) and walk back along tree-lined hills, ridges and public footpaths while enjoying fantastic views. However, be sure to take a map and compass or GPS, and waterproof clothing!
The castles and coast of West Wales, including Harlech, Barmouth and the beautiful Lleyn Peninsula, are other excursions within relatively easy reach. Heading southwards instead, neighbouring Hereford, Kidderminster and Malvern in Worcestershire boast garden and craft centres, stately homes and country parks. Once your car is reserved with Enterprise, you can look forward to planning your trip.
Airport Car Hire
The nearest airports to Shropshire are Liverpool or Manchester to the north, both of which offer Enterprise branches. Alternatively, Cardiff and Birmingham airports are within easy reach of the south of the county, via good road connections.
Parking and Traffic Information in Shropshire
The towns of Shropshire offer paid and some limited, free of charge, on-road parking within their centres.
Traffic flow is normally fluid on the M54 motorway through Shropshire, though the adjoining M6 tends to be much busier during peak periods. Within the county, some minor local roads can be subject to groundwater accumulation and closures over higher ground during deep winter, due to snow and ice.
Cheap Van and Car Hire
Enterprise Rent-A-Car offers hassle-free, affordable car hire, with a large choice of vehicles on fleet and in stock. Enterprise guarantees cheap rates on car hire from all our Shropshire branch. Our range of modern economy cars are comfortable and reliable, but also fuel efficient, which keeps running costs low. Book online today and explore Shropshire and its surrounding areas at a price which suits any budget.
Whether you're moving to a different city or just simply picking up some flat pack furniture, Enterprise Rent-A-Car's extensive range of new, reliable vans at our Shropshire branch will get you and your goods on the road and to your destination in safety and comfort. Choose from our large fleet of commercial and passenger vans online today.
Frequently Asked Questions
For more FAQs, please visit our FAQ page.