Car & Van Hire in Ripon
Welcome to the Enterprise Ripon car rental page. Choose from a wide selection of cars ranging from smaller economy cars to larger SUVs and people carriers
Complete Clean Pledge
We pledge to go above and beyond our already rigorous cleaning protocols, including strict sanitising procedures to protect the health and safety of all.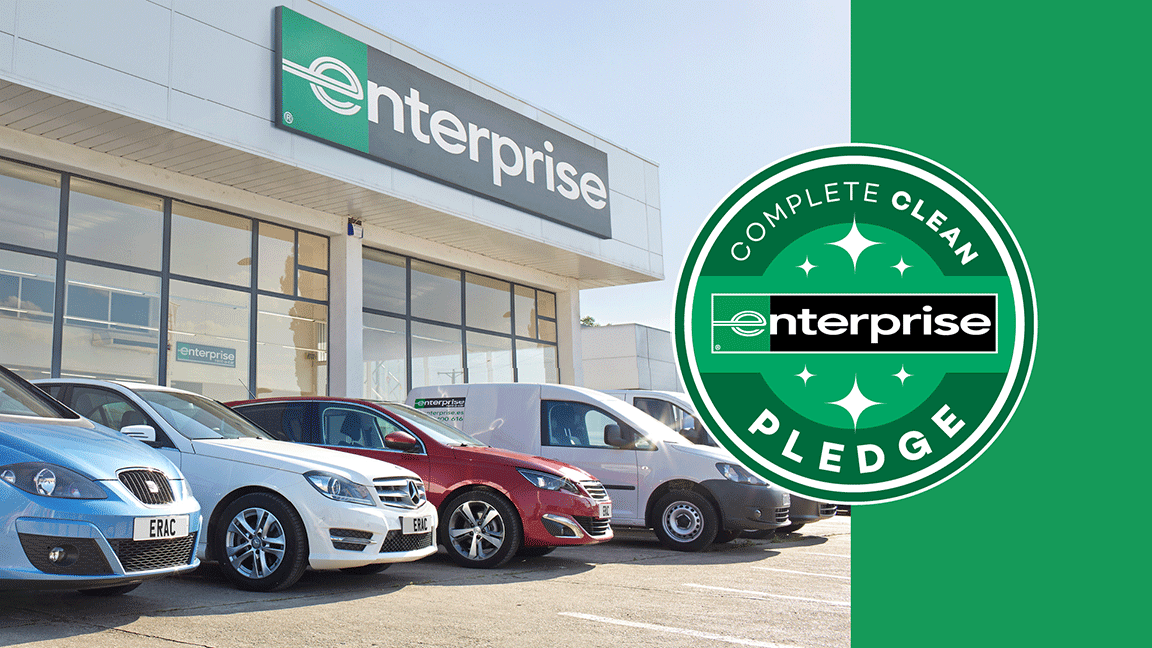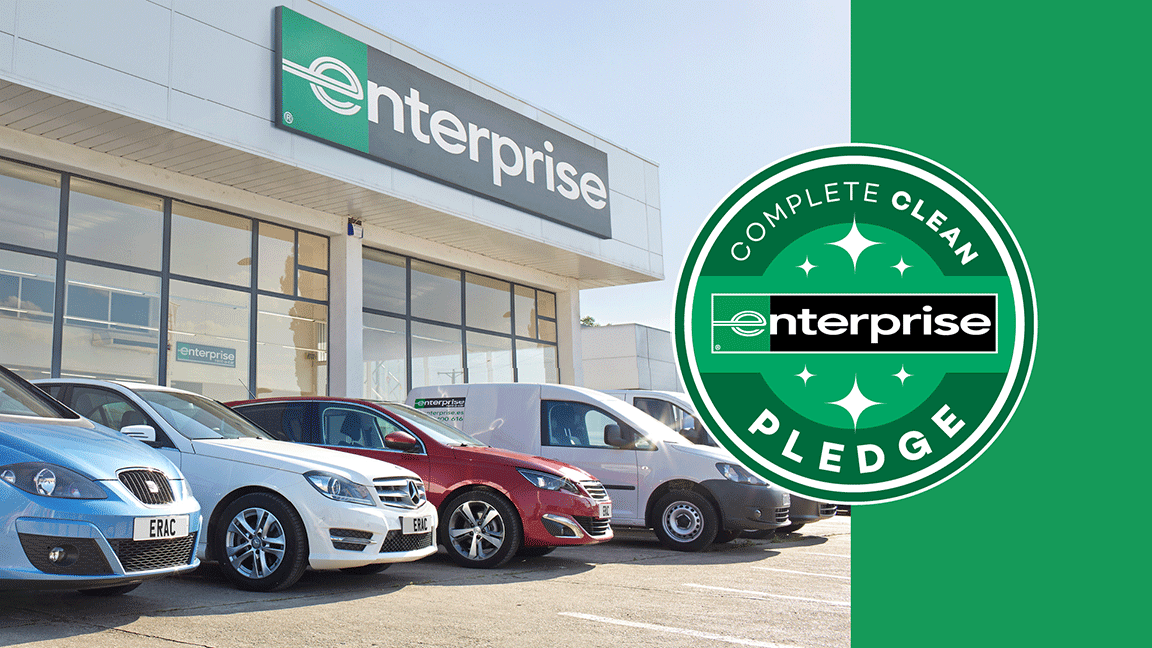 Car & Van Rental in Ripon?
Nestled cosily in the heart of the verdant North Yorkshire countryside, the city of Ripon (third smallest in the United Kingdom, with a population of just 16,702 at the most recent census) dates back over 1,300 years. With its extensive history and the sprawling hilltops lying just beyond its limits, it's easy to see why the city is so popular with tourists, but – as is often a problem with the country's more rural areas – poor public transport infrastructure can be problematic for those who travel.
With four depots offering affordable car hire services, Enterprise is committed to making this beautiful slice of northern England more navigable for an ever-increasing number of visitors. You'll find a fleet of rental vehicles at Enterprise offices in nearby Harrogate, Knaresborough and Northallerton, with a fourth location slightly further afield at Leeds Bradford Airport.
Our Vehicles for Hire in Ripon
Our extensive collection of vehicles on offer ensures that regardless of whether you're travelling for business or leisure, you'll find a set of wheels to suit your needs. We understand that every trip has its own unique requirements, which is why you'll find utilitarian coupes for casual city cruising offered alongside the kind of exotic models guaranteed to turn heads on the street.
If you need something a little more industrious, we have you covered. Whether it's a van for light haulage, a people carrier for your extended family, or an SUV to make the rugged country terrain a little less intimidating, you'll find something just for you.
Attractions in Ripon
With such an extensive history, it's little wonder that Ripon has so much to offer those willing to pay a visit. In centuries gone by, the city was one of real religious prominence and nowhere is this more clearly highlighted than at Ripon Cathedral. The presence of a stone place of worship dates back to the time of Saint Wilfrid in 672, with today's cathedral believed to be the fourth incarnation to have stood on the site.
The area is also home to a UNESCO World Heritage Site, in the form of Studley Royal Park and the remnants of Fountains Abbey. The 800-acre site is a perfect example of 18th-century landscaping, with an elegant water garden set amid lush greenery and decorated in the traditional Georgian style. The centrepiece of the area is the remnants of the old Fountains Abbey, a remarkable monastery that dates back as far as 1132 and is rated among Europe's most impressively preserved Cistercian ruins.
If that were not enough of an incentive to grab a car and get out exploring, you'll also find a popular racecourse and a traditional English market in Ripon, among other places of interest. For such a tiny city, there's certainly a lot to see and do here, and the picturesque North Yorkshire surroundings only add to the experience.
Places to Visit Outside Ripon
If you're willing to venture outside of Ripon, you'll find a wealth of places of historical interest waiting for you to visit. North Yorkshire's religious and architectural heritage is a rich one, with the old abbey at Whitby – to name just one example –allowing spectacular coastal views for those willing to trek up the hill to reach it. Baron Faversham's stately home at Duncombe Park is not accessible to the public, but its immaculately kept 30-acre gardens are open to guests between April and August.
The promenade at the picturesque town of Scarborough harks back to a bygone era of penny arcades and fish and chips by the seafront, all of which is overlooked by the ruins of Scarborough Castle, a medieval fortress dating back to the 12th century. Thrillseekers are catered to at Lightwater Valley amusement park, while heritage rail enthusiasts will doubtlessly find the North Yorkshire Moors railway to be a place of real interest. Opting for a car is a great way to ensure that you see as much as possible while in the area!
Airport Car Hire
The nearest airport to Ripon is Leeds Bradford, situated some 25 miles away. Ideally positioned to welcome visitors looking to travel across all of Yorkshire and the north of England, the airport is serviced by an Enterprise office offering friendly and reliable service to help get you where you need to go as quickly and safely as possible.
Parking and Traffic Information in Ripon
Being as it is a city, Ripon is not immune to traffic congestion and your visits should be planned with this in mind. Busiest times of day here are no different to anywhere else, so driving at peak times – the morning and evening rush hours, for example – should be avoided if it all possible. However, given its small size, congestion is less here than in larger nearby cities. Harrogate Borough Council operates seven car parks in Ripon, ideal if you have opted for car hire in Ripon and need to keep the vehicle safe while you explore. All of these are open 24 hours a day, with six operating a Pay and Display model and the seventh – Blossomgate car park – free of charge to compensate for its relative distance from the centre.
Cheap Van and Car Hire
Enterprise Rent-A-Car offers hassle-free, affordable car hire, with a large choice of vehicles on fleet and in stock. Enterprise guarantees cheap rates on car hire from all our Ripon branch. Our range of modern economy cars are comfortable and reliable, but also fuel efficient, which keeps running costs low. Book online today and explore Ripon and its surrounding areas at a price which suits any budget.
Whether you're moving to a different city or just simply picking up some flat pack furniture, Enterprise Rent-A-Car's extensive range of new, reliable vans at our Ripon branch will get you and your goods on the road and to your destination in safety and comfort. Choose from our large fleet of commercial and passenger vans online today.
Frequently Asked Questions
For more FAQs, please visit our FAQ page.