Car & Van Hire in Nottinghamshire
Welcome to the Enterprise Nottinghamshire car rental page. Choose from a wide selection of cars ranging from smaller economy cars to larger SUVs and people carriers
Complete Clean Pledge
We pledge to go above and beyond our already rigorous cleaning protocols, including strict sanitising procedures to protect the health and safety of all.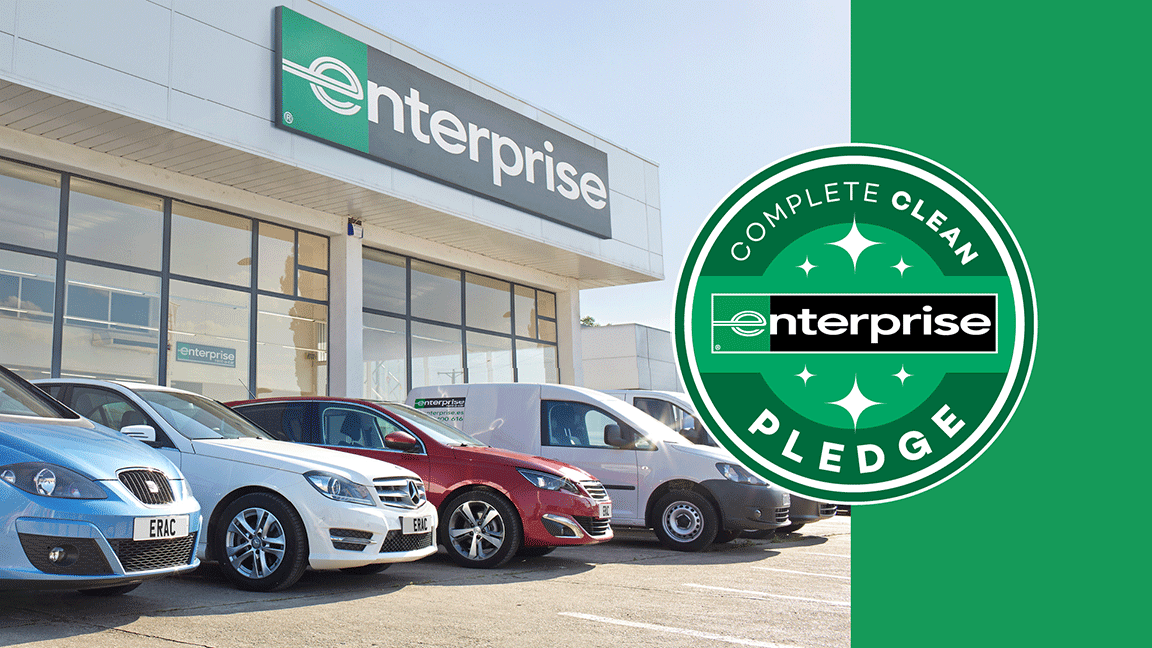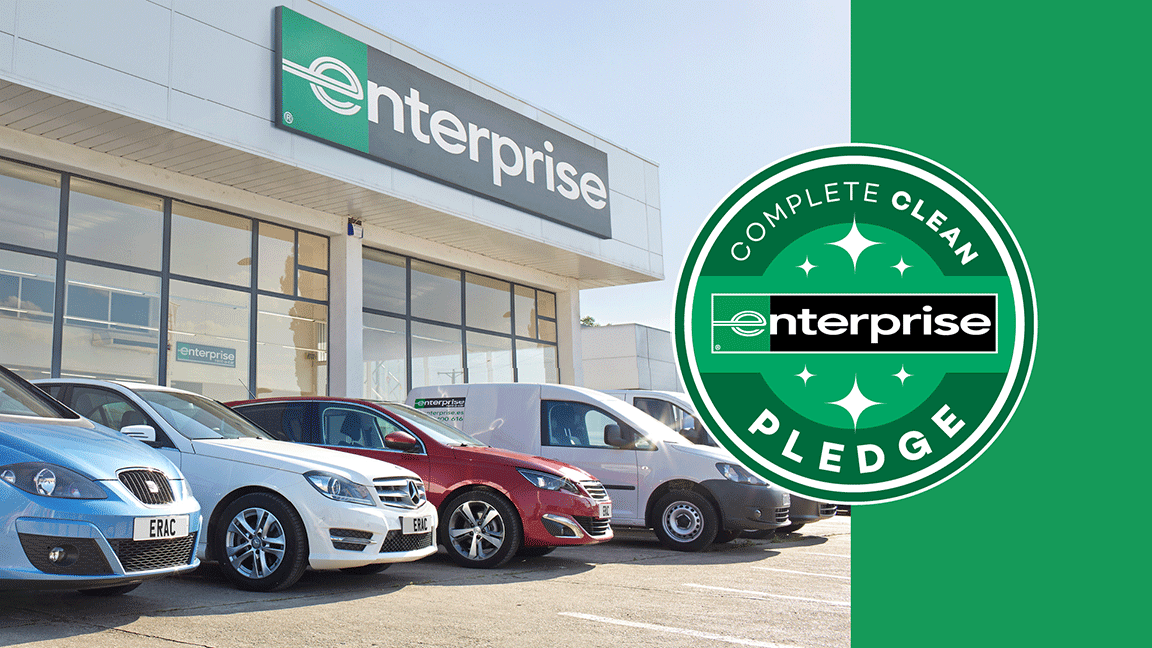 Car & Van Rental in Nottinghamshire?
Nottinghamshire is the home of Robin Hood and the ancient woodland of Sherwood Forest, of castles and caves; a place laced with history, heritage and folklore. It is also a vibrant, contemporary county with thriving cities and attractions. Getting around the county is a little easier these days, too, with car hire easy to arrange through Enterprise's network of branches or online.
Enterprise has several branches in Nottinghamshire. Within the city of Nottingham itself, there are three branches – one located in West Nottingham, convenient for the train station, and one just off the A612 in the city centre. The third is in Redhill, just off the A60 to the north of the city. For further car rental options in Nottinghamshire, Enterprise has options at Ilkeston, the other side of the M1 just north of Trowell, and at Mansfield, off the A6191 north of Redhill and also convenient for the M1.
Our Vehicles for Hire in Nottinghamshire
Enterprise offers an impressive selection of vehicles for hire in Nottinghamshire. Cars include mini, economy, compact, large compact, intermediate, and small and large premium. Whether you are looking for fuel efficiency, space or extra features, there is the perfect car for your trip. Enterprise also offers people carriers, which is a great option if you need more space than the standard five seats, or SUVs for extra power, comfort and style.
Attractions in Nottinghamshire
Nottinghamshire offers a myriad of diverse attractions, from the legendary charms of Sherwood Forest and contemporary outdoor activities to the fantastic culture, shopping and leisure to be found in Nottingham. With a car, you can discover it all.
In Nottingham, visitors can explore the Galleries of Justice Museum, located in Nottingham's historic courthouse and jail, and Nottingham Castle, the historic site of the Robin Hood legend. There is also the City of Caves to explore, which gives an insight into how the sandstone caves beneath the city have been used throughout the centuries, and Green's Windmill, a working 19th-century windmill. You can visit Wollaton Hall, which was used as a setting for Batman, Nottingham Contemporary's art space, one of the largest in the UK, and Lord Byron's home, Newstead Abbey. Many of these attractions are located in the region of the Lace Market, where impressive examples of 19th-century architecture dating from Nottingham's heyday in this industry can be seen. Today the Lace Market is a thriving contemporary and creative area with old warehouses converted into bars, restaurants and shops. The Theatre Royal and Concert Hall, and Nottingham Playhouse, are the city's premier theatres for classical music, panto, dance and contemporary performance. The Canal Front is home to the Glee Club, known for its comedy and live music, as well as many other pubs and bars.
Out of town, Sherwood Forest is a must-see – the Dukeries is full of heritage attractions, while at Clumber and Thoresby there are grand houses, and the Welbeck Estate is home to the Harley Gallery. The Sherwood Visitor Centre is a great place to stop off first to learn about the area. Just a few minutes' drive away is Rufford Abbey and Country Park, and also nearby is Kelham Hall and Country Park, a beautiful 19th-century house with over 40 acres of grounds.
Places to Visit Outside Nottinghamshire
Grabbing a car allows you to visit the county's neighbours with ease. On the other side of the M1, Derby is just a half hour drive from Nottingham. Attractions here include Derby's Museum and Art Gallery, and Derby Cathedral. A little further to the west takes you into the Peak District National Park, where family attractions include the Heights of Abraham cable car, Go Ape!, Poole's Cavern and Country Park and the majestic Chatsworth stately house.
To the east of the county is the city of Lincoln, where attractions include Lincoln Castle, Lincoln Cathedral, the Collection archaeology museum, the Usher Gallery and Lincoln Arboretum. Nearby are the beautiful Brightwater Gardens, historic Doddington Hall and Gardens, Gainsborough Old Hall, Goltho Gardens and Pure Land Japanese Garden.
Airport Car Hire
East Midlands Airport is located between Nottingham, Derby and Leicester, and is the closest airport. Operating airlines include BMI Regional, Flybe, Jet2.com, Ryanair, Thomas Cook Airlines and Thomson Airways, which fly to a number of domestic and European destinations. You can pre-book a vehicle online and pick it up at the Enterprise branch at the airport. From East Midlands Airport, Nottingham is a short 20-minute drive north along the A453.
Parking and Traffic Information in Nottinghamshire
Parking in Nottingham is easy with plenty of spaces available at multi-storey and surface car parks. Car parks in the city centre include the Lace Market, Broadmarsh, Sneinton Square, Curzon Street and Trinity Square. There are also many pay-and-display on-street parking areas – the zone, and tariff, increases as you head out of the city centre. Around residential areas are a number of cashless parking zones, where parking can be purchased by app, telephone or website. Attractions in Sherwood Forest, country houses and parks, and similar visitor experiences located outside of towns and cities generally have their own parking available.
Cheap Van and Car Hire
Enterprise Rent-A-Car offers hassle-free, affordable car hire, with a large choice of vehicles on fleet and in stock. Enterprise guarantees cheap rates on car hire from all our Nottinghamshire branch. Our range of modern economy cars are comfortable and reliable, but also fuel efficient, which keeps running costs low. Book online today and explore Nottinghamshire and its surrounding areas at a price which suits any budget.
Whether you're moving to a different city or just simply picking up some flat pack furniture, Enterprise Rent-A-Car's extensive range of new, reliable vans at our Nottinghamshire branch will get you and your goods on the road and to your destination in safety and comfort. Choose from our large fleet of commercial and passenger vans online today.
Frequently Asked Questions
For more FAQs, please visit our FAQ page.