Car & Van Hire in Lisburn
Welcome to the Enterprise Lisburn car rental page. Choose from a wide selection of cars ranging from smaller economy cars to larger SUVs and people carriers
Complete Clean Pledge
We pledge to go above and beyond our already rigorous cleaning protocols, including strict sanitising procedures to protect the health and safety of all.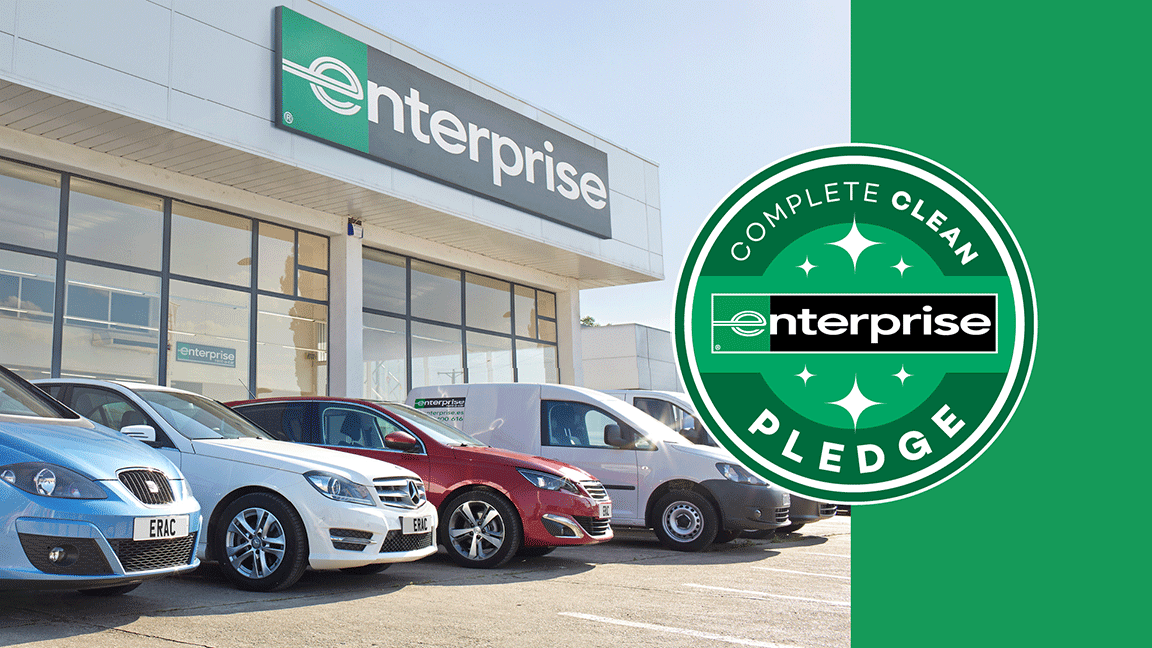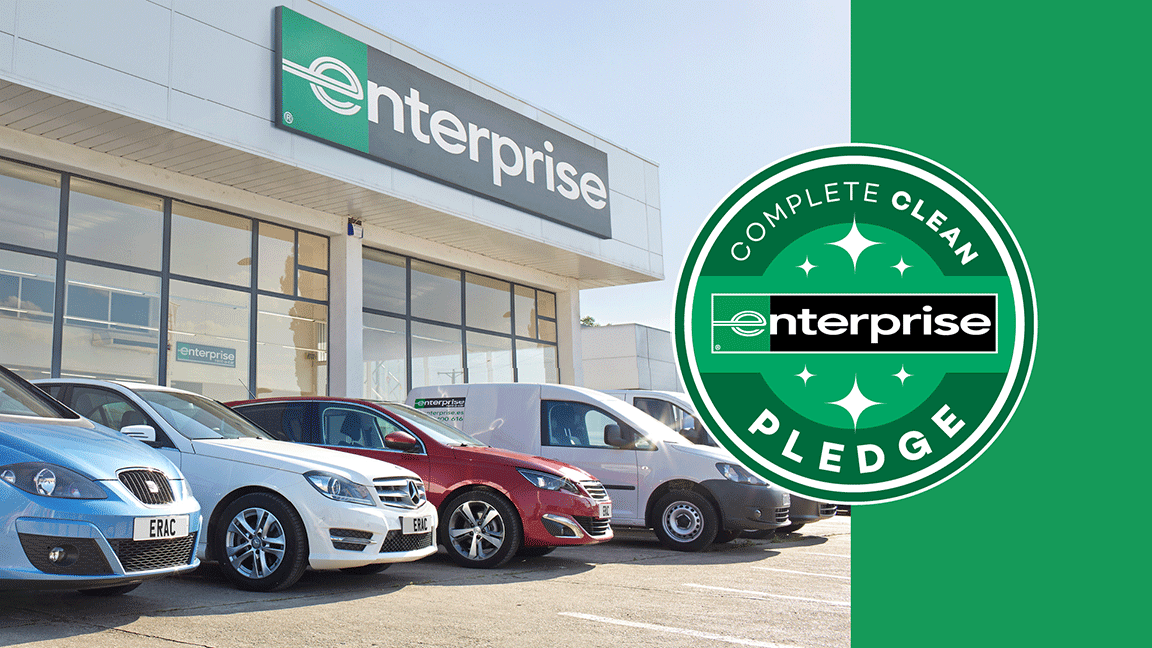 Car & Van Rental in Lisburn?
For centuries, Lisburn's location on the River Lagan made it an important economic centre between Belfast and Dublin. The birthplace of Ireland's linen industry in the late seventeenth century and the home of more than 130 churches within its borders, the city is rich in history. The area is a mix of city and village life, and a blend of rolling countryside and urban landscapes. A car hire from Lisburn also gives you the chance to reach Northern Ireland's best destinations, including Belfast and the Giants Causeway. Vehicles can be rented from our Lisburn branch, based at the south-east edge of the city centre.
Our Vehicles for Hire in Lisburn
Booking an affordable car in Lisburn ensures you can discover the rich rural and urban landscapes of Northern Ireland. You will be able to drive off the beaten track to explore pretty villages and secluded countryside or visit sites linked to the early days of the Industrial Revolution. A car rental means you can explore Lisburn and the surrounding area at your own pace. You can also drive in comfort and style with one of our modern vehicles.
Within a fifteen-minute walk of Lisburn Rail Station and the Bow Street Mall, our branch provides an excellent selection of vehicles. Our fleet boasts a wide selection of vehicles for any of your holiday needs. We supply everything from mini and compact cars to larger saloons and estate cars. For a more luxurious experience, we also have premium vehicles. Our Lisburn fleet also includes spacious SUVs with enhanced power and people carriers with seating for up to nine passengers.
Attractions in Lisburn
Many visitors to Lisburn go shopping, and the city centre's best retail experience is the Bow Street Mall. The shopping centre has more than 60 shops and restaurants. Lisburn Castle Gardens is a beautiful green space in the city centre. It is on the site of Lisburn Castle, a 17th-century manor house built by the Conway family. The current building was built in the 1770s by Wills Hill, the first Marquis of Downshire. Other attractions in Lisburn include the Riverside Theatre and the Linen Museum.
Under five miles south of Lisburn's city centre is the pretty village of Hillsborough. Situated in the heart of County Down, much of the village features elegant Georgian properties. The village is also home to Hillsborough Castle, a Georgian-style mansion that served as Northern Ireland's Government House between 1924 and 1973. The property continues to be a royal residence. Built between 1760 and 1774, Saint Malachy Church is a fine example of Gothic Revival architecture.
Places to Visit Outside Lisburn
By renting a car, visitors will be able to appreciate Lisburn's ideal location as the doorstep to many of Northern Ireland's best attractions, including its capital city. Belfast is a vibrant and evolving city. Situated at the mouth of the River Lagan, the city is a cultural mix of British and Irish identities. Amidst historic Victorian and Edwardian buildings are reminders of Belfast's rich industrial and maritime heritage. Titanic Belfast is a modern attraction dedicated to the city's role in building the HMS Titanic. It sits at the centre of a revitalised district. Other popular attractions include Saint Anne's Cathedral, Belfast Zoo, Belfast Castle, and political murals along Falls Road and Shankill Road that remind visitors of darker chapters of the city's history between the 1960s and 1990s.
To the north of Lisburn is the Giants Causeway, a natural wonder that attracts visitors from around the world. Created more than 60 million years ago, the stunning rock formation has thousands of basalt columns rising from the sea and is a UNESCO World Heritage Site. The Giants Causeway is just one of several interesting sites along the scenic north coast, which includes picturesque coastal towns, castles and historic homes. With your car, Lisburn is a great starting point to explore the Causeway Coastal Route, a 120-mile drive between Belfast and Londonderry.
Airport Car Hire
With two airport car rental options close to Lisburn, Enterprise offers you a hassle-free way to start your holiday. You will not have to worry about waiting for a taxi or arranging an airport transfer to Lisburn. Our goal is to get you on the road and starting your adventure in Northern Ireland as quickly as possible. Minutes after your flight arrives, one of our employees will quickly complete your paperwork and direct you to your vehicle.
Our branch at Belfast International Airport is conveniently located in the arrivals hall. Your vehicle is steps away from the terminal building. The airport is about 15 miles north of Lisburn and we also have a branch at George Best Belfast City Airport just ten minutes from the city centre. Our desk is located in the arrivals area, and your vehicle is just a three-minute walk from the terminal. With a car picked up from our airport branch, Lisburn is about a 20-minute drive south-west.
Parking and Traffic Information in Lisburn
There are many options for parking in Lisburn, including on-street parking throughout the city. City centre car parks are found at Linenhall Street, Antrim Street, Smithfield Square, Queens Road, Quay Street, and Barrack Street. Parking is also found at the Bow Street Mall Car Park and the Graham Gardens Car Park. Traffic on the A1 and M1 may be heavy during morning and evening hours, particularly as commuters travel to and from Belfast. The route to the Giants Causeway, including the Causeway Coastal Route, can experience congestion during peak periods, including during the summer and bank holidays.
Cheap Van and Car Hire
With rental branches across the county, Enterprise offers cheap car hire from convenient, accessible locations. Our large fleet of new vehicles includes great value economy and compact cars, sporty SUVs and spacious people carriers. Whether you need a vehicle for a single day or longer, Enterprise Rent-A-Car has the perfect car to suit your needs. Book online from our Lisburn branch to guarantee your choice of vehicle at the best possible price.
Moving house or just moving furniture? Enterprise has you covered with a range of vans from our Lisburn branch. From smaller passenger vans to larger commercial vans, book online from our Lisburn van hire page to reserve your perfect vehicle at an unbeatable price.
Frequently Asked Questions
For more FAQs, please visit our FAQ page.