Car & Van Hire in Leicester
Welcome to the Enterprise Leicester car rental page. Choose from a wide selection of cars ranging from smaller economy cars to larger SUVs and people carriers
Complete Clean Pledge
We pledge to go above and beyond our already rigorous cleaning protocols, including strict sanitising procedures to protect the health and safety of all.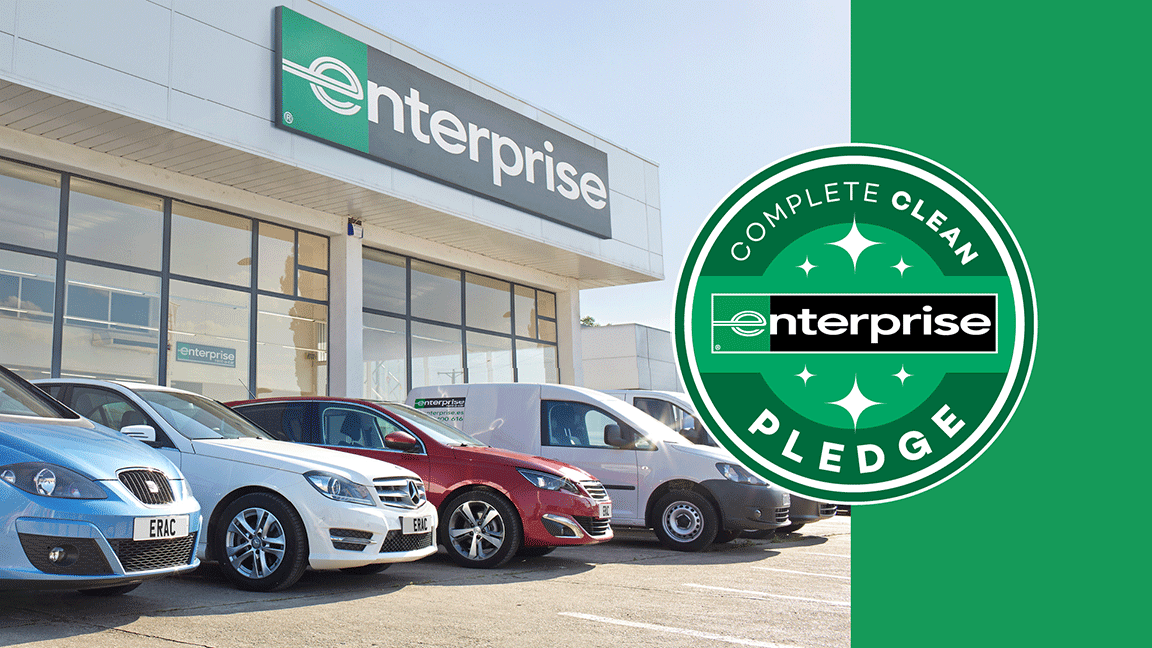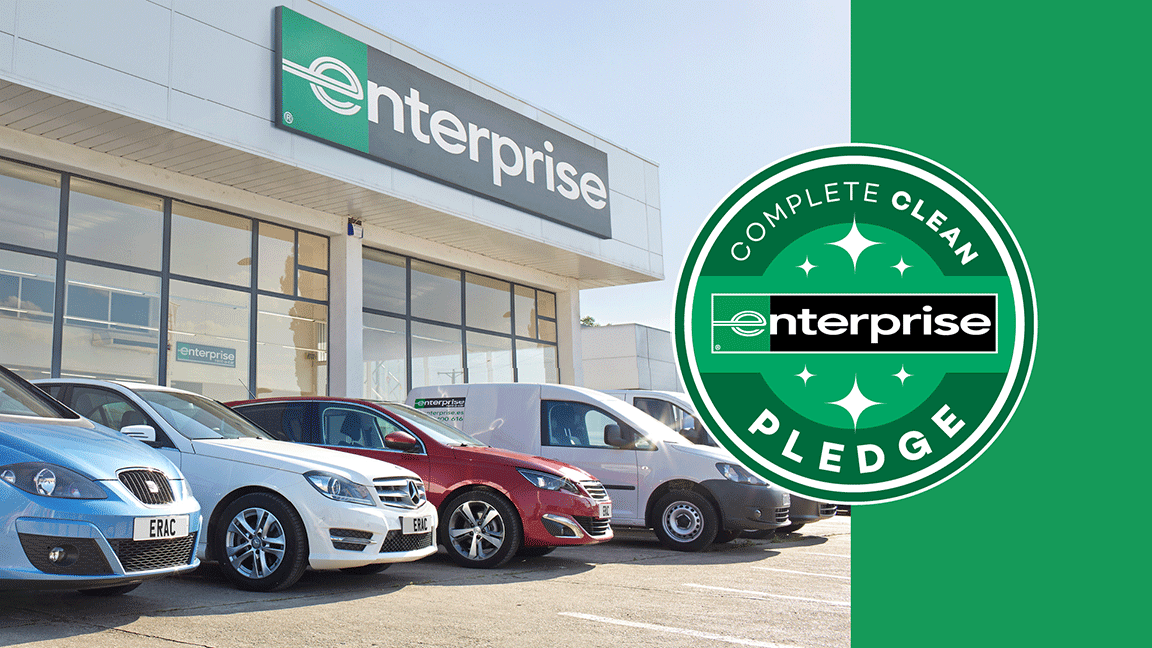 Car Hire & Van Rental in Leicester with Enterprise
With a history spanning almost two centuries, Leicester is one of England's oldest cities. Its bustling 800-year-old market is one of the biggest in Europe, the wonderful Old Town is a place filled with many boutiques and eateries, whilst places like the Jewry Wall Museum paint a picture of Roman Leicester. Another great thing about this East Midland city is that you're always a short drive away from beautiful countryside, where you can hike through beautiful wilderness and take in some fresh air. Access more of beautiful Leicestershire by hiring an Enterprise car today.
If you're flying into East Midlands Airport, you can find our branch in the car rental village, accessible by a shuttle bus service that comes every ten minutes. The airport is a 30 minute drive away via the M1 motorway. You can also find us in our Leicester city centre branch on Loughborough Road and in our South Leicester branch on Lutterworth Road.
Wide Range of Rental Cars
However you want your visit in Leicester to pan out, we're here to help you find the ideal hire car for making the trip easier and more comfortable. With one of the world's biggest rental fleets at our disposal, we're able to offer anything from economy car rentals, sports cars and exotics, all the way to minibuses for hire. We also aim to deliver you a personal driving experience when it comes to vehicle configurations. You have the choice of petrol, diesel, hybrid or full electric cars with manual and automatic gearboxes. It's up to you to get comfortable in a vehicle you're used to, or to try something new completely new. Discover our car fleet filled with modern, fuel-efficient and ULEZ compliant cars and get a quote above after you've picked one that suits your needs.
We also offer optional extras that help make your journeys even more pleasant. Whether you need infant seats or child boosters, a satnav to speed trips up or addition of more drivers to the rental – make sure to add them to your quote when booking above or speak to our agents once you're in your preferred Leicester branch.
Van Hire in Leicester
We can all do with a bit more boot space sometimes, but if you're in need of cargo haulage in Leicester, you can make use of our expansive van fleet. It's filled with modern vehicles packed with the newest technology and fuel-efficient engines that make driving cheap and less harmful to the environment thanks to ULEZ compliant emissions. Whether you need a small van, a classic Transit or you're looking for a huge Luton van rental, we can get you and your cargo on the road in Leicester in no time.
To get the cheapest price on van hire in Leicester, get a quote above and make use of our Pre-Pay service. Choose a van that best suits your needs and pay for it now to save, or visit our Leicester branches where our helpful agents will be able to assist you with your rental booking.
Cheap Car Hire in Leicester
We pride ourselves on providing our 20 million happy annual customers with great value, but also the level of customer service they get. The clarity of our pricing, the fantastic rates we provide and our investment in each customer has led to us being recognised as a Which? Recommended Provider. See what this means for yourself by getting a quote on one of the fantastic vehicles in our car fleet, so you can make use of the Pre-Pay service and save on your rental.
If you find yourself using rental cars frequently, you should sign up for our reward scheme to get more out of hiring. With Enterprise Plus you could be earning redeemable points to exchange for free Enterprise car rentals all over the world, so why wait?
Cheap Car Hire in East Midlands Airport
East Midlands Airport lies around 20 miles from the centre of Leicester and is easily accessible by car via the M1 motorway or the A6 through Loughborough. Our East Midlands Airport branch can be found in the car rental village that you can get to by using the free shuttle bus service from the terminal. Our branch is open every day, morning until late, but we know that some flights are outside of our business hours. That's why we offer After Hours Service for those who simply need a flexible return on their rental car. All you have to do is park your car in any Enterprise marked bay and place the keys in our drop box, found in the arrivals hall at the Enterprise desks. For any other queries, you can get help from our EMA Airport branch agents that will ensure you're happy and ready to get on with your journey to Leicester.
Need to drop off in a different location?
One Way Car Hire
Looking to hire a car for a one-way trip? No problem! Enterprise Rent-A-Car offers easy and convenient one-way car rentals from most of its 10,000 locations in 90+ countries. Choose from a great selection of vehicles, including economy, saloons, SUVs, people carriers and vans.
Need help picking up and returning car?
Free Pick Up and Drop Off Service
Our free pick-up & drop-off service is available at non-airport branches and during normal business hours. To schedule your pick-up time or make additional arrangements, ask for this when your rental branch calls to confirm your reservation.
Need a car for an extended time?
Long Term Car Hire Service
Looking for a flexible alternative to a traditional rental or lease agreement? We've set up dedicated long-term branches throughout UK to provide our customers one-on-one attention. Just let us know when and where you need to rent a vehicle, and we'll take care of the rest.
Things to do in Leicester
Discover Roman ruins and the confusing death of a monarch
Whether you're after historical landmarks that tell stories spanning two centuries, or you're hungry for some British classics, Leicester has plenty to offer as one of the oldest cities in England. You can find remains of the Roman city in the Abbey Pumping Station Museum, notably pieces of Roman water pipes, or remains of 2nd century Roman baths in the Jewry Wall Museum. A short walk away, you will find the 11th century motte of Leicester Castle and its Turret Gateway. You can also find out the bizarre story behind the remains of King Richard III – the last English king killed in battle. His skeleton was discovered under the choir of a church in 2012 and the King Richard III Visitor Centre is a place dedicated to his story. For those who love pondering about interstellar travel, the National Space Centre is a great day out. If you feel peckish and want to taste an absolute British classic, Ye Olde Pork Pie Shoppe is one of the oldest remaining bakers of the pork pie and even hosts history lessons about the treat.
Explore the East Midlands wilderness
Leicester is also surrounded by the beautiful East Midlands countryside, filled with places where you can rest after experiencing the lively city. One of the most popular places to visit for great views of Leicester is Bradgate Park. Its 830 acres of parkland with streams, a reservoir, a beautiful folly named Old John Tower and roaming deer. The park is also home to Bradgate House, a 16th century brick great house that is believed to be the birthplace of Lady Jane Grey. If you want to see over 1000 animals including some endangered species, the Twycross Zoo is a 45-minute drive from the centre of Leicester and it's a great day out. On the way to the zoo, you can also stop off in Desford to visit Tropical Birdland – a place where you can get up close and personal with a wide range of exotic birds. For active days out, you can visit Wistow Maze famed for its varied layouts that make up pictures when viewed from the sky, drive down to Rutland Water for a plethora of water sports or take a go-kart for a spin at Stretton Circuit. No matter what your plans are for Leicester, an Enterprise rental can get you there quickly and comfortably, so get a quote above and make your trips an even more relaxing experience.
---
Tips for Driving in Leicester

When driving around Leicester and the surrounding area, there a few key things to remember:
·         Like in the rest of the UK, drive on the left and remember to give priority to those coming from the right on junctions and on roundabouts.
·         Leicester uses standard UK national speed limits. Most built-up area roads will have a 30mph limit with some 20mph limit zones. Single and dual carriageways are also aligned with standard national speed limits, unless specified otherwise on road signs.
·         Leicester is in a great location for car travel, thanks to its multiple road network connections. It's tied to Coventry by the M69 motorway, whilst the M1 makes travel to the East Midlands Airport and Nottingham easier. There are plenty of A-roads converging in the city too, making trips to the countryside quick and easy.
·         The City Centre gets busy during peak hours, so plan your journey ahead if you're on a schedule.
·         On-street parking can be found around Leicester but you can make use of the various NCP and council car parks. The charges are usually listed on the machines and the entrance boards.
·         If you decide to venture out of the city into the countryside, make sure you're aware of animal warning signs and especially sheep near farmland. Reduce speed and use the car's full beams at night, but make sure to turn them off if you see an animal to prevent them from getting dazzled.
In an emergency, dial 999 or 112 on mobiles.

Frequently Asked Questions
For more FAQs, please visit our FAQ page.