Car & Van Hire in Leeds
Welcome to the Enterprise Leeds car rental page. Choose from a wide selection of cars ranging from smaller economy cars to larger SUVs and people carriers
Complete Clean Pledge
We pledge to go above and beyond our already rigorous cleaning protocols, including strict sanitising procedures to protect the health and safety of all.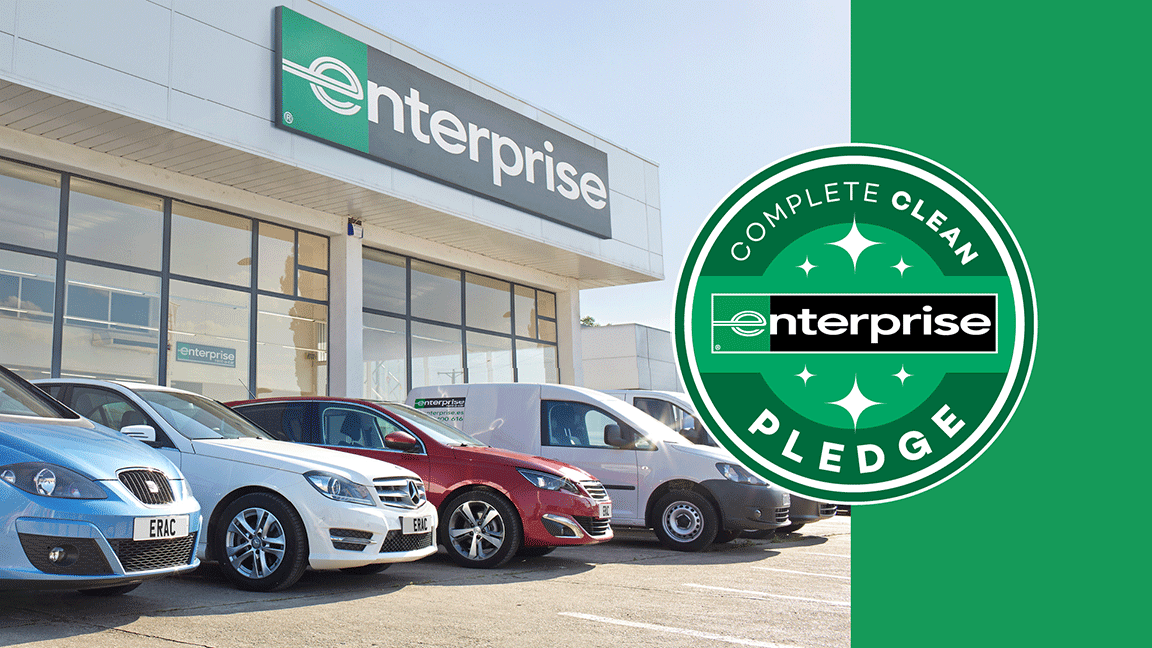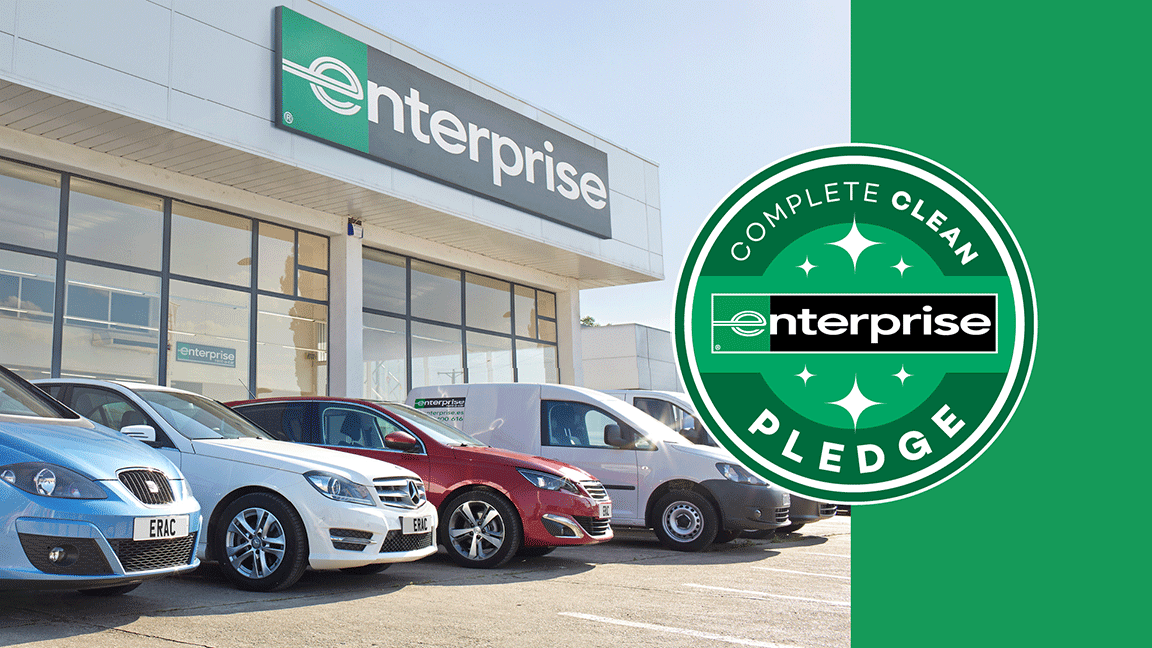 Car Hire & Van rental in Leeds with Enterprise
One of the biggest and most vibrant of Northern cities, Leeds, is an essential stop-off for anyone touring the UK. With a history routed in industry Leeds is a modern city - spoiled by many surrounding areas of natural beauty. With our award-winning customer service and modern fuel-efficient vehicles, there can be no better way to get around Leeds and greater Yorkshire than in an Enterprise rental. Pick up your ideal vehicle at any of our six branches across Leeds, including Leeds Bradford Airport and Leeds Train Station. For those not based within walking distance of any of our branches, we can provide a free pick-up service. Simply start your reservation above and let us know where to meet you.
Wide Range of Rental Cars
With a diverse range of sleek and modern vehicles, we can provide the perfect rental for your time in Leeds. Whether you need an economical car rental to weave through the city, or you require an SUV rental for extra power up the hilly Yorkshire Dales, you'll find the right vehicle with us.
As a Which? Recommended Provider we want to ensure your vehicle matches your preferences. We offer customisable packages with vehicles available in both manual and automatic transmission, with petrol, diesel and hybrid models to choose from. Our award-winning customer service will ensure your vehicle caters to your every need, such as providing GPS navigation, child booster seats and making it effortless to include additional drivers. You can start a reservation above or view our fleet page to see our available vehicles.
Do You Need a Van Rental in Leeds?
Our modern vans provide a great solution to any situation where you may find yourself short of boot space. If you need a small van to collect new furniture, or you're moving home and require a large van hire, we can accommodate. Our range of vans includes Luton van rentals - so there really isn't any job too big for an Enterprise van.
With the introduction of a clean air zone charge in Leeds, it makes more sense than ever to hire a van with us. Our modern vehicles ensure your cargo gets from A to B smoothly and cleanly and we can offer both one-way van hire and long-term van hire. This flexibility, coupled with our transparent pricing, means you can rent in confidence with Enterprise. View our fleet page to compare our vans or start your reservation above.
Cheap Car and Van Hire in Leeds
If you need cheap car hire in Leeds then you'll find the best deals direct with us. Join our 20-million happy customers and get access to the biggest savings by pre-booking on our website or check out our weekend deals. As a Which? Recommended Provider, you can trust us to offer transparent prices with no hidden fees or charges. Why not consider joining our loyalty programme, Enterprise Plus? Our flagship loyalty scheme gives members access to some great savings and rewards each time you rent with us.
Car Hire at Leeds Airport
Our service desk located just a short distance from the main terminal, making car hire at Leeds Bradford Airport simple and straightforward. If you're scheduled to arrive on a late flight, then pre-book with us to ensure a member of our friendly team is there to meet you. We also offer flexible opening hours for anyone wanting to pick up an airport car rental on arrival. Leeds Bradford Airport is only nine miles from the city centre and there's a host of things to see and do on the way into the city. Why not stop at Kirkstall Abbey to break up your journey after a long flight?
Need to drop off in a different location?
One Way Car Hire
Looking to hire a car for a one-way trip? No problem! Enterprise Rent-A-Car offers easy and convenient one-way car rentals from most of its 10,000 locations in 90+ countries. Choose from a great selection of vehicles, including economy, saloons, SUVs, people carriers and vans.
Need help picking up and returning car?
Free Pick Up and Drop Off Service
Our free pick-up & drop-off service is available at non-airport branches and during normal business hours. To schedule your pick-up time or make additional arrangements, ask for this when your rental branch calls to confirm your reservation.
Need a car for an extended time?
Long Term Car Hire Service
Looking for a flexible alternative to a traditional rental or lease agreement? We've set up dedicated long-term branches throughout UK to provide our customers one-on-one attention. Just let us know when and where you need to rent a vehicle, and we'll take care of the rest.
Things to do in Leeds
Leeds has something for everyone:
Leeds has always been one of the UK's busiest and most lively cities, but it has so much more to offer than its famous nightlife and rich heritage. Uniquely positioned in between the Peak District and the Yorkshire Dales, Leeds is a bustling city that can also provide unrivalled drives into England's most cherished nature reserves. Whether you want to experience the greenery of the Yorkshire Dales, or travel back in time to the 1930s-themed Yorkshire Moors Railway, the city of Leeds is a great starting point. 
Stunning Victorian-era architecture:
At the peak of the industrial revolution, Leeds was the manufacturing capital of the world. Many of the Victorian-era buildings are still in use, and among the most impressive of these sites is Leeds Town Hall. Built in the 1850s, this remarkable building hosts regular concerts and events that make it as exciting today as it ever was. Alternatively, Hyde Park Picture House has barely changed since opening its doors in 1914. This uniquely Victorian cinematic experience also provides some of the city's most affordable cinema tickets.
You can discover a truly ancient part of the city at Kirkstall Abbey. This site dates all the way back to 1152, but its ruins are stunningly well preserved. With events including haunted tours and an outdoor cinema, the Abbey is a real crowd-pleaser. Just a 20-minute drive from the Abbey and bypassing the Headingley area is Harewood House. This magnificent Grade One listed country house, built in the 1760s, is perfect for afternoon tea and a stroll through the immaculate gardens.
Family fun at Roundhay Park:
For family-friendly activities in the area then you could complete your day out at Roundhay Park. It's 20-minutes on from Harewood House, and the park contains the ever-popular Tropical World. This selection of exotic animals on show, and the immersive nature of the attraction, will be sure to capture the imagination of all visitors. Alternatively, and for families that love a physical challenge, Yorkshire's first Go Ape course is roughly a 15-minute drive on from Roundhay Park. 
---
Tips for Driving in Leeds
Leeds benefits from a well-connected road network making it an easy city to get to from almost anywhere in the UK.
Before starting your journey however, we've gathered some helpful driving information:
·         In Leeds, and throughout the UK, drivers are required to drive on the left hand side of the road. If this is new to you then it can be a good idea to remind yourself each time you set off.
·         Drinking alcohol while driving is strictly against the law and you must have a valid driving license on you at all times.
·         The speed limits fall in line with national restrictions and are displayed in miles rather than kilometres. The national maximum is 70mph and this applies to motorways and some dual carriageways. Some A-roads will be limited to 60mph whilst most residential areas will be 30mph or 20mph when signposted.
·         Connecting London to Leeds, the M1 is one of the longest and busiest stretches of motorway in the UK whilst the M62 connects Leeds with Manchester. The outskirts of Leeds itself is connected by a series of A-roads.
·         For those driving into the centre of Leeds, it's worth knowing about the City Centre Loop. A one-way system that surrounds the main retail areas, it stretches for two-miles and contains 18 junctions. Missing your turning could cause a delay to your journey so take caution when driving around it and try to ensure you get in the correct lane as early as possible. 
Frequently Asked Questions
For more FAQs, please visit our FAQ page.