Car and Van Hire in Kent
Welcome to the Enterprise Kent car rental page. Choose from a wide selection of cars ranging from smaller economy cars to larger SUVs and people carriers
Complete Clean Pledge
We pledge to go above and beyond our already rigorous cleaning protocols, including strict sanitising procedures to protect the health and safety of all.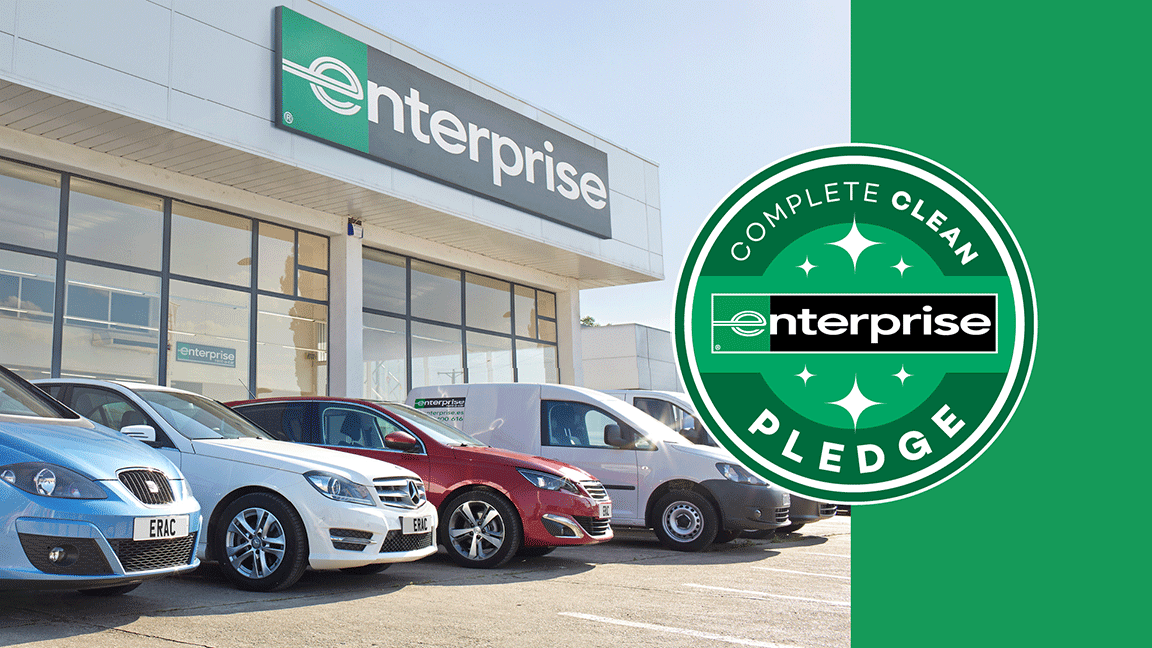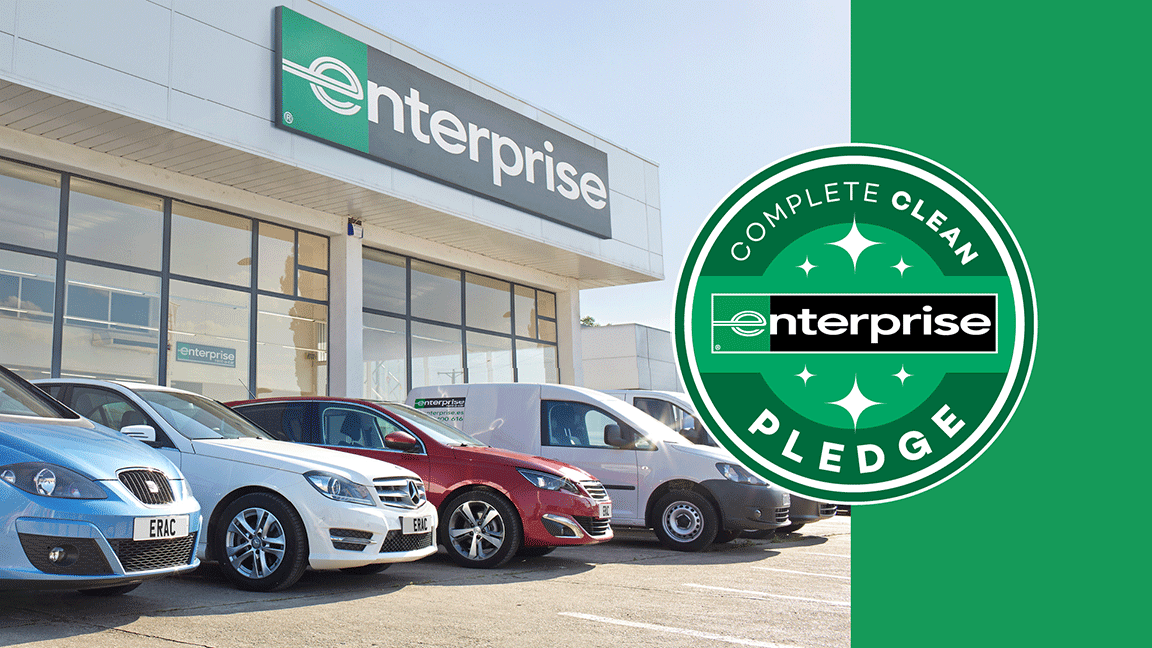 Car Hire & Van Rental in Kent with Enterprise
Often referred to as the 'Garden of England', the county of Kent in southeastern England is home to a plethora of listed buildings, some of the oldest castles in England, numerous Blue Flag beaches and world-renown chalk cliffs. Whether you choose to take a drive down the cliff-side A20 and follow the coast, or you hop from town to town to explore the streets – an Enterprise rental car will get you there comfortably and without hassle.
If you are looking for car hire in Kent, you can find some of our bigger branches in places like Canterbury in Northgate opposite the car park, in the port city of Dover just off the A20 by St James Retail Park and our Maidstone branch on George Street. If you plan to fly into England and make your way down to Kent by car, London Gatwick Airport is the closest international airport. You can find us in the South Terminal Car Park where we will make sure you get on your way to Kent in under an hour.
Wide Range of Rental Cars
If you're planning a family getaway to Kent, you will require a lot of space for luggage and probably need to rent a seven seater. Maybe you want to travel through Kent in style? We offer luxury car hire for those after exclusive comfort and driving experience. Our car hire fleet is one of the biggest in the world, so whatever your plans and needs, we will get the right car for you when you rent with us. We aim to provide vehicles suited to your personal preferences, so whether you prefer the feeling of diesels over petrol, want to try a hybrid or electric vehicle, or need an automatic gearbox – we will try and get you exactly what you want. All of the cars in our fleet are also the latest models packed with driving assists, driver comfort aids and fuel-efficient powertrains. Visit our fleet page to see what vehicles you could drive during your time in Kent, or book your rental above.
We also provide little extras to make your journey go even smoother. Rent infant seats or child boosters with your car, or request a satnav to get around unknown areas quickly. Don't forget to add what you need during your online booking, but don't worry if you forget – our helpful agents will be able to assist you when you pick your vehicle up.
Van Hire in Kent
If you find yourself in need of cargo space whilst in Kent, we offer rental vans too. Whether you are moving office or transporting a shipment of sparkling wine for a wedding, our comfortable vans can be hired out to make things easier. Our van range from the short wheelbase small vans all the way to the long wheelbase vehicles like the Luton van rentals we have available. The modern vans in our fleet are packed with the latest technology, which means our vehicles are ULEZ or LEZ compliant and have great fuel economy. Discover our range by visiting the van fleet page and get a quote above to make use of our Pre-Par service to save money on your van hire in Kent.
Cheap Car Hire in Kent
The 20 million happy customers we serve every year pick us for a reason. Our competitive rates, clearly laid-out pricing and great customer service makes our customers return and led to us being recognised as a Which? Recommended Provider. If you are after cheap car hire in Kent, but also want top customer service, get a quote above and use our Pre-Pay service to get the best price for your rental. Whether you are planning to tackle the Dungeness shingle in a rental SUV or you want to drive along the cliffs in a convertible sports car, our car fleet will definitely have something for you and for the right price.
For those who use rental car services often, we have a special reward membership. By joining the Enterprise Plus scheme, you will be able to gain redeemable points every time you hire a car with us. The points can be exchanged for free rentals with us all over the world – allowing you to make the most of hiring with us, wherever you go and whatever your plans.
Cheap Airport Car Hire Near Kent
Whilst Kent's Manston Airport has been closed, it doesn't mean you can't get to the region easily when flying. You can fly into London's Gatwick Airport and get to Kent from our branch in an hour. Find it just outside of the South Terminal Bus Station on the Lower Forecourt, where our helpful agents will assist you in getting on with your journey seven days a week. To get to Kent from Gatwick, travel north on the M23 until you reach the M25 Junction 7, where you want to travel counter-clockwise and drive until the road splits into the M26. Follow the M26 down to where it converges into the M20 and the motorway will take you into Kent.
Need to drop off in a different location?
One Way Car Hire
Looking to hire a car for a one-way trip? No problem! Enterprise Rent-A-Car offers easy and convenient one-way car rentals from most of its 10,000 locations in 90+ countries. Choose from a great selection of vehicles, including economy, saloons, SUVs, people carriers and vans.
Need help picking up and returning car?
Free Pick Up and Drop Off Service
Our free pick-up & drop-off service is available at non-airport branches and during normal business hours. To schedule your pick-up time or make additional arrangements, ask for this when your rental branch calls to confirm your reservation.
Need a car for an extended time?
Long Term Car Hire Service
Looking for a flexible alternative to a traditional rental or lease agreement? We've set up dedicated long-term branches throughout UK to provide our customers one-on-one attention. Just let us know when and where you need to rent a vehicle, and we'll take care of the rest.
Things to do in Kent
Explore the 'Garden of England'
The nickname given to this region is definitely accurate, but it's more than just the Garden of England. Kent is also graced by wonderful seafront towns and cliffs, castles that survived centuries and still stand strong, and it's even home to England's only desert – the Dungeness headland. With the northwest part of the county filled with maritime history of Medway, Canterbury and its cathedral in the heart of the region and picturesque coasts and towns in the South and West – Kent is a wonderful place to explore with an Enterprise rental car.
Delve into the marine history of Britain
For those interested in the history of British naval ventures, a visit to Chatham is a must. The Historic Dockyard museum is where you can learn about rope making and steam engines, or explore three Royal Navy ships: a 19th century sloop-of-war HMS Gannet, a '60s diesel submarine HMS Ocelot and HMS Cavalier, a retired navy C-class destroyer. You can also visit the nearby Rochester castle to see its Norman 11th century walls and climb to the top to get beautiful views of the River Medway. A visit to Canterbury is also necessity, as the historical town centre houses Canterbury Cathedral – the World Heritage Site home of the Anglican Church built in 1070. If you make your way towards Maidstone, you can visit 'the loveliest castle in the world' or Leeds Castle as it's formally known, which even housed Catherine of Aragon. A little journey up the M20 gets you to Brands Hatch – a world-renown racing circuit where you can tackle the track in a race car yourself.
Experience the Cliffs of Dover up-close
Kent is also a wonderful place to enjoy natural wonders, whether it's the famous chalk cliffs of Dover, the numerous shingle beaches or the Kent Downs Area of Natural Beauty. The Downs are an expansive nature preserve where you can hike amongst hills and valleys, with plenty of wildlife to spot in the fields. You can follow a part of 'The North Downs Way' hiking trail, starting in Rochester and stopping off in Folkestone before setting off on the beautiful scenic drive on the A20. The road finishes in Dover, where besides the busy port you will find the largest castle in England – the 11th century Dover Castle that overlooks the white cliffs. If you want to be close to the cliffs however, it's best to make your way towards Margate where the chalk stacks of Botany Bay allow you to fully absorb the beauty of these natural wonders. Whatever your plan for your time in Kent, it will be more comfortable and quicker to experience it all in an Enterprise rental car.
---
Tips for Driving in Kent
When driving around Kent, there a few key things to remember:
·         Kent uses standard UK national speed limits on its roads. In built up areas, the limits are 30mph and 20mph in certain areas, 40 to 60mph on single carriageways and 70mph on the surrounding motorways and dual carriageways.
·         Kent is served by two motorways: the M2 and the M20, which connects Folkestone to London. Be wary of public holidays and the summer holiday season, as the roads become quite heavy with traffic.
·         Kent is home to the Euro Tunnel terminal and the Port of Dover – the two main connections between the UK and France.
·         Due to Dover port being one of the busiest passenger ports in the world, the surrounding roads become congested during holidays. The A2, A20 and A256 can come to a standstill and traffic police is often deployed to manage the road flow. Plan your journeys ahead during these times.
·         Canterbury also becomes congested during peak hours due to the narrow roads in the city centre. The ring road surrounding the centre can get heavy traffic with its multiple roundabouts, so make use of car parks and take a stroll through the beautiful streets.
·         Majority of the popular sights and places in Kent have car parks, which have hourly rates you can find online or on the boards by the entrances.
·         In an emergency, dial 999 or 112 on mobiles.
Frequently Asked Questions
For more FAQs, please visit our FAQ page.