Isle of Wight Car Hire
Welcome to the Enterprise Isle of Wight car rental page. Choose from a wide selection of cars ranging from smaller economy cars to larger SUVs and people carriers
Complete Clean Pledge
We pledge to go above and beyond our already rigorous cleaning protocols, including strict sanitising procedures to protect the health and safety of all.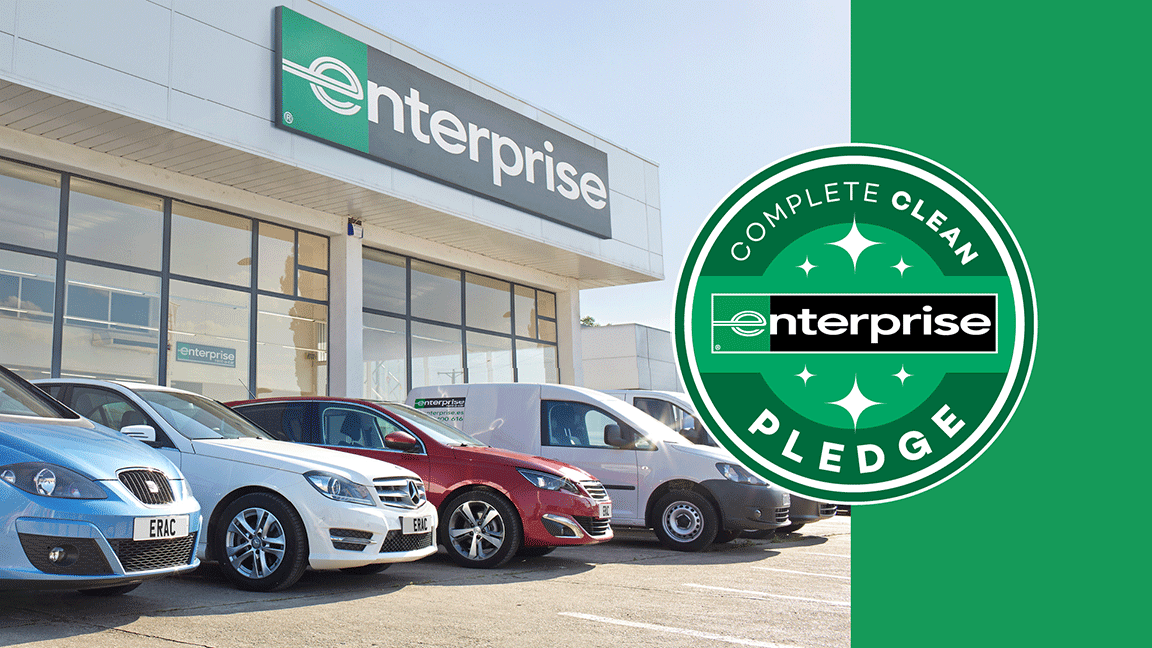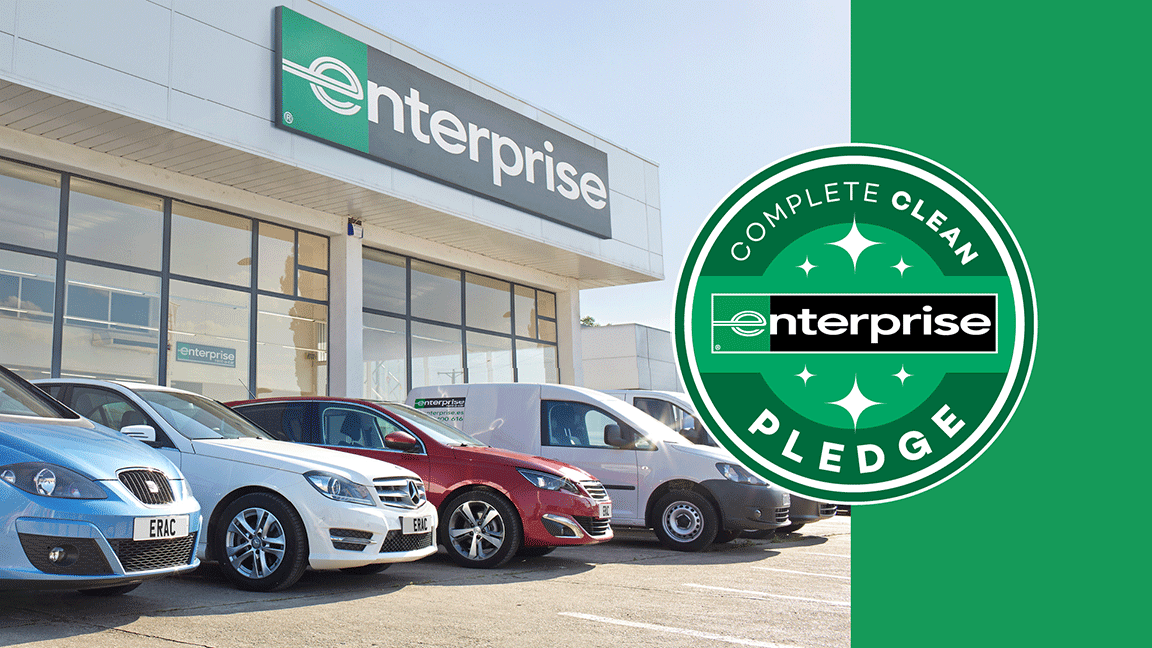 Car Hire on the Isle of Wight with Enterprise
The Isle of Wight and its 70 miles of glorious coastline is spoiled with sandy beaches and stunning drives, and what better way to navigate the UK's largest island than in an Enterprise car rental. Whether you're near Alum Bay for the best water sports, or immersing yourself in the grandeur of Osborne House, our low emission vehicles will ensure you travel around the island smoothly and cleanly. Positioned close to the centre of the island, our Newport branch is accessible from all corners of the Isle of Wight. We can also arrange a free pick-up from one of the island's many points of interest if you require assistance collecting your rental car. As a Which? Recommended Provider, we'll do everything we can to tailor your vehicle to meet your requirements.
Wide Range of Rental Cars
The Isle of Wight attracts close to three million tourists each year. Having such a wide variety of activities on offer makes the flexibility of renting with Enterprise ideal. For an action packed water sports holiday we have people carriers to hire – now you'll be able to fit the whole family and your equipment! Another part of the attraction to the Isle of Wight are the secluded beaches and sand dunes, some of which you may need to rent a 4x4 from us to reach the best viewpoints.
Our fleet features the latest models and are carefully maintained to ensure they run smoothly. We also provide different specifications depending on your preference, such as diesel, petrol and hybrid cars, and available in either manual or automatic transmission. We want you to feel relaxed behind the wheel and that's why we also offer convenient additional features. These include child booster seats, additional drivers and built-in GPS for easy navigation around the island. Get started with your reservation above or visit our fleet page to choose your vehicle.
Do You Need a Van Hire on the Isle of Wight?
We offer a wide range of utility vehicles to help you stay on top of any project. Whether you need one of our large van hires or if you simply need a small van, we can provide the right vehicle with flexible hire terms. Our extra cargo space is available for a one-off job or an extended project; rent one of our vans for any length of time, from just a day up to a period of months. Our fleet includes the latest van models and they receive excellent maintenance to ensure they run smoothly. With our transparent prices and award-winning customer service, it's no wonder so many customers return to us each year. You can reserve a van above or you can view our van fleet to choose the model that's right for the job.

Cheap Car and Van Hire on the Isle of Wight
If you are searching for cheap car hire on the Isle of Wight, look no further than hiring your vehicle with Enterprise. We offer highly competitive car rental deals,, as well as cheap van rentals . As a Which? Recommended Provider, you can trust that our pricing is up-front, transparent and that we won't surprise you with hidden fees or charges.
You'll always find the best deals exclusively on the Enterprise website. Why not start your reservation above or, as a great value way of getting around the island, check out our fantastic weekend deals.
Cheap Airport Car Hire near Isle of Wight
If you are flying into the UK to visit the Isle of Wight, Southampton Airport is nearby and provides easy access to the isle. Our branch, located just opposite the terminal building, is well signposted and a member of our friendly team will be there to welcome you.
Once you've picked up your modern Enterprise rental then it's just a short drive along the M27 before arriving at Portsmouth's Historic Dockyard. Here you can hop on a ferry to transport you and your vehicle over the waters of The Solent that separates the Isle of Wight from mainland England.
Need to drop off in a different location?
One Way Car Hire
Looking to hire a car for a one-way trip? No problem! Enterprise Rent-A-Car offers easy and convenient one-way car rentals from most of its 10,000 locations in 90+ countries. Choose from a great selection of vehicles, including economy, saloons, SUVs, people carriers and vans.
Need help picking up and returning car?
Free Pick Up and Drop Off Service
Our free pick-up & drop-off service is available at non-airport branches and during normal business hours. To schedule your pick-up time or make additional arrangements, ask for this when your rental branch calls to confirm your reservation.
Need a car for an extended time?
Long Term Car Hire Service
Looking for a flexible alternative to a traditional rental or lease agreement? We've set up dedicated long-term branches throughout UK to provide our customers one-on-one attention. Just let us know when and where you need to rent a vehicle, and we'll take care of the rest.
Things to do on the Isle of Wight
Get the royal experience at Osborne House:
Historically, the Isle of Wight has been a popular holiday destination with the royal family and it's easy to see why. Osborne House, located on the North-Western point of the island, was Queen Victoria's favourite place to spend the summer and it is now open to the public. With gloriously well-maintained gardens and an extravagantly decorated interior, Osborne House is a necessity for anyone visiting the island. After this, you could complete your day of luxury and sophistication with some wine tasting. The Rosemary vineyard, located just a 20-minute drive from Osborne House and along the island's eastern coast, offers great wine and even better views over the vineyards.
Scenic drives along the coast:
With miles of glorious coastline and stunning windy roads, the Isle of Wight is a real driver's paradise. The pick of the bunch has to be the route that follows along the West coast of the island. Military Road, built by war prisoners during world war two, passes through many charming villages whilst providing constant views out to sea. This drive will take you to Alum Bay and its famous monument known as The Needles. You can park up at Alum Bay and take the chair lift to the summit for a great view of the famed three chalk cliffs.
Activities for the whole family:
For those travelling as a family, the Isle of Wight provides seemingly endless amounts of kid-friendly activities. For nature-loving families, what better way to start your day out than the Butterfly World, followed by a visit to Monkey Haven? Both of these attractions are situated next door to each other, and there is an operational Steam Railway just a five-minute drive away. Another attraction bound to be a hit with young children is the model village in Godshill. The dainty model buildings are sure to make any child feel like a giant!
---
Driving Information for the Isle of Wight
Due to the lack of a modern railway infrastructure, driving around the Isle of Wight is most convenient whilst being a genuine pleasure. There are endless picturesque routes to explore, providing stunning views out to sea, so there can be no better way to see it all than with a vehicle from us.
Before setting off, there are a few key things to remember:
·         Drinking alcohol while driving is strictly prohibited and seat belts must be worn at all times. With the island's many windy roads also used by tractors and livestock, it's always best to proceed with caution as you can never be too sure what's around the next sharp corner.
·         Speed limits apply on the island. Some residential roads have been reduced from 30mph to 20mph so look out for indicating signs. Most A and B roads have a limit of 50mph while there are no motorways on the island. However, there is a short stretch of dual carriageway (just to the North of Newport) where a 70mph limit applies.
·         The island's roads are well maintained given the island's long history. A lot of the main roads, as well as many back roads, saw refurbishment since 2010. This ongoing project has so far covered 70% of the island's roads and aims to resurface all 818 kilometres of its public road network.
·         For the most scenic driving routes avoid going through Newport, the busiest town on the island, and instead take the back routes. Even if you get a bit lost, the island has a diameter of just 23-miles so it won't be long before you're back on the beaten path.
---
Frequently Asked Questions
For more FAQs, please visit our FAQ page.