Car & Van Hire in Gloucestershire
Welcome to the Enterprise Gloucestershire car rental page. Choose from a wide selection of cars ranging from smaller economy cars to larger SUVs and people carriers
Complete Clean Pledge
We pledge to go above and beyond our already rigorous cleaning protocols, including strict sanitising procedures to protect the health and safety of all.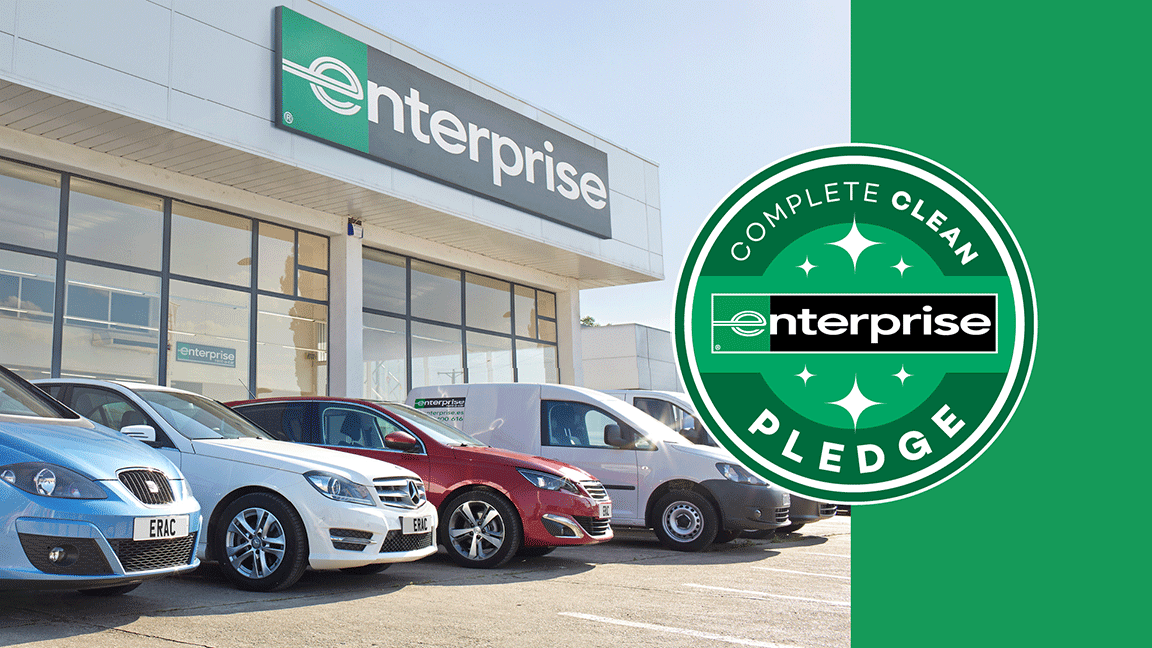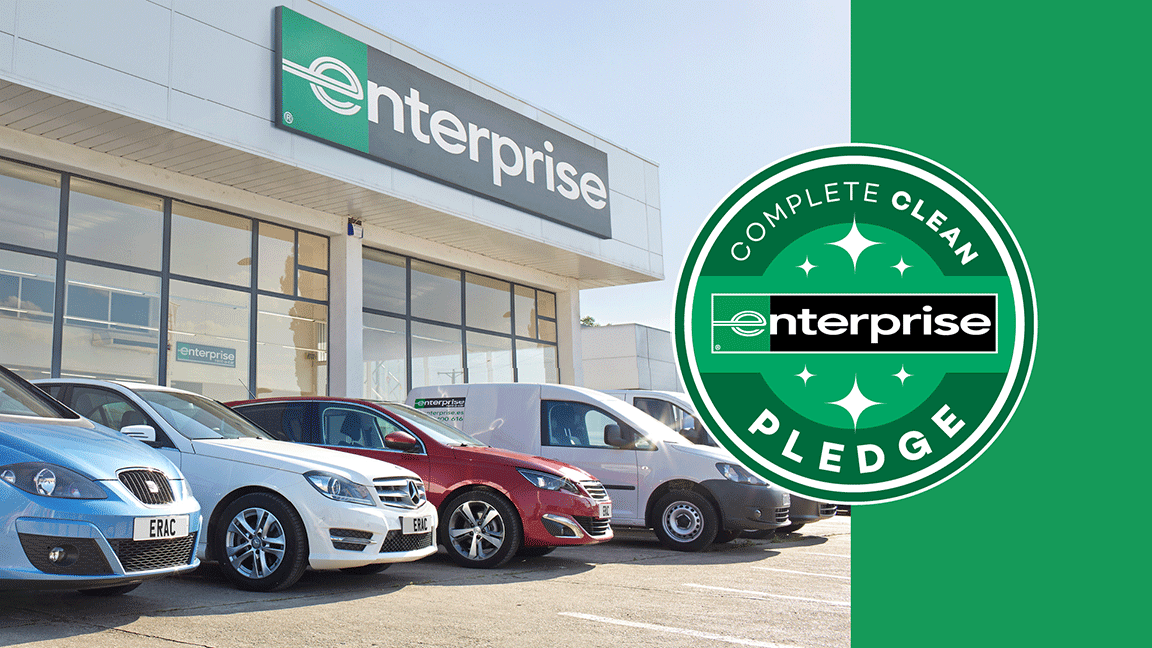 Car & Van Rental in Gloucestershire?
From historic castles to ancient Roman ruins, Gloucestershire has many routes and sites to discover and explore. With pretty villages and historic gardens amid charming rolling hills, the Cotswolds is one of Gloucestershire's major attractions. The spectacular woods of the Forest of Dean and the medieval stronghold of Berkeley Castle are also major draws. Our Gloucestershire branches make exploring this picture-perfect region of England's West Country easy, with locations in Gloucester, West Cheltenham, Cheltenham Central and Stroud.
Our Vehicles for Hire in Gloucestershire
With a rental car, Gloucestershire and its top attractions are within easy reach. We offer competitive rates on a range of modern and comfortable cars. Our Gloucestershire fleet includes a selection of cars, SUVs, people carriers and vans. Options range from mini and compact cars to larger saloons and estate cars. SUVs provide additional power and space, while people carriers provide comfortable seating for up to nine passengers. Whatever your needs might be, our Gloucestershire service has a great vehicle waiting for you at one of our locations.
Attractions in Gloucestershire
Make sure you get to explore the county's best attractions in comfort and style on your trip to Gloucestershire. The historic cathedral of Gloucester is a gateway to England's West Country. Highlights include Gloucester Cathedral, an imposing building that dates from the 11th century, and the resting place of Edward II. Gloucester Quays is a popular shopping and entertainment destination, while sports fans can enjoy rugby at Kingsholm stadium. To the west of the city is the Forest of Dean, an ancient woodland and one of the most spectacular forests found in the United Kingdom.
The Cotswolds is home to some of the most stunning rural landscapes in England. Gentle hills and picturesque stone-built villages create a spectacular destination to explore. There are also several historic homes and castles in the Cotswolds, including Chastleton House, Snowshill Manor, Chavenage, Sudeley Castle and Berkeley Castle. The Cotswold Water Park is the largest of its kind in Britain, with more than 130 lakes, about five miles south of Cirencester.
Cirencester is a beautiful market town on the edge of the Cotswolds. The Roman Amphitheatre and the Corinium Museum are top attractions in the ancient town, which is a popular destination for shoppers, and famous for polo at Cirencester Great Park. Other notable towns in the Cotswolds include Bourton-on-the-Water, which is about 16 miles north of Cirencester. The charming and attractive village boasts fine examples of the golden stone buildings that are synonymous with the Cotswolds.
Cheltenham emerged as a spa town in the early 18th century. Its healing waters became popular after King George III visited the area in 1788. Gorgeous examples of Regency architecture are found throughout the town. Cheltenham hosts Gold Cup horse racing every March and the Cheltenham Racecourse is the terminus for the heritage Gloucestershire & Warwickshire Railway to Toddington.
Places to Visit Outside Gloucestershire
Make the most of your rental car by seeing more of what the South West of England has to offer. Day trip options from Gloucestershire include Birmingham, England's second city and a major shopping and entertainment destination in the Midlands. Other popular destinations outside Gloucestershire are Warwick, Bristol and Oxford. South Wales is also a short drive away, via the M4 or A40, including the picture-perfect town of Ross-on-Wye and the bustling Welsh capital of Cardiff.
Airport Car Hire
Enterprise offers car hire services at several airports within easy reach of Gloucestershire. Bristol Airport and Birmingham Airport are about an hour's drive from major cities, including Gloucester and Cheltenham, via the M5. Our friendly locations at Luton Airport and Heathrow Airport are less than two hours from Gloucestershire. With an airport car rental, Gloucestershire is a quick drive away, allowing you to travel directly to your destination without the hassle of arranging an airport transfer.
Parking and Traffic Information in Gloucestershire
Cities and towns in Gloucestershire have plenty of parking options, often only a short walk from town and city centres. In Gloucester, road parking is available close to the city centre. Pay and display car parks are also found throughout the city centre. Car parks are also found close to Cirencester's town centre and along the High Street. There are local parking restrictions, so it is important to take note of any signposts.
Extra care is needed when driving in Gloucestershire's rural areas. Certain roads are only passable by one vehicle at a time. Wildlife also presents a challenge, especially cows that stand or lie in the road, particularly during the night in the Cotswolds. The Cotswolds and its villages are very popular during summer months and bank holiday weekends. During these times, crowded car parks and traffic are possible. There may also be congestion on the M5 close to the M4 during summer months and Friday afternoons, as well as bank holidays.
Cheap Van and Car Hire
Enterprise Rent-A-Car offers hassle-free, affordable car hire, with a large choice of vehicles on fleet and in stock. Enterprise guarantees cheap rates on car hire from all our Gloucestershire branch. Our range of modern economy cars are comfortable and reliable, but also fuel efficient, which keeps running costs low. Book online today and explore Gloucestershire and its surrounding areas at a price which suits any budget.
Whether you're moving to a different city or just simply picking up some flat pack furniture, Enterprise Rent-A-Car's extensive range of new, reliable vans at our Gloucestershire branch will get you and your goods on the road and to your destination in safety and comfort. Choose from our large fleet of commercial and passenger vans online today.
Frequently Asked Questions
For more FAQs, please visit our FAQ page.