Car & Van Hire in Glasgow
Welcome to the Enterprise Glasgow car rental page. Choose from a wide selection of cars ranging from smaller economy cars to larger SUVs and people carriers
Complete Clean Pledge
We pledge to go above and beyond our already rigorous cleaning protocols, including strict sanitising procedures to protect the health and safety of all.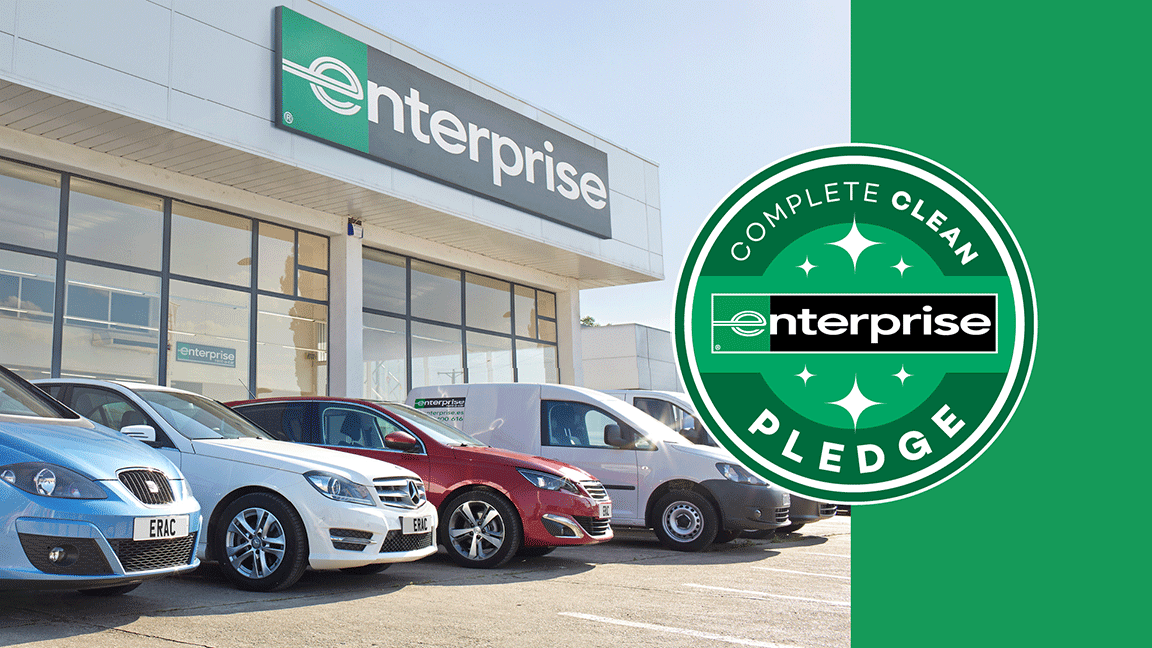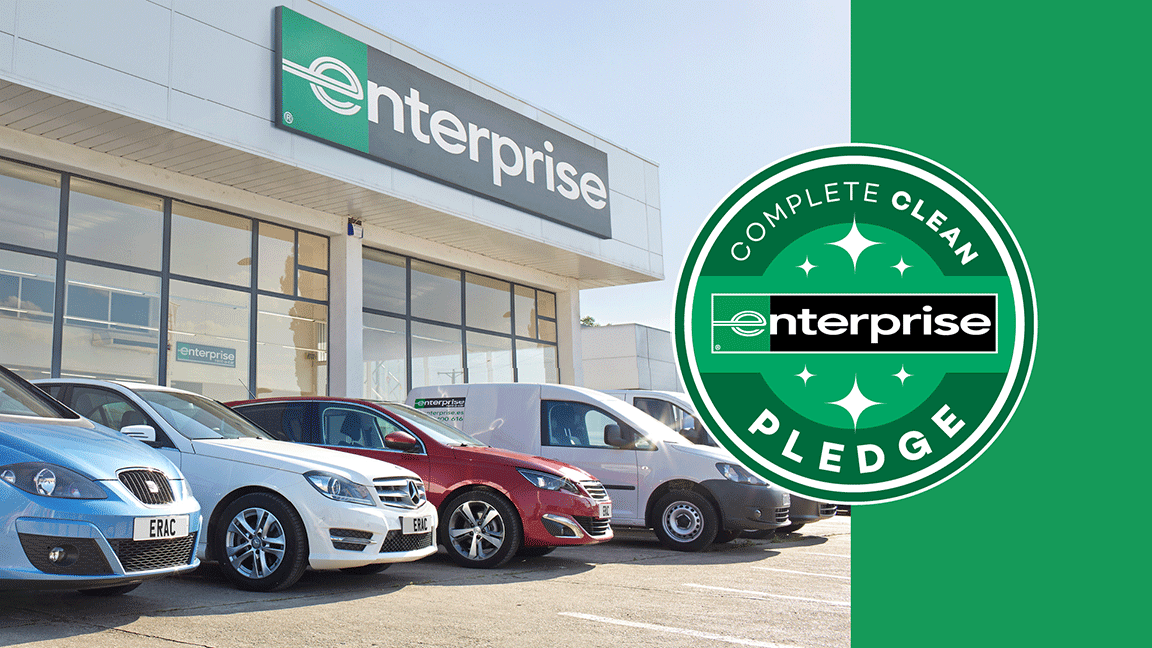 Car Hire in Glasgow with Enterprise
Scotland's largest city is famed for its architecture, music scene, rivalry between its two football clubs and the beautiful rolling hills surrounding its boundaries. Each of Glasgow's neighbourhoods has a distinct character, so it's hard to be bored wherever you are in the city. To cover the distances easily and venture outwards into the country, why not experience what Glasgow has to offer in an Enterprise rental car.
If you are flying into Glasgow International Airport , you can visit our terminal branch and our Enterprise agents will assist you with booking your perfect rental. We also offer rentals in the heart of the city by Glasgow Central Station – so if you catch a train in, visit our Glasgow City Centre branch to get to wherever you are going in a comfortable hire car. If you're in the Eastern part of Glasgow around Rutherglen, or you are staying in the greenery-filled South around Giffnock, you can find our branches and helpful staff at your disposal.
Wide Range of Rental Cars
Our vehicle fleet spans over two million well-maintained cars, so no matter what your needs might be, your rental can be tailored to your requirements. Whether you're after sports car hire to tackle the scenic routes, a nifty hatchback for short journeys around Glasgow or you're looking to rent a minivan for a family trip, you can expect us to find you the perfect vehicle for experiencing Glasgow and the Scottish countryside. Our fleet features the latest models that are always cleaned, well-maintained and ready for whatever you may throw at it. If you have a specific preference in engines, we offer cars in diesel, petrol or hybrid configurations. We can also provide you rentals with automatic transmissions if you wish.
Do you have any other requirements? We offer add-ons on all of our rentals, so if you need help from a GPS system, child seats and boosters, or you will split the driving between you and another driver – we can work around your needs and make sure your rental plan is personalised to you.  Get a quote on a reservation above, or visit our fleet page and see what kind of vehicle works best for your time in Glasgow.
Van Hire in Glasgow
If you are in need of extra cargo space for your stay in Glasgow, we provide vans in all shapes and sizes. Whether you are planning a house move, moving offices or you found the perfect piece of furniture, we will provide you with the perfect hire van. Our fleet has the latest van models, ranges from short wheelbase small vans to long wheelbase Luton vans. We don't just offer cheap van hire, but also provide award-winning customer service. Book your hire above, or visit our van fleet page to see what's available to you during your stay in Glasgow.
Cheap Car Hire in Glasgow
Thanks to the clarity of our pricing, our efforts in explaining extra charges and the transparency of your rental's final costs, we are proud to be recognised as a Which? Recommended Provider. The 20 million happy customers, who book their hire cars with us annually, return for the good value for money rentals. Our loyalty program called Enterprise Plus is also a way to get good value on rental cars – thanks to redeemable points for every time you hire with us, we award you with free Enterprise rentals. For the cheapest rates on your rental using our prepay option, visit our website for the best deals.
Car Hire in Glasgow Airport
If you are looking for the cheapest car rentals at Glasgow International Airport, you can find us at our terminal branch where our staff will help find the best car for you. Our cars are usually kept a short walk away from the airport terminals, but when we are unable to provide that, some branches will offer free shuttle bus services to your rental.
We understand that flights can be outside of our normal business hours, so we offer flexibility on picking rentals up and on returning them. Once you know what time your flight arrives or departs, speak to one of our agents at the Glasgow airport branch and they will be able to supply all the information you need.
Need to drop off in a different location?
One Way Car Hire
Looking to hire a car for a one-way trip? No problem! Enterprise Rent-A-Car offers easy and convenient one-way car rentals from most of its 10,000 locations in 90+ countries. Choose from a great selection of vehicles, including economy, saloons, SUVs, people carriers and vans.
Need help picking up and returning car?
Free Pick Up and Drop Off Service
Our free pick-up & drop-off service is available at non-airport branches and during normal business hours. To schedule your pick-up time or make additional arrangements, ask for this when your rental branch calls to confirm your reservation.
Need a car for an extended time?
Long Term Car Hire Service
Looking for a flexible alternative to a traditional rental or lease agreement? We've set up dedicated long-term branches throughout UK to provide our customers one-on-one attention. Just let us know when and where you need to rent a vehicle, and we'll take care of the rest.
Things to do in Glasgow
Witness historic Scottish football rivalry
No matter what you might be into, Glasgow has something in it for everyone. From the Kelvingrove Art Gallery filled with civic art, to the two famous stadiums of Ibrox and Celtic Park and even the Tennent's Wellpark Brewery – the centre of Glasgow is always bustling with life. A rental car is the best way to get around the city quickly, and it also helps you get to the beautiful parks within Glasgow's boundaries. Drive down to southern Glasgow to the Pollok Country Park to visit the elegant Edwardian Pollok House and its beautiful gardens. If you are in the north part of the city, head out to the Seven Lochs Wetland Park close to our branch in Springburn.
Hike through the rolling hills of the Trossachs
By hiring a car in Glasgow, you are also a short journey away by some of the most beautiful landscapes in the south and west of Scotland. Drive north of the city on the A82 road to get to the stunning Loch Lomond and see the rolling hills of the Trossachs National Park. Carry on travelling up the road and you will reach the magical Glencoe valley – a place known for its numerous babbling brooks, cascading waterfalls and walking trails. From Glencoe, you can also travel on to get to the highest peak of Britain - the famed Ben Nevis. When returning from your trip to Glencoe, why not take a detour through Stirling and visit Doune Castle. It's a medieval castle used as a filming location for Monty Python and the Holy Grail and you can even take a tour narrated by Terry Jones himself.
Enjoy the Scottish sea breeze in Ayrshire
If you prefer to see the Scottish coast, why not take the southbound M77 towards Ayrshire? You can visit the town of Ayr and head towards Culzean Castle – a medieval mansion with a wonderful walled garden. When returning, take the scenic A719 route and witness the optical illusion of the Electric Brae, where cars seem to be freewheeling uphill due to the surrounding land. Glasgow is a fantastic place for a city break, but the surrounding areas reachable by car also have plenty to offer. Create everlasting memories by experiencing all of this in an Enterprise rental.
Tips for Driving in Glasgow
When driving around Glasgow and the surrounding area, there a few key things to remember:
Glasgow is well connected to other areas of Scotland. The M8 takes you to Edinburgh, if you want to venture north towards Stirling you can travel on the M80 and by taking the M77 you can visit the Western Coast of Ayrshire by taking the M77.
As in the rest of the UK, unless specified, the speed limits in Glasgow are as follows: 30mph for residential areas with certain zones signposted 20mph, 60mph for A and B single carriageways, and 70mph on dual carriageways and motorways.
There are no toll roads in Scotland, so you don't have to keep spare change on-hand for anything other than petrol station snacks and coffee.
As the beautiful countryside is home to farm and wild animals, anticipate and lower speed when in wooded areas where deer warning signs are visible.
Some of the Scottish country roads are too narrow for two vehicles, so anticipate oncoming traffic on bends and where visibility is obstructed. Use safe passing places where possible and reduce speed accordingly
If you drive in the winter months, reduce your speed and use fog lights in the event of snowstorms.
To contact authorities in the event of an emergency, dial 999.
Our cars are ULEZ (Ultra Low Emission Zone) compliant, so when Glasgow's Low Emission Zone rolls out to passenger cars, you don't have to worry about the charges.
Frequently Asked Questions
For more FAQs, please visit our FAQ page.