Car Hire in Exeter
Welcome to Enterprise Rent-A-Car Exeter page where you will find a wide range of vehicles to choose from to fit exactly what you are looking for at great rates.
Complete Clean Pledge
We pledge to go above and beyond our already rigorous cleaning protocols, including strict sanitising procedures to protect the health and safety of all.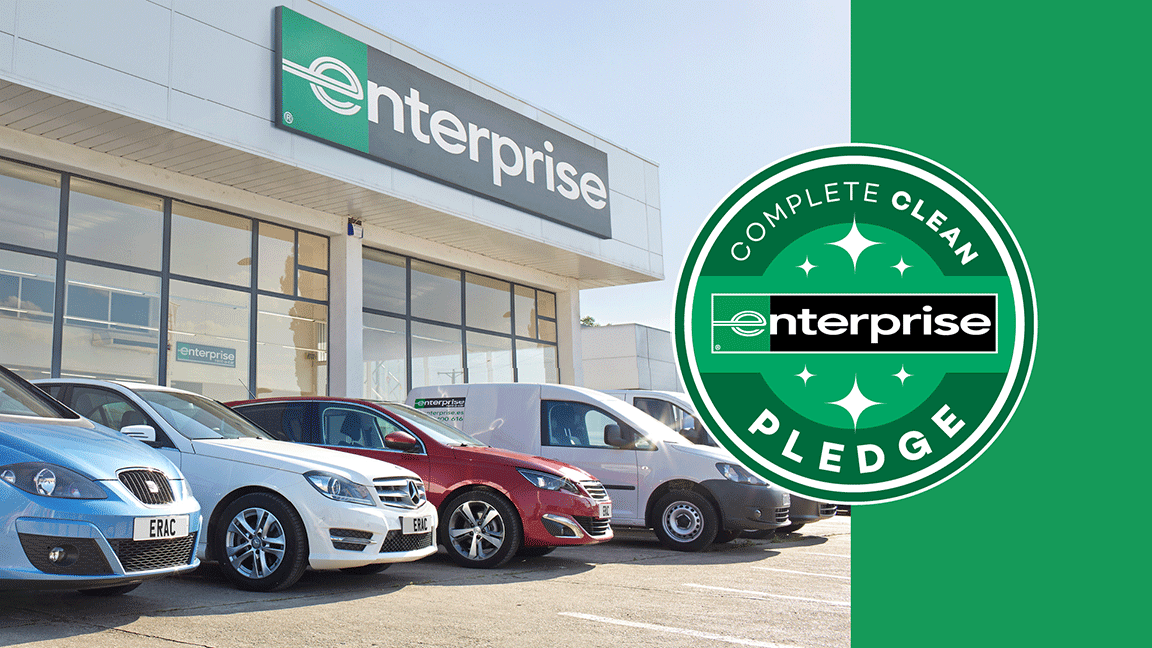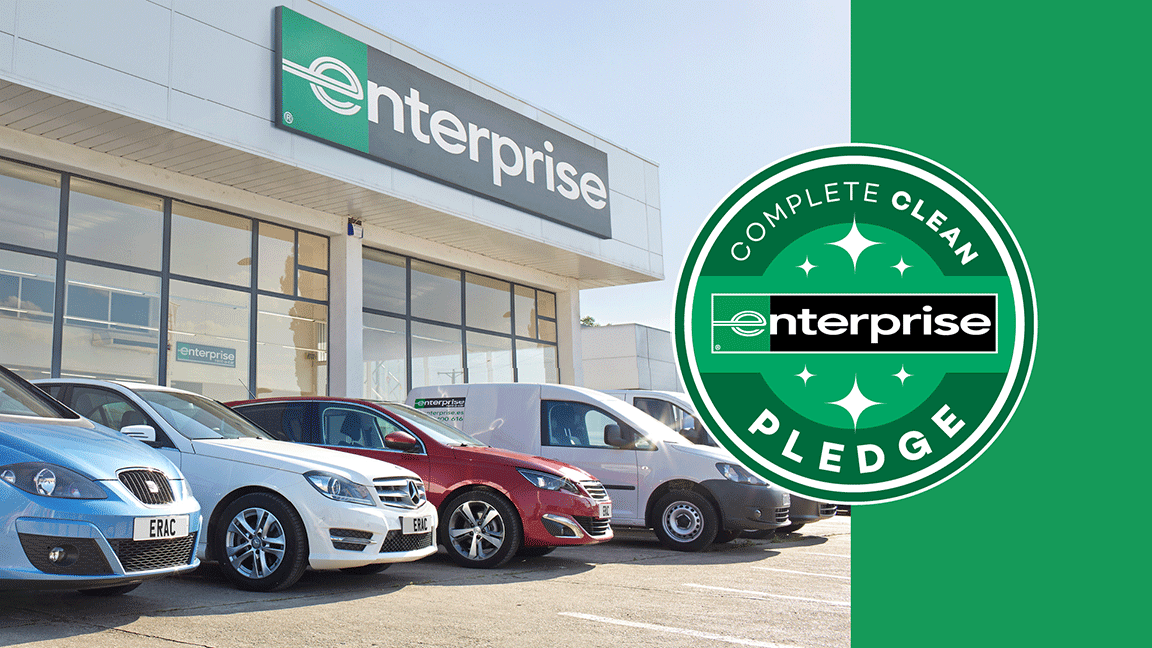 Car rental in Exeter
Exeter is a cathedral and university city located in southwest England, within the county of Devon. It is a small but fast-paced city, featuring a range of historical and modern attractions, such as Exeter Cathedral, Exeter Racecourse and Powderham Castle. The Princesshay and Guildhall shopping hubs provide a wide range of retail to visitors. Finlake Holiday Resort and Go Ape! allow for both relaxed and adventurous holidays. Exeter's extensive network rail links and M5 connections make getting to and from the city easy enough. Once you're there, Enterprise Rent-A-Car will get you to where you need to be, with our car, large vehicle and van hire. We run two locations in Exeter, in the north and south of the city. Marsh Barton Enterprise Car Hire is located on Trusham Road next to the Exeter Sports Academy, off Marsh Barton Road from the A377 southbound. Hill Barton Service Station Enterprise is to the north, off the B3181, close to Pinhoe railway station.
Our Vehicles for Hire in Exeter
Whichever end of the city you're heading for, Enterprise can offer a range of car and van hires to meet your every need. If you're on holiday in Exeter, our rental cars will get you about quickly and in style at a price that you can afford. If you're planning a big move or need to transport small cargo across to the retail districts, we've got you covered as well. For larger groups looking for Exeter car hire, we can also offer a number of SUVs and people carriers. Browse our website today to learn more about Enterprise's extensive range of hire vehicles.
Cheap Car and Van Hire in Exeter
If you're looking for an affordable car and van hire service in Exeter, Enterprise is one of the best choices around. All of our cars and vans are clean, modern, stylish and fuel-efficient. If you know when you'll be arriving in Exeter, book your hire car in advance with us and save money. We offer prepaid rental and great online deals for all of our locations in Exeter, the United Kingdom and beyond.
Airport Car Hire
The nearest airport to us is Exeter Airport, located over the M5 just outside Exeter. While we are not present at the airport itself, Enterprise is only a short distance away, at our branch near to the Pinhoe rail link. Follow the A30 into Exeter and take Cumberland Way northbound to reach us for car hire in Exeter. Exeter Airport offers chartered and commercial flights to major cities in Britain and Europe, particularly London and Glasgow. The airport also contains a good number of hotels and a business park. Whether you're looking to get across the country quickly or are coming in for a long-term stay, Enterprise will provide the hire vehicles that you'll want.
Attractions in Exeter
There's a lot that you could do on a day out in Exeter. Exeter Cathedral is the city's main attraction. World famous, it dates back over 900 years. Don't miss the fantastic 15th-century astronomical clock and the guided tours of Exeter's ancient underground passageways. If you're looking for something more contemporary, Exeter's sprawling shopping precincts contain enough retail outlets to meet any needs and wants, particularly near to the centre of the city at Princesshay. Exeter is also a highly active city. Climbing, canoeing, adventure courses and swimming are all popular. The parks often hold popular food festivals and markets.
Places to Visit Outside Exeter
Exeter is located at the heart of the West Country, ideal for those looking for an adventurous or rural day out. The city of Bristol is famous for art, architecture and history, and is only an hour and a half's drive away on the M5 northbound. If you're looking to spend time outdoors, there are also plenty of places nearby to do so. Exeter is located fairly close to the vast East Devon Area of Outstanding Natural Beauty and the equally beautiful South Devon coastline.
Parking and Traffic Information in Exeter
Parking in Exeter is located around the shopping districts. Exeter Princesshay and the Guildhall Centre are the two largest car parks, ideal if you're visiting the city centre. If you need to park further afield, a vast number of private car parks form a ring around the city. Traffic in and out of Exeter is usually moderate to heavy at peak times. However, Exeter's large capacity roads mean that you should have few issues getting across the city quickly if need be. Exeter's vast rail network (including the Exeter main line and Exeter St. David's hub stations) also include a good amount of parking for longer transfer journeys by rail.
Frequently Asked Questions
For more FAQs, please visit our FAQ page.