Car & Van Hire in Ely
Welcome to the Enterprise Ely car rental page. Choose from a wide selection of cars ranging from smaller economy cars to larger SUVs and people carriers
Complete Clean Pledge
We pledge to go above and beyond our already rigorous cleaning protocols, including strict sanitising procedures to protect the health and safety of all.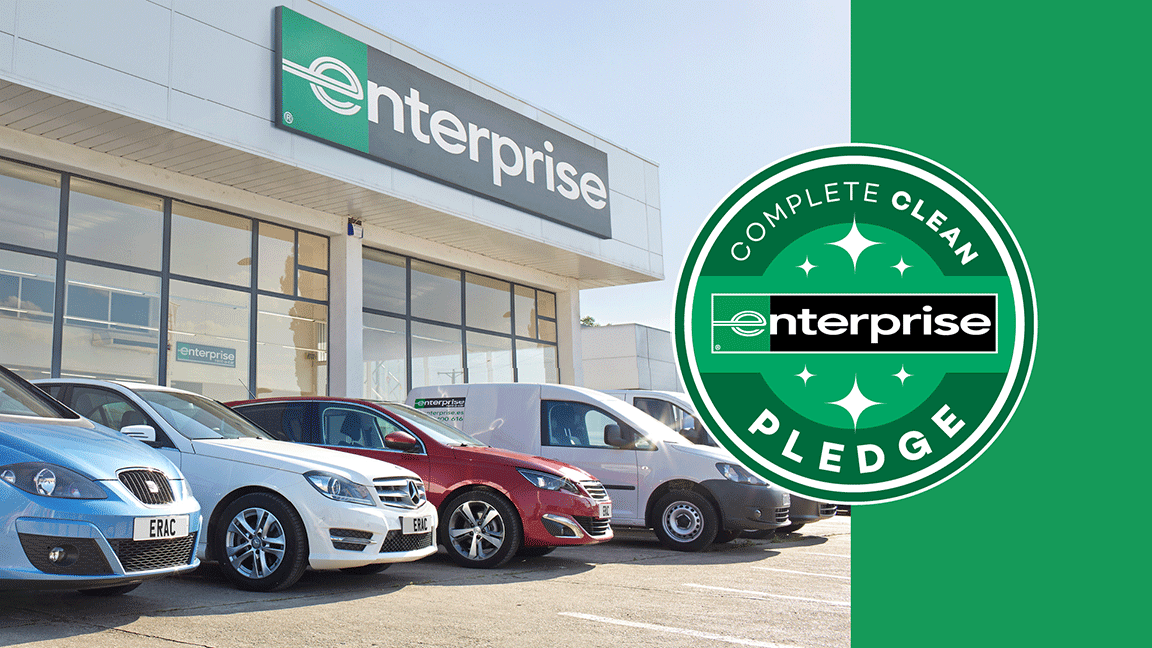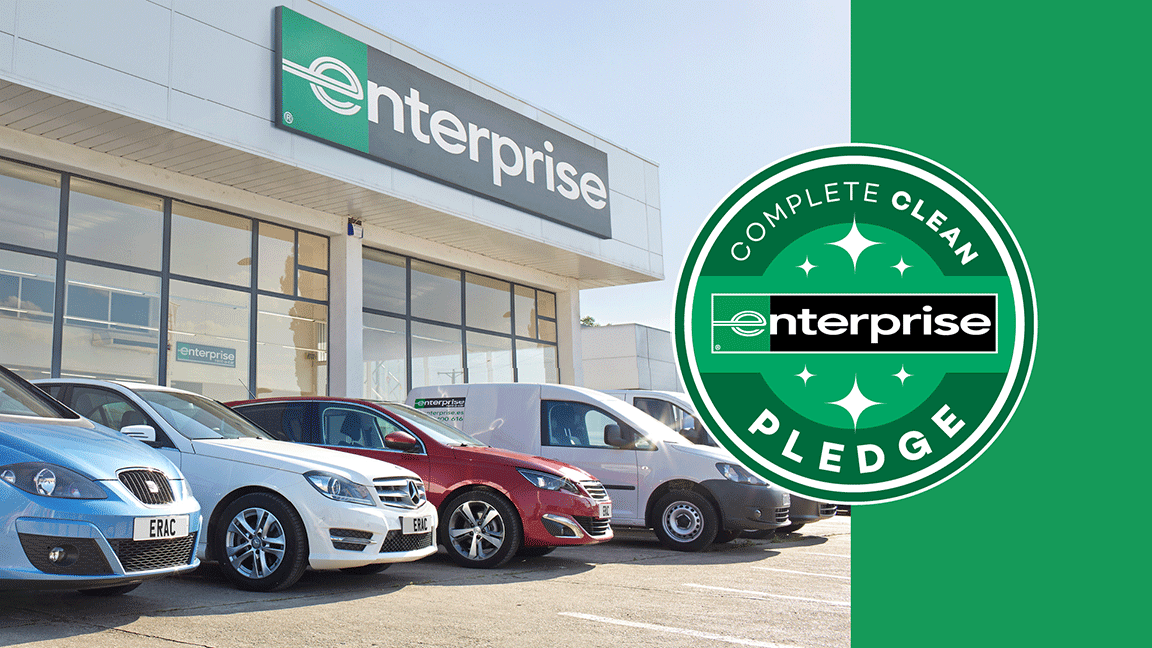 Car & Van Rental in Ely?
Ely is a city in Cambridgeshire, England, around 14 miles north of Cambridge and known primarily for its impressive cathedral, with its origins in the 11th century. There are many other attractions, however, from museums and art galleries to river cruises and a host of independent shops and restaurants. The city has a great location in the magical Fens, and with a hired car, it is an excellent base for exploring the region's countryside.
Enterprise has two nearby branches, located at Histon, just to the south of Ely and north of Cambridge, and in Cambridge city centre itself. Visitors arriving in Cambridge will find the city centre branch most convenient for organising their rental vehicle.
Our Vehicles for Hire in Ely
Enterprise's two closest branches to Ely, in Histon and Cambridge, both offer many types of vehicles, from small cars and medium-sized cars to larger cars, people carriers and 4x4s. These can be viewed and booked online in advance, or customers can simply pop into a branch and let Enterprise's highly trained staff do the rest. Great value packages and flexibility ensure peace of mind. Examples of vehicles on offer include Toyota Aygo, Vauxhall Corsa, Ford Focus, Skoda Octavia, Vauxhall Insignia, Vauxhall Zafira Tourer, Toyota Rav 4, SEAT Alhambra, Mercedes C-Class, Volvo XC60 and Mercedes E-Class.
Attractions in Ely
Ely Cathedral is undoubtedly the city's major attraction. There was originally an abbey dating from 673, though this was later destroyed and the current building dates from 1083. Many restorations and alterations have taken place over the centuries, including the 14th century octagonal tower and restorations in the 19th century. The octagonal tower, known simply as the Octagon, is the most majestic and impressive feature of the cathedral, while other highlights include the Lady Chapel and West Tower. An independent museum located in the cathedral, the Stained Glass Museum, is also well worth a visit, with over 100 stained glass panels dating from medieval times.
Other attractions in Ely include the house of Oliver Cromwell, who lived in the town for ten years, and Ely Museum, which tells the stories of the city and surrounding region. Art lovers may want to check out Babylon Gallery, a contemporary arts centre and gallery located in a former brewery warehouse on Ely's Waterside.
Ely's riverside is a great place to take some time out to discover a slower pace of life. Boat trips depart regularly, while Jubilee Garden is an oasis of tranquillity, and there are many cafes and restaurants in which to soak up the atmosphere.
Places to Visit Outside Ely
Nature lovers will find many nature reserves, parks and gardens around Ely, all of which are easy to reach by car. Wicken Fen is one of the country's oldest nature reserves and a unique ecosystem, which is one of the last remaining areas of fenland. A wetlands reserve of international importance, Wicken Fen contains over 9,000 species and there is an incredible diversity of wildlife to be seen at any time of year. Also nearby is Anglesey Abbey, Gardens and Lode Mill, which is well known for its winter garden and snowdrops, as well as its dahlia collection and working watermill.
Burwell Museum gives a fascinating insight into the way people lived in the Fens, with a whole host of activities on offer, from walking trails and windmill climbs to talks, tours and craft days.
Renting a car from Ely puts the city of Cambridge, with its University Colleges, gardens, historic pubs, museums, art galleries, superb shopping and much more, within easy reach. Parking is available either in the city centre multi-storey car parks or via the Park and Ride scheme, with regular shuttle buses into the city centre. Visitors could easily spend a day in Cambridge exploring the city – highlights include the Fitzwilliam Museum, the Cambridge University Botanic Garden, punting tours on the River Cam, and King's College Chapel.
Airport Car Hire
London Stansted is the closest major airport to Ely and the most convenient place to arrange your hire car if you're arriving in the region by plane. Located around 35 miles away from the city, it is a straightforward drive from London Stansted via the M11 and A11. Enterprise has a kiosk located in the arrivals hall, where staff can assist travellers with choosing the most suitable vehicle and rental package. London Stansted, located to the north of London and just south of Cambridge, is one of the busiest airports in the UK, serving 170 destinations, and is the base for many European low-cost carriers.
Parking and Traffic Information in Ely
Ely has several free, council-run long stay and short stay car parks. Short stay car parks are free to park in for between two and four hours, while long stay car parks are suitable for longer periods but do have early morning restrictions. Barton Road is most convenient for Ely Cathedral and the city centre, while Angel Drove is located on the outskirts close to the train station. Travellers should be aware while driving in the city that there are a number of one-way streets in operation.
Cheap Van and Car Hire
Enterprise in Ely offers great prices across its large fleet of vehicles, whether you need a 3-door economy car, roomy SUV or 9-passenger people carrier. Book online in advance for the best deals on cheap car rental, or visit our knowledgeable staff in branch for friendly, personal service.
Enterprise offers a wide range of new vans from our city and neighbourhood branches. Explore the full fleet of passenger vans and larger commercial vehicles online or visit us in branch where our staff can help you find your perfect vehicle. Visit our Ely van hire page to find out more.
Frequently Asked Questions
For more FAQs, please visit our FAQ page.