Car & Van Hire in Durham
Welcome to the Enterprise Durham car rental page. Choose from a wide selection of cars ranging from smaller economy cars to larger SUVs and people carriers
Complete Clean Pledge
We pledge to go above and beyond our already rigorous cleaning protocols, including strict sanitising procedures to protect the health and safety of all.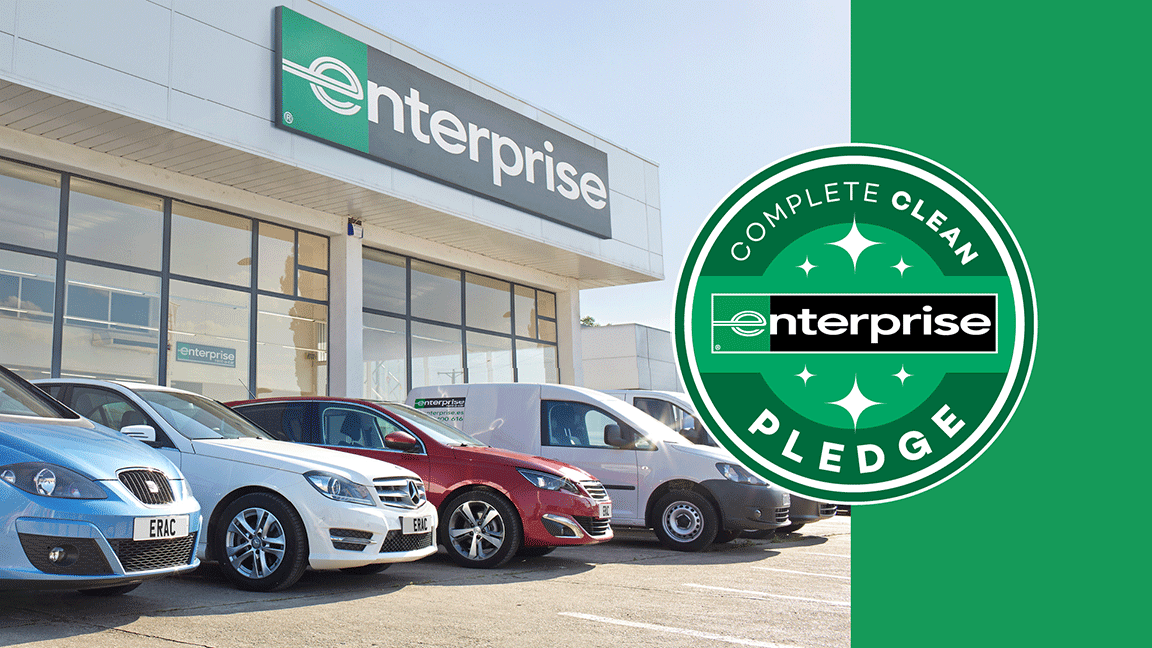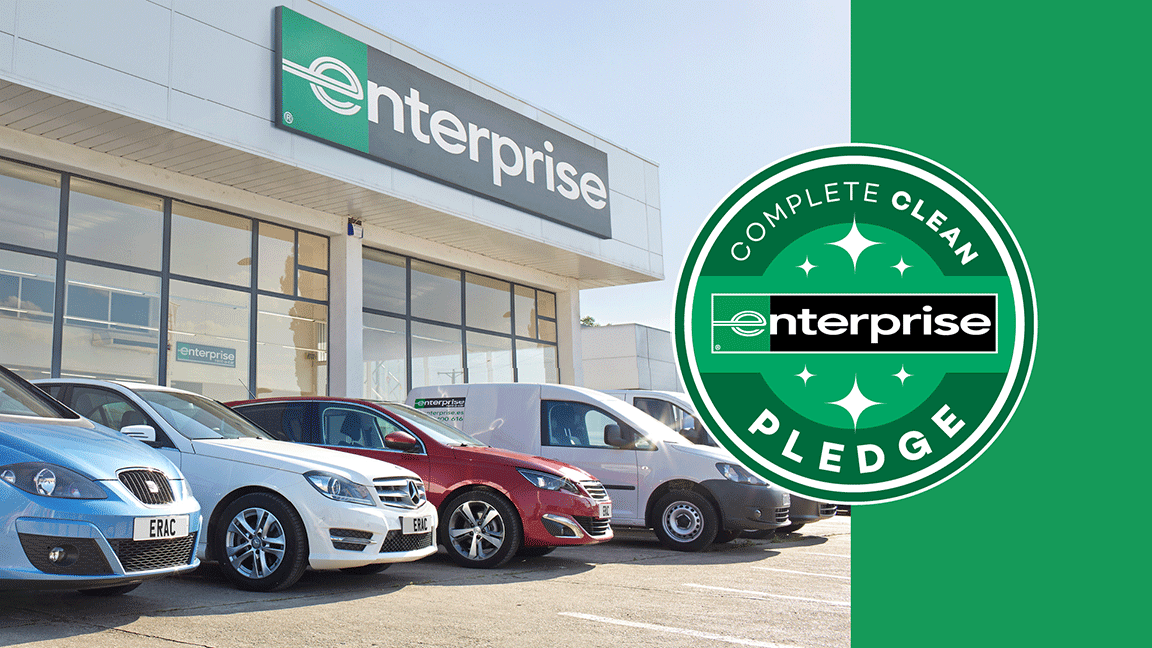 Car & Van Rental in Durham?
Nestled between inspiring dales and dramatic coastline, Durham is an unforgettable destination. At its heart is an imposing cathedral that has dominated the city's skyline for over a thousand years. Experience all this city has to offer by hiring a car and fill your stay with unforgettable experiences throughout the surrounding area, too. Enterprise services are located west of the city centre with easy access to the region's road network.
Our Vehicles for Hire in Durham
Driving lets you experience all that the region offers without worrying about train schedules or bus routes. You will be able to set your own pace, base your itinerary on your own timetable, and explore every corner of the North with ease. Our fleet of vehicles features modern, clean and safe choices that will help you reach your destination in comfort and style.
Enterprise's fleet features top models from leading automakers, including Mercedes, Ford, Toyota and Vauxhall. Choose from a selection of mini and compact cars, saloons and full-size estates, and luxurious premium cars that let you explore Durham in style. We also supply 4x4 SUV vehicles that give you additional power, especially when exploring less travelled and rugged routes. If you are travelling in a group, you can hire a people carrier with seating for up to nine passengers.
Attractions in Durham
Durham is home to one of the finest examples of Romanesque architecture. Built in 1093 as a shrine for St Cuthbert, Durham Cathedral is the spectacular centrepiece of Durham's UNESCO World Heritage Site. From the medieval wall paintings in the 12th-century Galilee Chapel, to a cloister used for Harry Potter's first two film outings, the cathedral has plenty to discover and admire. The cathedral also houses the Treasures of Saint Cuthbert, a collection of hundreds of artefacts including the 7th-century coffin of St Cuthbert. Nearby is Durham Castle, a remarkable Norman fortress dating from 1073. The castle is home to Durham University and is the oldest student residence in the world. Other highlights include the Victorian-era Durham Indoor Market and the historic campus of Durham University.
Places to Visit Outside Durham
Travellers with a rented car will enjoy visiting areas outside of Durham, too. Durham is within easy reach of picturesque landscapes and historic towns. Must-see attractions include Beamish, the North of England Open Air Museum, which is just north of Durham in Chester-le-Street and showcases a collection of reconstructed buildings from the region. Other highlights include the haunting ruins of Egglestone Abbey in Barnard Castle, overlooking the River Tees. Barnard Castle is home to the ruins of Henry II's twelfth-century tower keep at Bowes Castle. The spectacular castle also features earthworks of a Roman fort and Richard III's boar emblem carving. Barnard Castle is also the site of Rokeby Park, a stately country house designed in a Palladian style. The home houses a collection of needlework and furniture from the eighteenth century.
One of the most historic towns close to Durham is Bishop Auckland. A place of workshop for more than 1,400 years, Escomb Church is one of the best examples of a Saxon church. It dates back to the seventh century and includes a Roman-era arch and stonework. The Binchester Roman Fort in Bishop Auckland also includes the well-preserved remains of a bath house. With an elegant chapel and ornate rooms, Auckland Castle was historically the residence of the Prince Bishops and is the home of the Bishop of Durham. A car makes sure you can explore Bishop Auckland and other nearby destinations with ease, including the North East's largest shopping and cultural capital of Newcastle-upon-Tyne. The lively city is also known for its nightlife and is a launching point for exploring the Northumberland coast and the remnants of Hadrian's Wall.
Airport Car Hire
Hiring a car at the airport is a great way to start your holiday and allows you to drive to Durham without worrying about an arranging taxi or transfer. Enterprise's location at Newcastle International Airport is just a couple of minutes' walk from the terminal building. When arriving, exit the terminal and follow the signs for the medium stay parking area. Durham is only about a half-hour's drive away from the airport. The A696 connects the airport with the A1, which runs south towards the A690 that runs into Durham's city centre.
Parking and Traffic Information in Durham
With small and narrow streets, the centre of Durham was not designed for modern-day cars. The city centre is often congested and there is a congestion charge between 10:00 and 16:00 that is paid when leaving. There are car parks throughout Durham, including at the Prince Bishop's Shopping Centre. Parking is also available at The Sands and Riverside car parks, both of which are a short walk from Durham Cathedral and Castle. There are also centrally located car parks in popular nearby towns, including Barnard Castle and Bishop Auckland.
Cheap Van and Car Hire
With rental branches across the county, Enterprise offers cheap car hire from convenient, accessible locations. Our large fleet of new vehicles includes great value economy and compact cars, sporty SUVs and spacious people carriers. Whether you need a vehicle for a single day or longer, Enterprise Rent-A-Car has the perfect car to suit your needs. Book online from our Durham branch to guarantee your choice of vehicle at the best possible price.
Moving house or just moving furniture? Enterprise has you covered with a range of vans from our Durham branch. From smaller passenger vans to larger commercial vans, book online from our Durham van hire page to reserve your perfect vehicle at an unbeatable price.
Frequently Asked Questions
For more FAQs, please visit our FAQ page.