Car & Van Hire in Derbyshire
Welcome to the Enterprise Derbyshire car rental page. Choose from a wide selection of cars ranging from smaller economy cars to larger SUVs and people carriers
Complete Clean Pledge
We pledge to go above and beyond our already rigorous cleaning protocols, including strict sanitising procedures to protect the health and safety of all.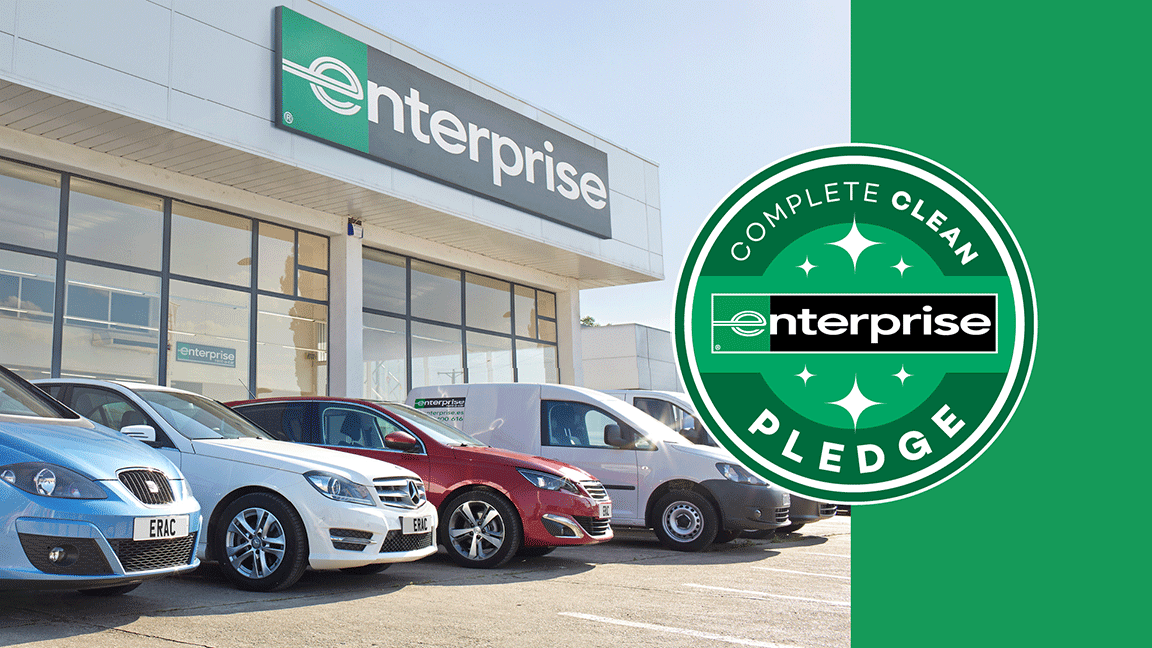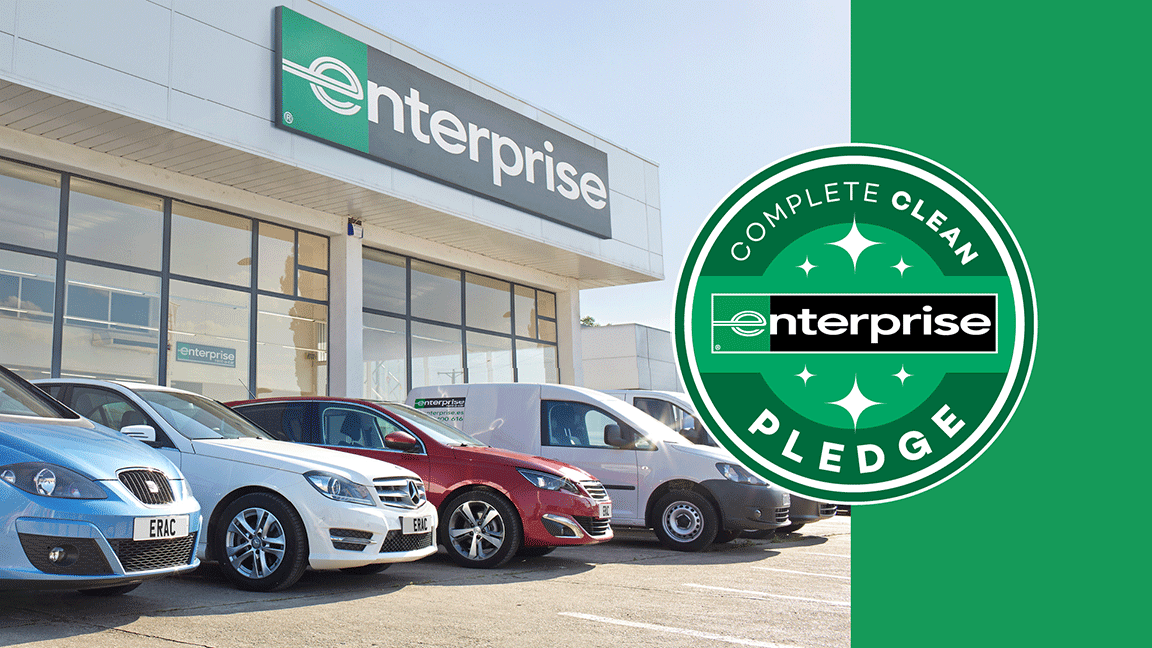 Car & Van Rental in Derbyshire?
Derbyshire is a county in the East Midlands area of England and makes for an incredibly popular tourist destination. There is plenty to see and do in the region, as the county comprises the city of Derby and 30 towns, varying in size from large market towns, such as Chesterfield and Buxton, plus a host of chocolate-box villages and smaller market towns. Much of the county is sparsely populated, agricultural land. In fact, 75 percent of the population of the county live in 25 percent of its area. To truly experience all that this diverse region has to offer, visitors are well advised to hire a car in Derbyshire, as this ensures a real freedom to explore. Enterprise has a number of suitable options available and is conveniently located, with branches at the East Midlands Airport, Derby, Mansfield Road, Chesterfield and Mansfield.
Our Vehicles for Hire in Derbyshire
In Derbyshire, a range of cost-effective car hire solutions can easily be arranged with Enterprise. Those looking for an economic runabout until their own car returns from the garage should consider a Toyota Aygo or perhaps a Ford Focus, popular with motorists ever since the first edition came out in 1998. Motorists looking for something with a little more power and space for touring the Derbyshire Peak District will find that a Skoda Octavia will do the job nicely. They are also great cars for motorway driving. Enterprise also provides SUVs, typically with five seats and plenty of room for luggage, which make ideal vehicles for family or group getaways. These vehicles range from the small Toyota RAV 4 to larger Range Rover Sport models. People carriers are great for larger groups, and depending on the model, can comfortably seat seven or nine people.
Attractions in Derbyshire
Derby is regarded as one of the birthplaces of the Industrial Revolution and the Industrial Museum is one of the city's major attractions. Visitors can also explore the cathedral or visit the arboretum. There are plenty of places to shop in the Cathedral and St Peter's quarters, or at Intu, Derby's principal shopping mall.
Visitors hiring a car should take a trip to the spa resort of Matlock Bath, a social venue since the late 18th and early 19th centuries. Today, Matlock is host to the children's theme park, Gulliver's Kingdom, the Peak District Mining Museum and the Grand Pavilion; cable cars operate in the area between High Tor and The Heights of Abraham. Blue John Cavern, with four show caves, has been a popular tourist spot for many generations and large numbers visit each year to see the rare, semi-precious Blue John mineral. The largest attraction in Derbyshire, without a doubt, is Chatsworth House, the family seat of the Duke of Devonshire. Over 300,000 visitors a year pass through the gates to view the important collection of old masters, sculptures and furniture housed there, and to stroll round the magnificent gardens.
Places to Go Outside Derbyshire
From Derbyshire, you can easily reach a number of other stunning English counties, including Nottinghamshire, Leicestershire, Cheshire and Staffordshire. Also, South Yorkshire is but a short drive up the M1, and West Yorkshire a little further. Nottingham, with its thriving city centre and imposing castle is well worth a visit, or travel the 47 miles to Sheffield and stop off for some shopping at Meadowhall – all the major retailers have a presence there. If you fancy a longer drive over the picturesque Snake Pass, Manchester is easily doable within a day.
Airport Car Hire
Getting your hands on a car is easy with the Enterprise branch located at East Midlands Airport. Your booking can be arranged in advance; step off your flight and within minutes you will be in the seat of your hired vehicle, ready to explore the county's road network. Parking can be pre-booked at the airport and the usual short and long stay options, in addition to bespoke services, are available. Only Jet Parking requires the use of a free shuttle bus to the terminal building, taking around 12 minutes. Most long and short-stay options are within walking distance of check-in.
Parking and Traffic Information
Most of the town councils in Derbyshire operate local parking schemes. There is also parking available at rural sites and beauty spots, such as Elvaston Castle or Lea Bridge. Parking charges are levied all year round, from 8 a.m to 8 p.m. in spring and summer, and during autumn and winter from 9 a.m. to 5 p.m. Private parking companies also operate in the county and drivers are strongly advised to check the terms and conditions when leaving their vehicle. Visitors should remember to factor parking fees into any trips to Derbyshire.
Cheap Van and Car Hire
From large people carriers to smaller economy cars, Enterprise Rent-a-Car guarantees cheap rates on car hire from our Derbyshire branch. Our economy cars are renowned for being cheap to hire as well as low running costs with great fuel efficiency. Book online in advance for our cheapest prices, alternatively book in branch and get the car that suits your needs.
Moving house? Moving furniture? Enterprise has vans available at our Derbyshire branches to ensure that you can get a vehicle to suit your needs. From smaller passenger vans to larger commercial vans – give our branches a call or book online to guarantee you a van hire that will suit your needs. Van hire is cheap and easy through Enterprise online or in branch, we promise to provide a vehicle to suit you for as long as you require it.
Frequently Asked Questions
For more FAQs, please visit our FAQ page.