Car & Van Hire in Cheltenham
Complete Clean Pledge
We pledge to go above and beyond our already rigorous cleaning protocols, including strict sanitising procedures to protect the health and safety of all.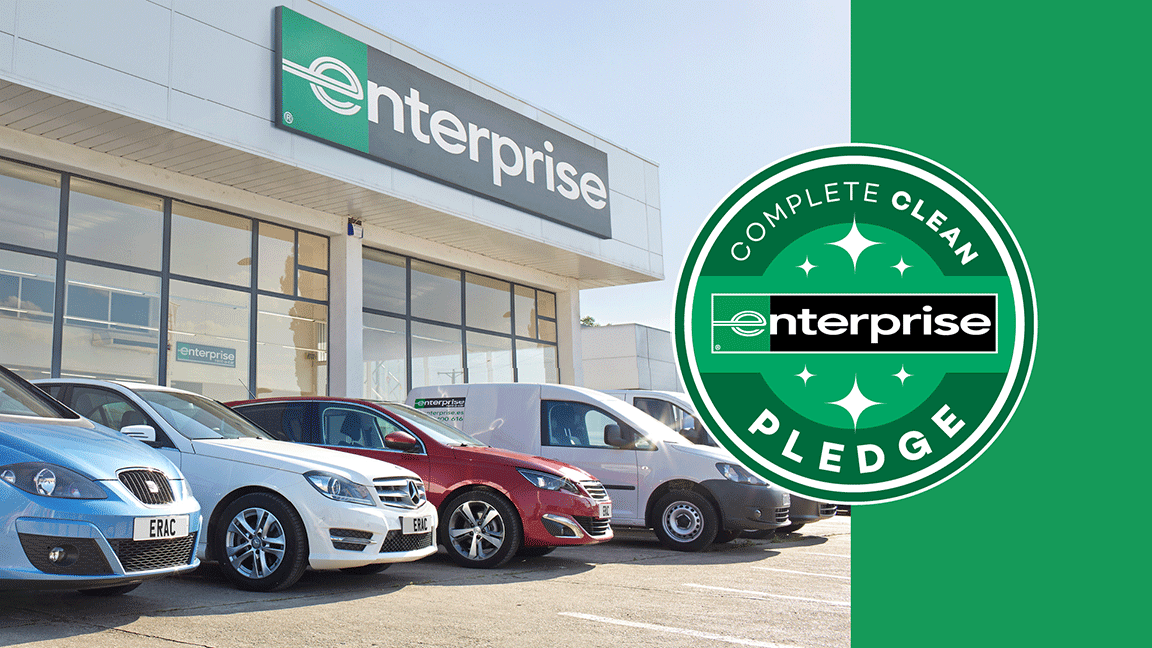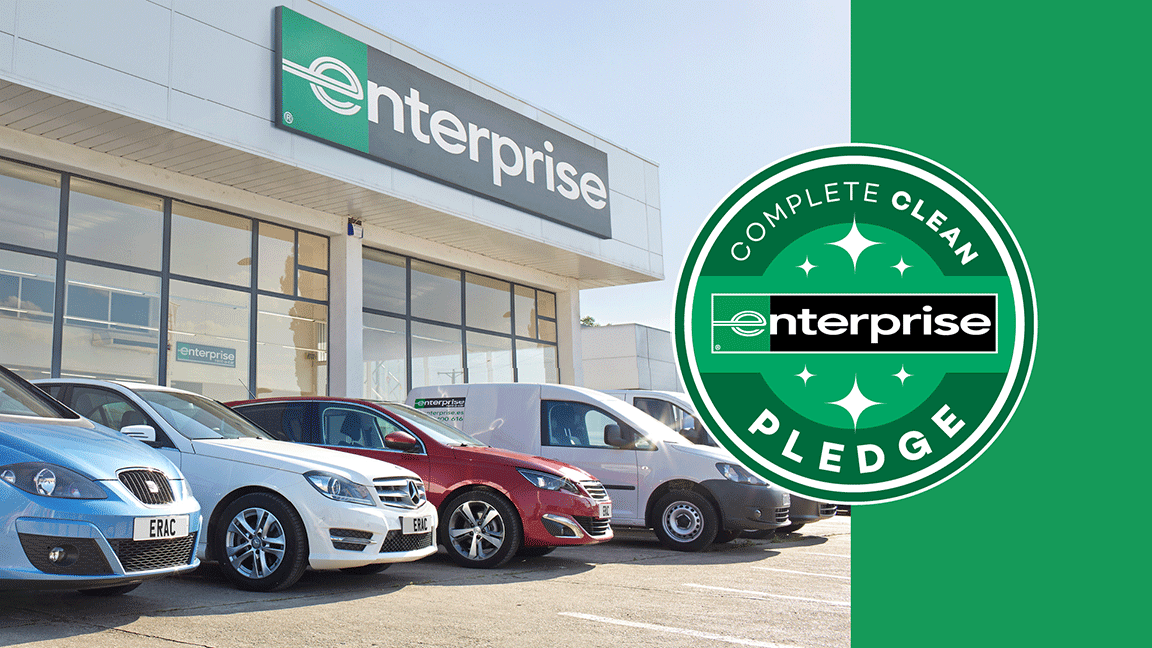 Car & Van Rental in Cheltenham?
The upscale town of Cheltenham is very conveniently located in Gloucestershire and is well placed for accessing the whole of the Midlands, London, the South, Birmingham and the North. Cheltenham is also a regency spa town and, therefore, part of an elite group of these types of towns in Britain. What's more, the surrounding area, the Cotswolds, has been designated as one of outstanding natural beauty.
Since the early 18th century when the mineral springs were first discovered, the town has been a favourite health and holiday destination for visitors. Today, it has several internationally famous and historic public schools, not to mention the many race meetings and various festivals. With so many reasons to visit the town, hiring a car is a great option for anyone planning to stay in the town itself, or for visiting further afield.
Our Vehicles for Hire in Cheltenham
At Enterprise, we have a comprehensive range of vehicles available for hire. If you're travelling alone, whether within the town limits or out in the local area, maybe a compact 3 door car will fit the bill? If you prefer more space, whether you're driving alone or with friends and family, we have some great 5 door saloons and estate cars ready to be rented. These are great for fitting in bags and gear for walking expeditions in the Cotswolds and picnic lunches to enjoy the area of outstanding natural beauty. Alternatively, our SUVs and people carriers are ideal for larger groups, which is likely to be the case when you're going to one of the many race meetings or attending a festival event in town. We even have a selection of vans if you need space for large or bulky items. Maybe you're moving or collecting some items for business or personal reasons? In this case, one of our vans would fit the bill perfectly. Finally, if luxury is what you're looking for, we cater for this too, with a fantastic choice in top of the range cars so you can travel in real style.
Attractions in Cheltenham
Cheltenham is most famous for its horse racing and the international racecourse at Prestbury, which is located about 1.5 miles from the town centre. The Gold Cup race week is in March and this is probably one of the biggest sporting events in the world, not just in the UK. Hiring a vehicle is highly recommended option for getting to and from the racecourse, and avoiding the long hike on foot from the town centre. The other big events hosted by Cheltenham inlcude the numerous festivals, which are steadily rising in prominence and rival some of the best in the UK. For example, the music, science and literature festivals are superb and there's also a tempting food festival in the summertime. If you're interested in taking in some of the Regency architecture or famous landmarks, then do visit the Cheltenham Ladies College, Pitville Park and Pump Rooms or the Everyman Theatre. You could also drop into the Wilson and Cheltenham's Art Gallery & Museum. Classical music lovers will be interested to know that the composer Holst was born in Cheltenham, and you can visit his birthplace museum where you can find out more about where he drew inspiration for some of his great works, such as The Planets.
Places to Visit Outside Cheltenham
Cheltenham is on the doorstep of the Cotswolds, which have beautiful countryside and villages. You could, for example, explore such delights as Stow-on-the-Wold, Moreton-in-Marsh, Broadway, Bourton-on-the-Water and Winchcombe, all stunning villages with their quaint village feel, stunningly olde-worlde buildings, shops and, in some cases, charming rivers. If you like walking and the countryside, or maybe even enjoy some golf, Cleeve Hill, the highest point in the Cotswolds, won't disappoint. For those who love history and heritage, there's Studley Castle with its famous artefacts and attractive gardens, or Hailes Abbey, a wonderful place to learn about English history. Railway enthusiasts can enjoy the Gloucestershire-Warwickshire Railway with its old steam trains. This is a particularly great thing for the kids to do and you can pick up the train at different points, e.g. Winchcombe, Toddington or Cheltenham Race Course to enjoy the ride.
Airport Car Hire
The nearest airport to Cheltenham is in Staverton, but this airport is quite small and mostly receives private flights. Therefore, the best major commercial airport is either Birmingham International or even Bristol. Journey time by road to and from either of these international airports will be something between 60 and 90 minutes, depending on traffic.
Parking and Traffic Information in Cheltenham
Cheltenham is a town that isn't very large when compared to many and so tends not to be choked with traffic. Additionally, it has a road system that's easy to understand even if you've never been there before. Car hire can be easily arranged as an Enterprise Rent-A-Car branch is very handily placed just off the town centre and opposite the Matalan store that's near to The Brewery. From there, it's quite easy to drive around the town and out to all local routes.
Cheap Van and Car Hire
From large people carriers to smaller economy cars, Enterprise Rent-A-Car guarantees cheap rates on car hire from our Cheltenham branch. Our economy cars are renowned for being cheap to hire as well as low running costs with great fuel efficiency. Book online in advance for our cheapest prices, alternatively book in branch and get the car that suits your needs.
Moving house? Moving furniture? Enterprise has vans available at our Cheltenham branches to ensure that you can get a vehicle to suit your needs. From smaller passenger vans to larger commercial vans – give our branches a call or book online to guarantee you a van hire that will suit your needs. Van hire is cheap and easy through Enterprise online or in branch, we promise to provide a vehicle to suit you for as long as you require it.
Frequently Asked Questions
For more FAQs, please visit our FAQ page.