Car & Van Hire in Canterbury
Welcome to the Enterprise Canterbury car rental page. Choose from a wide selection of cars ranging from smaller economy cars to larger SUVs and people carriers
Complete Clean Pledge
We pledge to go above and beyond our already rigorous cleaning protocols, including strict sanitising procedures to protect the health and safety of all.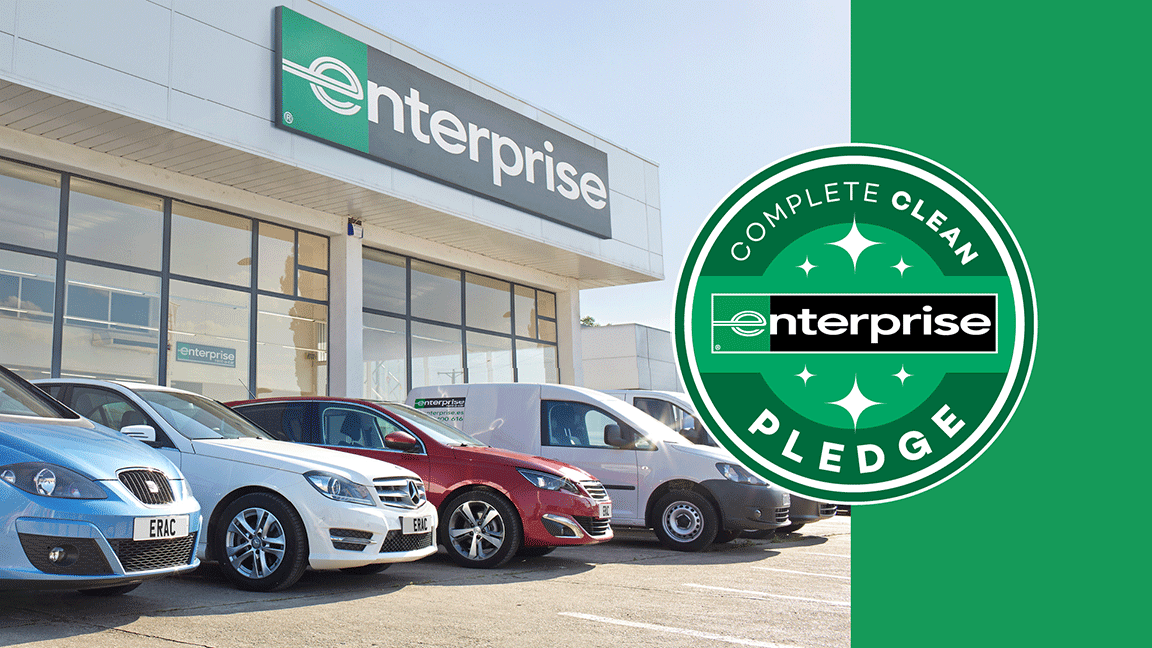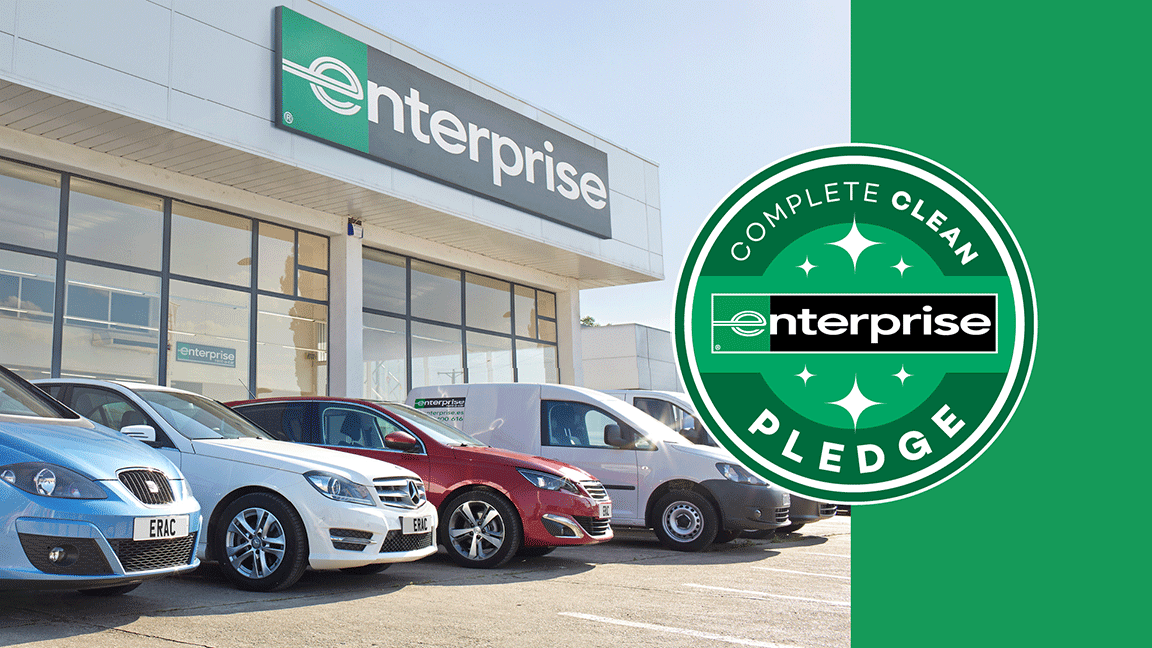 Car & Van Rental in Canterbury?
Situated in the county of Kent, often called 'The Garden of England' due to its abundance of hop and fruit-growing gardens, Canterbury is the epitome of a medieval English city.
With the coastal towns of Herne Bay and Whitstable making up the district of Canterbury, visitors to Canterbury will love that there is literally something for all the family to enjoy here. Whether on a short break or longer family holiday, you can cram your days with trips to the surrounding areas, or assume a more leisurely pace by interspersing them with walking tours to take in the world-famous Canterbury Cathedral, built in 597 A.D. For those with a love of heritage and history, you'll be spoilt for choice. St Augustine's Abbey and St Martin's Church are both close to the cathedral, while Greyfriars Chapel, Eastbridge Hospital and an old Norman Castle are close by.
But Canterbury isn't just about history. There is a large range of attractions and activities for all ages, both indoors and out, if the British weather is a little inclement. Arts and culture, guided walks, river trips and the opportunity for a little retail therapy can be enjoyed in the city, while trips out to explore the nearby countryside and coast can be enjoyed by all the family.
In Canterbury, arranging a car for those trips out and about couldn't be easier. We have a large range of vehicles suitable for singles, couples or large families and groups at our main Enterprise depot, 125-127 Northgate, in the city. Other nearby branches are at 59 Godinton Road, Ashford, 144-146 Westwood Road, Broadstairs, and at Dover South Services.
Our Vehicles for Hire in Canterbury
At Enterprise, we have a vehicle perfect for your requirements. If your intention is to spend a day or two taking in the history, culture and architecture of this beautiful city, perhaps our five-door, five-seat, all-electric Nissan Leaf is right down your street. Eco-friendly, it is the perfect vehicle for use in a city that was around hundreds of years before the advent of the internal combustion engine.
If you intend to engage in a little city sightseeing, some shopping trips or maybe a few business meetings, our five-door, five-seat, small city car might fit the bill. Small, compact and easily parked where the big 4x4's cannot fit, it is ideal for people who have things to do, and not much time to do them in.
For leisure, business or longer family trips where a little extra room is needed, our range of medium and large saloons provide that extra comfort, while our seven-seater people carriers provide safe, relaxing transport for large families and groups.
For those moving home, collecting large items from the local DIY or furniture store, or making business deliveries and collections, we have a range of small, medium and large commercial vans, suitable for all but the biggest of items.
Attractions in Canterbury
Strolling through the medieval streets of Canterbury city centre evokes a feeling of a bustling, lively, cosmopolitan community. Students from across the world study at the city's four universities, and its thousands of overseas visitors bring life to the cobbled high street, moving from one attraction to another. Yet amid all the apparent chaos, a quick left or right turn can have you enjoying the relaxing peace and quiet in one of the beautiful gardens, or strolling along the towpath of the River Stour.
Enjoy the city's walking and river tours, historic buildings, museums, cultural centres and attractions for the children, before taking a leisurely lunch in one of the many cafes, restaurants or bars. Canterbury's modern approach to providing the very best experience for its visitors ensures your stay will provide memories that will last a lifetime.
Places to Visit Outside Canterbury
A visit to Kent wouldn't be complete without getting out and about to take in some of the lovely English countryside and coastal walks. Take your car out for a few trips further afield and be prepared to enjoy some invigorating North Sea air.
Herne Bay is a real old-style English seaside resort and will be loved by all the family. Just seven miles from Canterbury on the Kent coast, it harks back to those bygone days of scoop ice cream, candyfloss, toffee apples, beach cafes, and beach huts painted every colour of the rainbow.
Whitstable is just a few miles along the coast from Herne Bay. From its old harbour built in 1831, small fishing boats leave, returning full of the area's famous oysters to be served up in the town's hotels and restaurants. After a day strolling around the town's local art and craft shops, gift shops and galleries, enjoy a meal of freshly caught seafood in one of Whitstable's beautiful restaurants.
If you prefer countryside to coast, then take your pick. Having collected your car in Canterbury, less than 30 minutes' driving from the city in any direction will have you deep in the heart of the Kent countryside. Hop fields and market gardens, quaint English villages and country pubs, country parks and old manor houses – all will beckon for a little of your time.
Airport Car Hire
Are you arriving in the UK on business or a short-stay break, and intend to visit Canterbury? You can collect your hire car from any of the London airports. From London Gatwick, the distance to Canterbury is 66 miles, or around 90 minutes' driving. From London Heathrow, 91 miles, from London City, 59 miles, and from London Stansted, 80 miles.
Parking and Traffic in Canterbury
Wherever you choose to stay in Canterbury or the surrounding area, getting about couldn't be easier. With its easy-to-follow road network, thanks in part to the Roman occupation and their preference for straight roads, approaching the city from any direction is simplicity itself. Park your vehicle in one of 1,800 cheap parking slots, and use the park-and-ride scheme to enjoy a totally relaxing day exploring this compact city at your leisure.
Cheap Van and Car Hire
From large people carriers to smaller economy cars, Enterprise Rent-a-Car guarantees cheap rates on car hire from our Canterbury branch. Our economy cars are renowned for being cheap to hire as well as low running costs with great fuel efficiency. Book online in advance for our cheapest prices, alternatively book in branch and get the car that suits your needs.
Moving house? Moving furniture? Enterprise has vans available at our Canterbury branches to ensure that you can get a vehicle to suit your needs. From smaller passenger vans to larger commercial vans – give our branches a call or book online to guarantee you a van hire that will suit your needs. Van hire is cheap and easy through Enterprise online or in branch, we promise to provide a vehicle to suit you for as long as you require it.
Frequently Asked Questions
For more FAQs, please visit our FAQ page.