Car & Van Hire in Bristol
Welcome to the Enterprise Bristol car rental page. Choose from a wide selection of cars ranging from smaller economy cars to larger SUVs and people carriers
Complete Clean Pledge
We pledge to go above and beyond our already rigorous cleaning protocols, including strict sanitising procedures to protect the health and safety of all.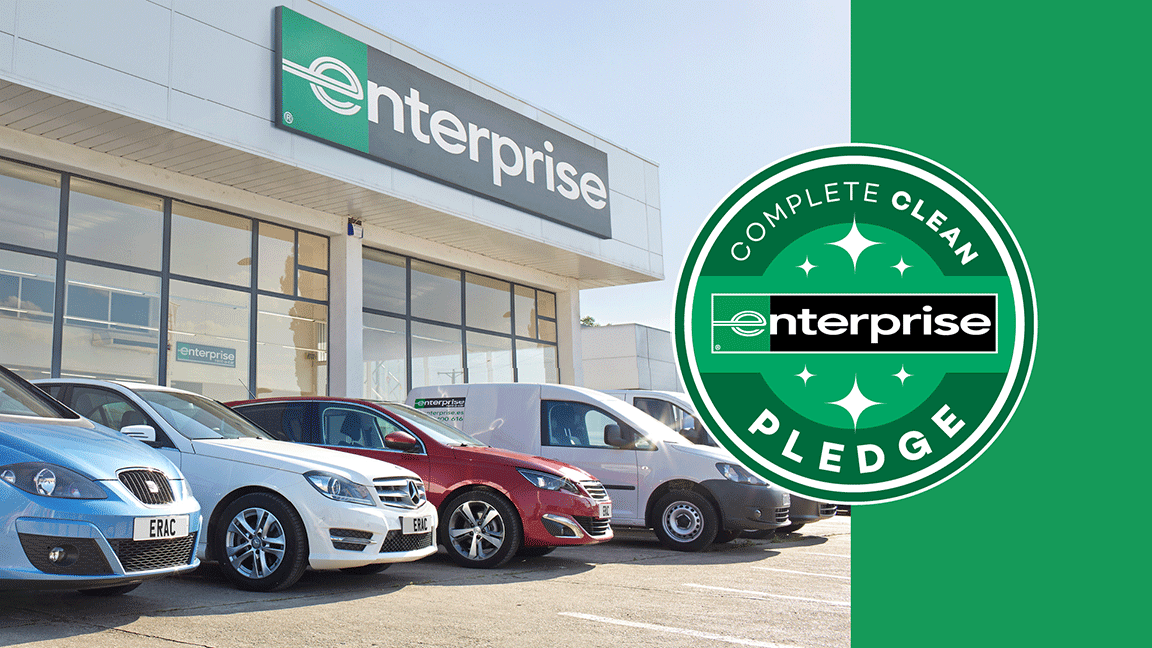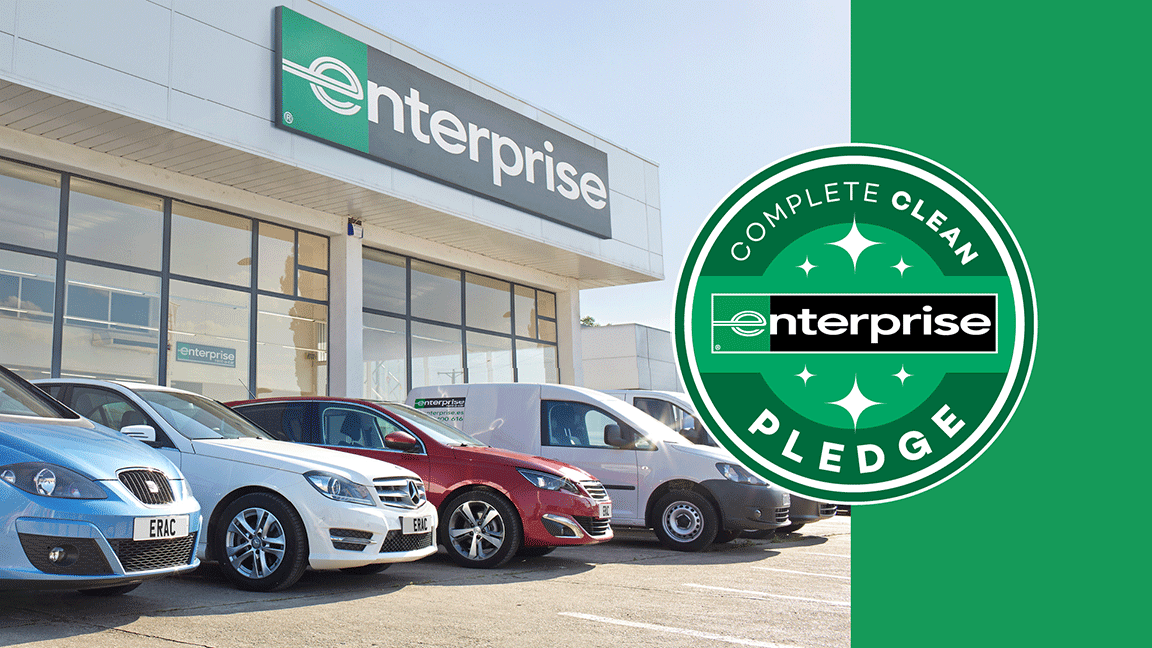 Car Hire and Van rental in Bristol with Enterprise
From its world-famous Banksy street art, thriving music scene and rich maritime history – Bristol is a fantastic place to visit for a city break. Take a drive down the Portway road along the river Avon and see the iconic Clifton suspension bridge, or venture outside of the city into the breath-taking hills and villages.
If you are flying into Bristol, you can find us at Bristol Airport and make your journey to less stressful by continuing your journey in a comfortable rental. In the city centre, you can hire a car from our Cabot Circus branch, as well as our Bristol South Bedminster and Bristol North Henbury branches.
Wide Range of Rental Cars
Whether you are in need of an economy car rental, or you want to arrive in style in one of our luxury car rentals, our fleet can accommodate to your needs for any road trip. We operate one of world's biggest fleets, meaning we have nimble city cars perfect for driving in Bristol, all the way to spacious SUVs for a comfortable trip out of town. We can also give you the choice of petrol, diesel and hybrid drivetrains, on top of the choice between manual and automatic transmissions. Our fleet features the latest models, providing great fuel economy and aligning with ULEZ and LEZ requirements in cities where these regulations apply. If you want to see what's available during your stay in Bristol, visit our fleet page.
We also provide optional extras to make your journeys easier. If you need satnav systems, child seats and boosters or the option to include additional drivers on the rental – our agents will be able to help you get the most out of hiring with us.
Van Hire in Bristol
If you need extra cargo space for transporting a few spring mattresses, or you're thinking of moving house to Bristol, an Enterprise van rental is unbeatable. Our van fleet is four years or younger to provide you with a modern driving experience along with meeting emission standards. The vans we have range from short wheelbase, all the way to the long wheelbase Luton vans for those extra heavy hauls. If you need a large vehicle during your trip to Bristol, visit one of our branches or get a quote above for the cheapest online Pre-Pay rates.
Cheap Car Hire in Bristol
If you want to get the best price for your desired rental, you are in the right place. By booking on our website and using the pre-pay service, you will get the cheapest quote. When you decide to rent a car with us, you are not just getting value for your money, but also decide to use a Which? Recommended Provider. We pride ourselves on this distinction, as we aim to make sure our services meet your expectations and that our pricing is clearly explained for your convenience. If this sounds promising to you, have a look at our car fleet and see what vehicles are on offer for you to enjoy in Bristol and its surroundings. Get a quote above to get the best price and see why more than 20 million people choose us as their provider every year.
If you want even more out of your rentals, why not join our Enterprise Plus rewards program? With every rental you book, you gain redeemable points that can be used to get free rentals with us in the future.
Car Hire Bristol in Airport
Bristol Airport is located around seven miles from the city and is easily accessed using the A370 and A38 roads. You can find our Bristol Airport branch in the car rental park by the Hampton Hilton Hotel, where our helpful agents will be able to find you the ideal car hire and get you on your way. We know some flights are outside of our business hours, so we offer flexible After Hours Service – letting you return your rental even if we're not there. You can park your rental in a designated Enterprise parking spot and leave the keys in the 24-hour drop box our staff will happily point out to you.
Need to drop off in a different location?
One Way Car Hire
Looking to hire a car for a one-way trip? No problem! Enterprise Rent-A-Car offers easy and convenient one-way car rentals from most of its 10,000 locations in 90+ countries. Choose from a great selection of vehicles, including economy, saloons, SUVs, people carriers and vans.
Need help picking up and returning car?
Free Pick Up and Drop Off Service
Our free pick-up & drop-off service is available at non-airport branches and during normal business hours. To schedule your pick-up time or make additional arrangements, ask for this when your rental branch calls to confirm your reservation.
Need a car for an extended time?
Long Term Car Hire Service
Looking for a flexible alternative to a traditional rental or lease agreement? We've set up dedicated long-term branches throughout UK to provide our customers one-on-one attention. Just let us know when and where you need to rent a vehicle, and we'll take care of the rest.
Things to do in Bristol
See Banksy's murals in his home city
Bristol is a city filled with unique culture to absorb and a great place to discover the nautical history of England. The city centre is a beautiful old harbour that allowed Bristol to flourish as a trade hub, but as the port has been moved out of the city, the waterways are now a fantastic way to see the city from a tour boat. If you want to see Bristol from a different perspective, how about climbing the Cabot Tower and viewing the entire city from above? If you feel like exposing yourself to the unique sound and art of the city, Bristol is home to plenty of Banksy's art and you can go on a walking tour to see the murals. If you are more into audio than visual, you can experience the 'Bristol Sound' pioneered by the likes of Massive Attack or Portishead in many of the city's venues.
Visit the birthplace of Cheddar cheese
Bristol is also a great hub for setting out on day trips around the West Country. If you drive on the A38 and head southwest, you will get to the beautiful Mendip Hills AONB. Whilst most of the routes through this area are worth experiencing, you want to get to the town of Cheddar. There you can drive through Cheddar Gorge – the biggest gorge in the United Kingdom and the home of cheddar cheese. The Gough's cave in the gorge provides perfect conditions for maturing cheese and you can still find cheese wheels on shelves in the cave today.
See quintessential English villages in the Cotswolds
If you enjoy strolls through quaint villages, you should head out east on the M4 to the Cotswolds. The area is known for its quintessential countryside homes in model villages, babbling brooks with bridges and farming fields stretching the horizon. A great example of this is Castle Combe, which is a short 30-minute drive from Bristol. The village has been used in film and TV due to its 'Prettiest Village in England' title. Although it is perfect for an afternoon stroll, you can liven up your day with a race car lap on the Castle Combe Circuit track. With a rental from Enterprise, you will be able to visit many more of Bristol's surroundings and be comfortable doing so. Get a quote above and experience the western part of England.
Driving Information in Bristol
When driving around Bristol and the surrounding area, there a few key things to remember:
Bristol has a 20mph limit across most of its streets, with a few roads having a 30mph limit. The rest of single and dual carriageways are aligned with standard national speed limits, unless specified otherwise on road signs.
The scenic Portway (or A4) route following the Avon basin is a great drive, but during peak hours, it can get quite busy. This road is also signposted as 40mph in the northern parts, changing to 50mph towards Clifton.
The Clifton suspension bridge has a small charge payable at the gates, so make sure you have spare change or a contactless payment card.
If you decide to venture out of the city into the neighbouring countryside, make sure you are aware of animal warning signs. Reduce speed and use the car's full beams at night, but make sure to turn them off if you see an animal to prevent them from getting dazzled.
During snowy weather, the hilly areas of Bristol are quite challenging to drive through, so plan your journey forward and try stick to main roads where possible.
In an emergency, dial 999 or 112 on mobiles.
Frequently Asked Questions
For more FAQs, please visit our FAQ page.