Car & Van Hire in Birmingham
Complete Clean Pledge
We pledge to go above and beyond our already rigorous cleaning protocols, including strict sanitising procedures to protect the health and safety of all.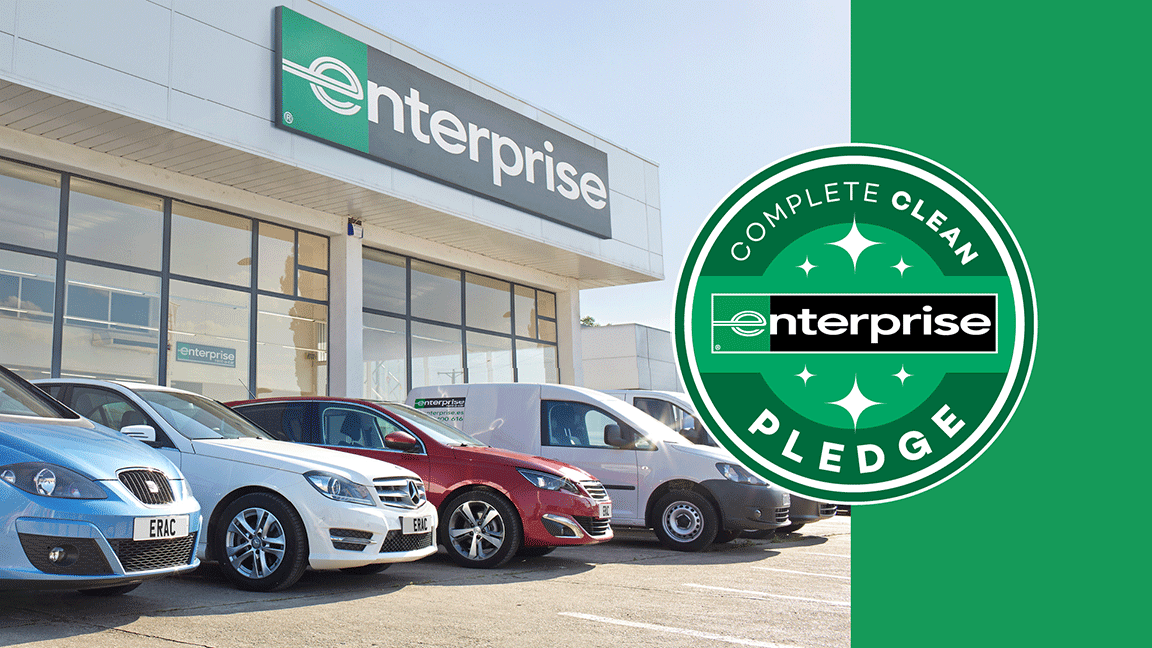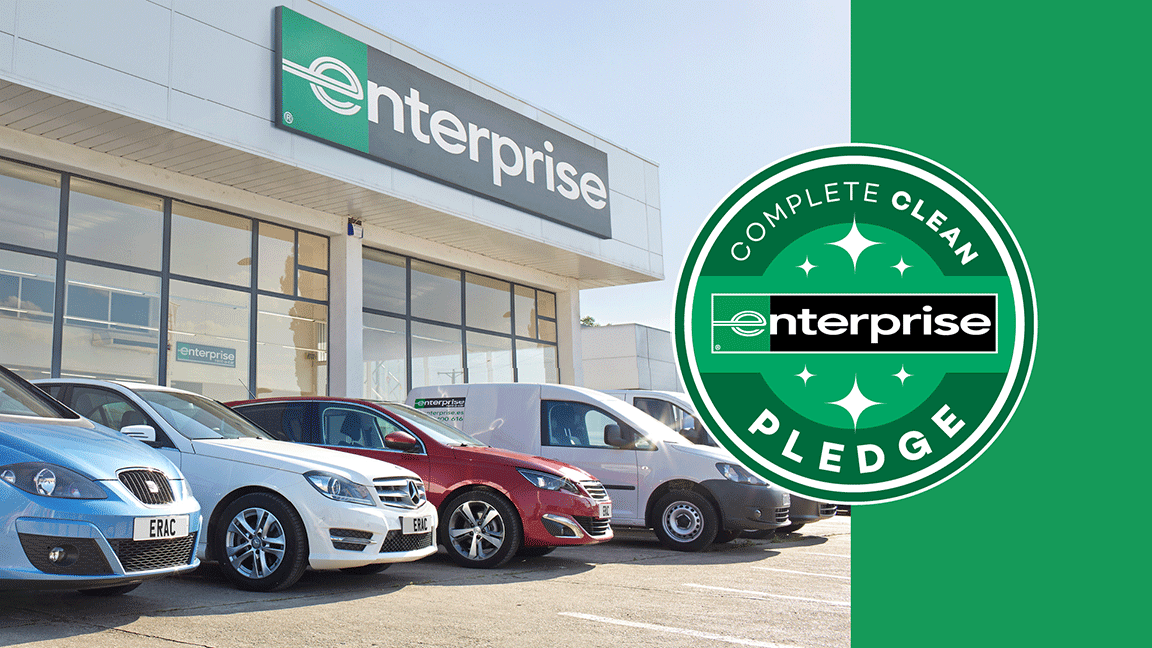 Car Hire in Birmingham with Enterprise
As one of Britain's biggest and most diverse cities, Birmingham offers a unique blend of history and culture as well as state-of-the-art attractions. With so much to see and do, what better way to make the most of your time in Birmingham than with an Enterprise car rental? All of our vehicles are ULEZ (Ultra Low Emission Zone) compliant, so you can discover everything this amazing city has to offer whilst doing your bit for the planet. We provide award-winning customer service and offer fully customisable car rental packages so that your Enterprise vehicle meets your every need. Whether you're arriving into the city via Birmingham Airport, or travelling by train, we have car hire branches across the city to serve your requirements. For added convenience, we can collect you from wherever suits you and drop you off at your local Enterprise branch, free of charge.
Wide Range of Rental Cars
With 15 branches across Birmingham, you will be well taken care of when choosing a vehicle. We provide a diverse range of vehicles for all types of requirements. Whether you're looking to get around the city in style with a luxury car rental, or hiring a people carrier is key, then we can accommodate. Whichever model you go for we can guarantee it runs smoothly and cleanly. Our modern fleet of vehicles is maintained to the highest standards. To make you feel as comfortable behind the wheel as possible we offer fully customisable packages. Choose from either a petrol, diesel or hybrid with availability in both manual and automatic transmissions to match your preference.
We want to make your time in the city as smooth as possible. You can easily add additional drivers, GPS navigation or a child booster seat to your rental package by speaking to our friendly branch staff. Alternatively, let us know in advance via our website. You can make a reservation above, or visit our fleet page to select your model and view our great deals.
Do You Need a Van Rental in Birmingham?
Enterprise can provide van rentals in Birmingham that are up for any job, no matter how big! We offer vehicles in all sizes, so whatever the task is you can tackle it with a van from us. Whether you're transporting large items and need a luton van hire, or simply refurbishing the garden using a small van, we can provide it. Our fleet features the latest van models and is maintained to the highest standards, meeting Birmingham's upcoming Low Emission Zone (LEZ) requirements. Our prices are highly transparent and we offer flexible terms ranging from one day to up to a period of months. Simply start your reservation above or visit our fleet page to choose the van that's right for you.
Cheap Car and Van Hire in Birmingham
As a Which? Recommended Provider, you can trust Enterprise to provide high quality and cheap car hire in Birmingham. Our award-winning customer service, coupled with a transparent approach to pricing, means that over 20 million satisfied customers return to us each year. Sign up to our Enterprise Plus loyalty programme if you've rented from us before and gain instant access to our benefits and rewards.
If you're looking for the cheapest car hire possible then you should pay via the Prepay service on the Enterprise website, this is where you'll find the biggest savings. If you're travelling for a quick weekend away then we also provide highly competitive weekend rates, have a look on our website to find out more. We also offer a local collection option should you prefer to make the payment in-branch.
Car Hire at Birmingham Airport
Birmingham is among the most popular destinations in the UK and its airport is one of the busiest. To help you get on the road as quickly as possible, our Birmingham Airport branch is located in the baggage reclaim area of the main terminal. The vehicles themselves are located just a short walk from the service desk. With flexible opening hours as well, the process of car hire in Birmingham Airport is as smooth and efficient as possible when you hire with Enterprise.
Need to drop off in a different location?
One Way Car Hire
Looking to hire a car for a one-way trip? No problem! Enterprise Rent-A-Car offers easy and convenient one-way car rentals from most of its 10,000 locations in 90+ countries. Choose from a great selection of vehicles, including economy, saloons, SUVs, people carriers and vans.
Need help picking up and returning car?
Free Pick Up and Drop Off Service
Our free pick-up & drop-off service is available at non-airport branches and during normal business hours. To schedule your pick-up time or make additional arrangements, ask for this when your rental branch calls to confirm your reservation.
Need a car for an extended time?
Long Term Car Hire Service
Looking for a flexible alternative to a traditional rental or lease agreement? We've set up dedicated long-term branches throughout UK to provide our customers one-on-one attention. Just let us know when and where you need to rent a vehicle, and we'll take care of the rest.
Things to do in Birmingham
Amazing activities near Birmingham Airport:
Birmingham is a city packed with a wide range of activities and things to do, just drive straight out of our airport branch and immediately taste some of the city's best offerings. The UK's National Motorcycle Museum is next door, displaying some of the rarest bikes in the world! Alternatively, thrill seekers should explore the Bear Grylls Adventure Park - home to Europe's tallest high ropes course. Both of these excellent attractions are only a 5-minute drive from the airport terminal.
Birmingham offers a lot to please the whole family:
If you're planning a family day out starting in the city, then collecting your vehicle from our city centre branch could be ideal. The Thinktank Science Museum is just around the corner and offers a great experience for the whole family. After a 20-minute drive through Edgbaston you'll arrive at a firm kids' favourite - Cadbury World! Here you'll get the chance to make your own chocolates, get the full Cadbury experience in a 4D cinema and explore their 'Aztec Jungle'.
Exploring the outskirts of the city:
For Birmingham's more tranquil side then there can be no better starting point than a visit to Warwick Castle. Just a 40-minute drive from the city centre, this stunning English heritage site is packed with legendary stories and folklore, making it a genuine must-see. Past the castle, within an hour's drive, is the Malvern Hills – an area of outstanding natural beauty. Spoiled with hilly climbs, this part of the countryside offers breath taking views (particularly when the sun sets below the picturesque valleys) and even contains stunning horse riding trails. Complete your day with some fine dining at the Cottage in the Woods restaurant, which dates back to 1919. This hidden gem provides scintillating panoramic views over the Malvern Hills.
Driving Information in Birmingham
While exploring the city of Birmingham, there are a few key details to bear in mind:
In Birmingham and across the UK, drivers are required to drive on the left hand side of the road. There are also strict regulations involving drinking alcohol while driving and seat belts are required at all times.
Recently, speed limits for some residential roads in the city were reduced from 30mph to 20mph. Watch out for signposted restrictions in residential areas particularly. National limits apply thereafter; 70mph is the national limit on Motorways and some dual carriageways, whilst 60mph applies to some A-roads.
The M5 and the M6 provide the main routes into the city, with the M6 offering a six-lane motorway for 27 miles. The motorway network surrounding the West Midlands is well connected; it also includes the M40, M42 and M54. This makes Birmingham a hub for both personal and freight travel. 
It is important to be aware that there is a toll on the M6, to the north of the city. For details on how much the toll will cost you, visit the M6 Toll website.
As of January 2020, the city has introduced a Clean Air Zone. This means that there will be a charge applied to drivers of older vehicles if they wish to use any roads inside the A4540 Middleway ring road (although the circular route itself isn't included). As all Enterprise vehicles are ULEZ (Ultra Low Emission Zone) compliant, you'll be exempt from any congestion charges in the city with a vehicle from us.
The city has outlined certain bus lanes that you may enter certain bus lanes indicated by a broken white lane, for example, when you need to turn left. However, drive in the bus lanes outside the indicated times and you may receive a fine. More details on road and parking fines can be found on the city council website.
Frequently Asked Questions
For more FAQs, please visit our FAQ page.