Car & Van Hire in Belfast
Welcome to the Enterprise Belfast car rental page. Choose from a wide selection of cars ranging from smaller economy cars to larger SUVs and people carriers
Complete Clean Pledge
We pledge to go above and beyond our already rigorous cleaning protocols, including strict sanitising procedures to protect the health and safety of all.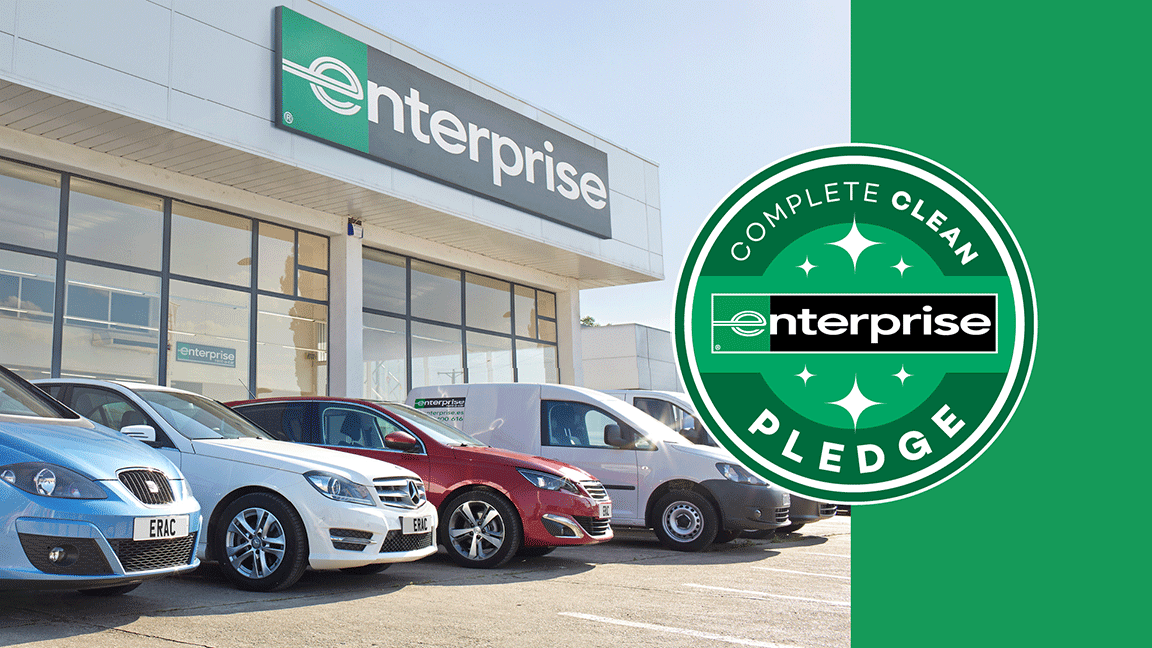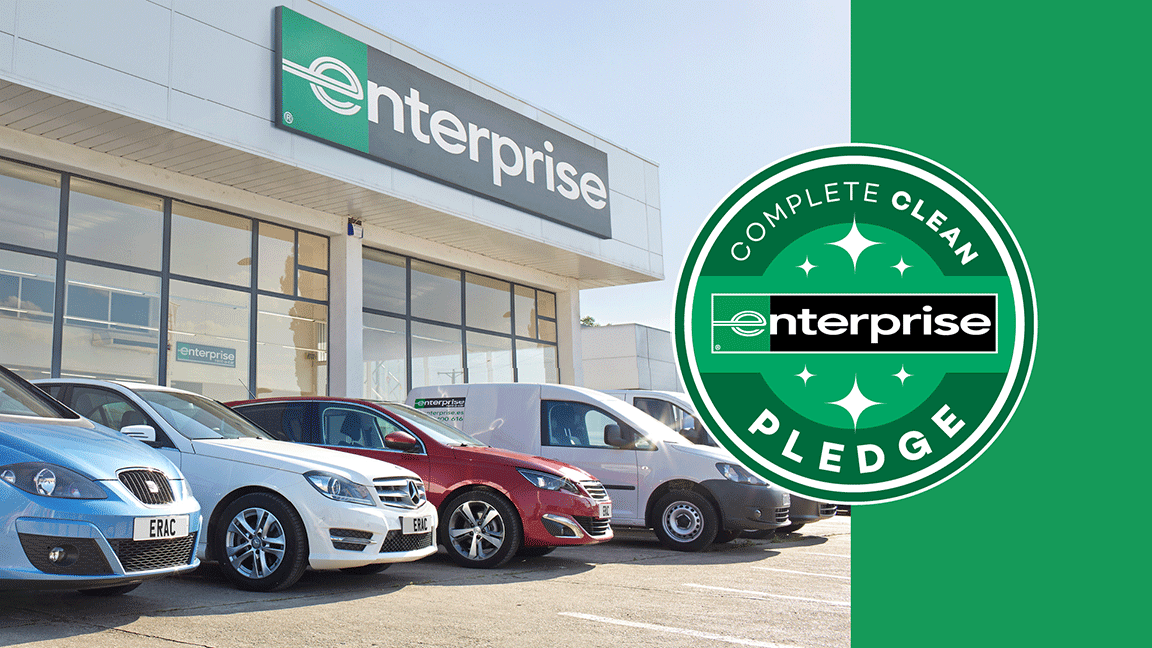 Car Hire & Van Rental in Belfast with Enterprise
Belfast is a city of huge industrial and political importance that offers an abundance of experiences suitable for all visitors. With such a warm and kind-hearted local population, you're sure to be welcomed with open arms wherever you venture. So what better way to make the most of your time in Belfast than with an Enterprise car rental?
Our ULEZ (Ultra Low Emission Zone) compliant vehicles mean you can navigate this iconic city cleanly and efficiently. Whether you're flying into Belfast for the weekend, or you live locally and need a vehicle for the day, we can accommodate. We have six branches across Belfast and we'll even help you get to your nearest one, free of charge. Simply start your reservation above to arrange a convenient pick-up location. We have the perfect vehicle for your needs, and our award-winning customer service will help you prepare for the adventure ahead. 
Wide Range of Rental Cars
At Enterprise, we can provide you with all types of vehicles to match the purpose of your Belfast visit. If you're looking to navigate the mountainous terrain of the Irish hills, you may require a 4x4 hire. For smooth touring around the city, we offer a range of luxury car hires. Our fleet features the latest models, which are both extremely well maintained and fuel efficient - so you can rent with confidence from Enterprise.
As a Which? Recommended Provider, our rental packages are flexible and we make every effort to meet specific customer requirements. Travelling with young children is easier with us as we can provide booster seats, and our modern vehicle technology is ideal for in-car entertainment. In addition, if you're unfamiliar with navigating around Belfast, then we can supply your vehicle with a built-in navigation system for ease of mind. Simply start your reservation above, or to browse our vehicles, explore our fleet page.
Do You Need a Van Rental in Belfast?
With all types of vans available, from small vans to large Luton vans to hire, choosing Enterprise will help you finish the job quickly. We cover all short, medium or long-term requests so whether you need a van for the day, or if you need a van for a longer period of time, we have you covered. Furthermore, our fleet features the latest light commercial vehicles, and our transparent prices and fees mean you can trust Enterprise when looking for the ideal utility vehicle. You can browse our range of reliable and eco-friendly vans on our fleet page, or alternatively start your reservation above. 
Cheap Car and Van Hire in Belfast
For cheap car hire in Belfast, we provide highly competitive rates with a transparent pricing policy to ensure you get the best deal with Enterprise. Have you hired a vehicle from us before? If you regularly travel with us, our flagship loyalty programme Enterprise Plus will provide you with rewarding benefits and plenty of savings.
Our cheapest rates are exclusive to the Enterprise website using our Prepay service. We also provide fantastic value packages for a quick Belfast getaway with special weekend offers exclusive to Enterprise.
Car Hire at Belfast Airports
Belfast International Airport is the busier of Belfast's two major airports. Originally used as an RAF training base, Belfast International has steadily expanded since 1946 and it is now the second busiest airport in the whole of Ireland. Our Enterprise branch is located near the baggage reclaim area within the main terminal, and our vehicles are just a short walk away. We offer flexible opening hours, and our friendly staff will do everything they can to ensure you hit the road as quickly as possible.
We also provide car hire at Belfast City Airport for those flying right into the heart of the city. Named after the iconic footballer, the George Best Belfast City Airport is situated right next to the city's historic docks. You can expect very short queues and to be exploring the city in no time if you fly into Belfast City, so why not start your reservation above?
Need to drop off in a different location?
One Way Car Hire
Looking to hire a car for a one-way trip? No problem! Enterprise Rent-A-Car offers easy and convenient one-way car rentals from most of its 10,000 locations in 90+ countries. Choose from a great selection of vehicles, including economy, saloons, SUVs, people carriers and vans.
Need help picking up and returning car?
Free Pick Up and Drop Off Service
Our free pick-up & drop-off service is available at non-airport branches and during normal business hours. To schedule your pick-up time or make additional arrangements, ask for this when your rental branch calls to confirm your reservation.
Need a car for an extended time?
Long Term Car Hire Service
Looking for a flexible alternative to a traditional rental or lease agreement? We've set up dedicated long-term branches throughout UK to provide our customers one-on-one attention. Just let us know when and where you need to rent a vehicle, and we'll take care of the rest.
Things to do in Belfast
A huge variety of attractions in Belfast:
Northern Ireland's capital city is a magical location with surprises and amazing activities for the whole family. It is a little known fact that it was here where the Titanic was constructed. The RMS Titanic, built in Belfast's Harland and Wolff shipyard, is now one of Northern Ireland's leading attractions. The remarkable re-development of the dock opened in 2012 and offers visitors a unique and immersive experience of life on-board the ill-fated vessel.
Just a 15-minute drive from the Titanic dock, within the boundaries of Cavehill Country Park, is Belfast Castle. This impressive estate, positioned 400 feet above sea level, provides visitors with stunning views over the whole city. To add to this, Belfast Zoo is just a stone's throw away so there really is something to please everyone!
Searching for adventure in Colin Glen Forest Park:
For adventure and excitement in Belfast, look no further than Colin Glen Forest Park, south of the city and only a 20-minute drive from our city centre branch. The park itself consists of 200 acres of spectacular woodland, where you can test your nerve with Northern Ireland's longest zip line, various high ropes courses, with an impressive mountain biking trail nearby. If heights and mountain bikes are not your thing, the Gruffalo-themed woodland trail is equally popular among the park's visitors.
Plan a trip to Derry Londonderry, via Giant's Causeway:
If you're looking to venture out of Belfast and take in more of Northern Ireland's green landscapes, then take a day trip to Derry Londonderry. A popular route to take is via Giant's Causeway as it's just over an hour's drive from Belfast. This ancient and mysterious phenomenon attracts visitors the world over owing to its interlocking hexagonal-shaped columns. From here, it's roughly an hour's drive onto Derry Londonderry where the Peace Bridge, the Derry Guildhall and the Derry Walls are among the most popular attractions within a city of great historical and political significance.
Driving Information in London
Northern Ireland, and Belfast in particular, contains some truly beautiful driving routes, however, it is vital you take note of these important details before setting off.
Firstly, and perhaps the most important thing to remember if you are visiting from outside the UK, you're required to drive on the left hand side of the road in Northern Ireland.
There are a variety of road types in and around Belfast. Generally, the motorways and dual carriageways are in good condition. In Northern Ireland, an 'M' indicates the road is a motorway, while 'A' and 'B' signs indicate primary and secondary roads.
The A55 loops around the city while the M1 & M2 provide the main routes into Belfast. Currently, there are no tolls on the motorways in Northern Ireland.
Take caution when taking the back routes containing windy country lanes. Be aware of farmers using these backroads to relocate livestock, so approach any tight bends with added caution.
Road signs in Northern Ireland are in miles per hour and therefore align with the rest of the United Kingdom.
Consumption of alcohol while driving is prohibited. Seat belts must be worn at all times while all drivers must carry valid license and insurance documents
---
Frequently Asked Questions
For more FAQs, please visit our FAQ page.